News > Spokane
Overdose deaths decline in Washington
Feb. 27, 2018 Updated Wed., Feb. 28, 2018 at 3:03 p.m.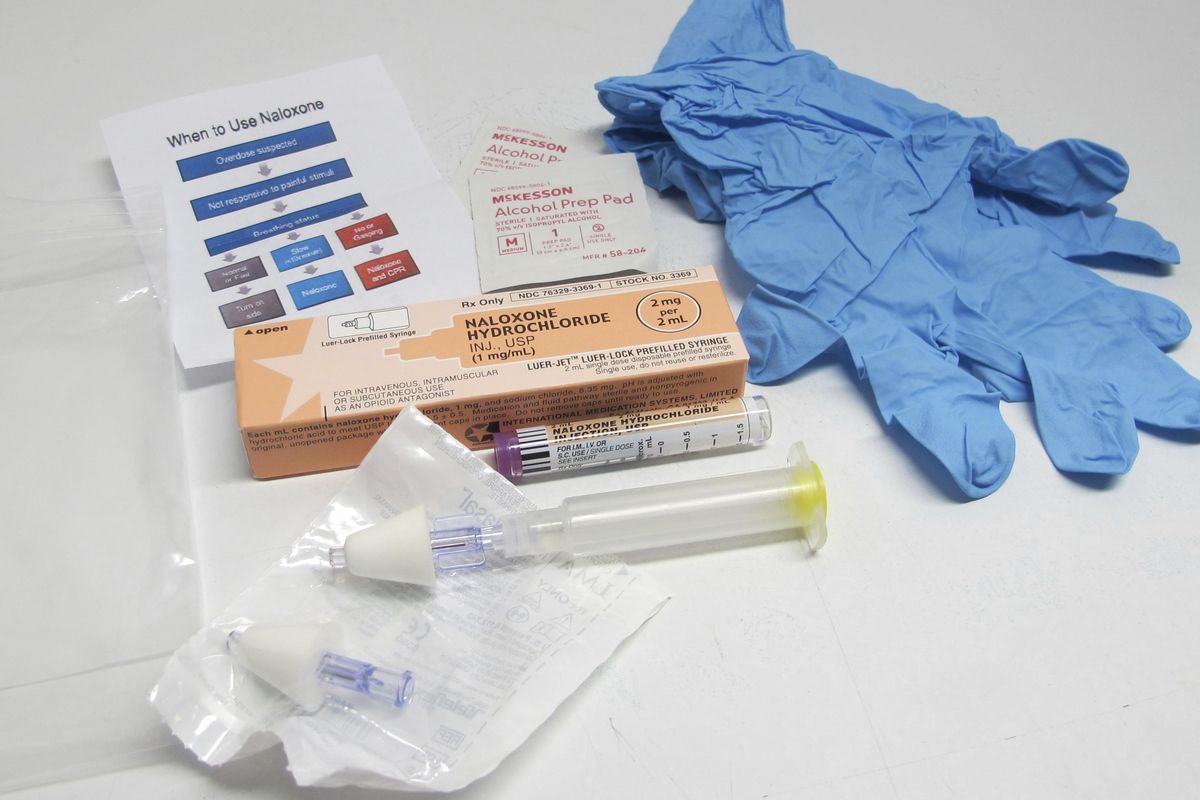 FILE - This May 13, 2015, file photo shows the contents of a drug overdose rescue kit at a training session on how to administer naloxone, which reverses the effects of heroin and prescription painkillers. (Carolyn Thompson / AP)
Drug overdose deaths fell last year in 14 states including Washington, according to preliminary data released this month by the Centers for Disease Control and Prevention.
The numbers suggest the tide of opioid overdoses is starting to turn in a number of states, mostly in the western United States, driving an overall reduction in overdose deaths.
In Washington, the CDC recorded 1,018 fatal overdoses in the 12-month period ending July 2017. Of those, 640 involved opioids, including 289 involving heroin.
That's a 13.5 percent decrease in all overdose deaths, and a 16.6 percent decrease in opioid overdose deaths from the year prior.
Overdose deaths also fell 11.2 percent in Alaska, 2.9 percent in California, 3.7 percent in Oregon and 8.7 percent in Montana, while rising 7.8 percent in Idaho.
Midwestern and eastern states that have been hit hardest by opioid overdose deaths continued to see rises, according to the CDC data.
The 2017 numbers are likely smaller than final totals will be, since data for some deaths is still pending.
The Washington Department of Health has not formally released 2016 or 2017 overdose death data, but preliminary 2016 numbers suggest similar drops.
Though the number of total opioid overdoses has fluctuated since 2006, the number of Washingtonians dying from heroin has been steadily rising, from 53 in 2006 to 313 in 2015, according to the department. But in 2016, that number fell to 287.
Caleb Banta-Green, principal research scientist with the University of Washington's Alcohol and Drug Abuse Institute, said there's not enough data yet to speculate about a cause in the drop.
But Washington has expanded the number of people receiving treatment for opioid addiction significantly, according to data from the Washington Health Care Authority.
Among Medicaid clients, the number has more than tripled from 2013 to 2016, when 15,259 Washingtonians enrolled in a medication-assisted treatment program.
Statewide efforts have also distributed overdose kits with naloxone, a potentially lifesaving drug, to care providers and people at risk for overdose.
Banta-Green said the rate of high school students using prescription opioids to get high has declined since 2006. In a 2006 survey, about 10 percent of 10th graders said they had used the drugs in the past month. That's down to 4.4 percent now.
He said the high number of overdose deaths over the past 15 years could also mean the problem is slowing down because many of the people abusing opioids have already died.
"Part of the problem may be burning itself out in a tragic way," he said.
This article has been updated to correct Caleb Banta-Green's title.
Local journalism is essential.
Give directly to The Spokesman-Review's Northwest Passages community forums series -- which helps to offset the costs of several reporter and editor positions at the newspaper -- by using the easy options below. Gifts processed in this system are not tax deductible, but are predominately used to help meet the local financial requirements needed to receive national matching-grant funds.
Subscribe now to get breaking news alerts in your email inbox
Get breaking news delivered to your inbox as it happens.
---