Infrastructure improvements help lure new business to Spokane Valley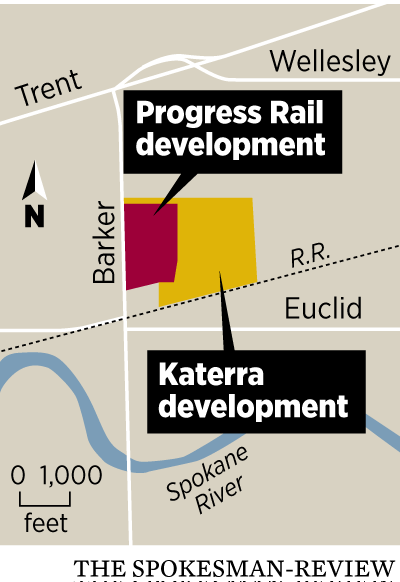 Spokane Valley city officials have long targetted the 800-acre northeastern industrial area near Barker Road and Euclid Avenue for economic development, but it lacked the necessary infrastructure.
Now, planned infrastructure improvements – including the possible addition of an overpass at the BNSF railroad tracks at Barker Road – and the announcement of two companies building manufacturing facilities could add hundreds of jobs and potential for new businesses.
"We've kind of had our eyes on this area for a long time," said Mike Basinger, economic development manager for Spokane Valley at a City Council meeting on Tuesday. "We knew there was a lot of vacant industrial property up there. We knew there was a lack of infrastructure, but we also knew that high-paying manufacturing jobs is what we needed here in the city of Spokane Valley."
Spokane Valley's northeastern industrial area is bordered by Flora Road on the west, Trent Avenue to the north and the main rail line of Union Pacific to the south.
Last year, California-based technology company Katerra purchased 52 acres of land for $5.3 million from Centennial Properties, a subsidiary of Cowles Co., which publishes The Spokesman-Review.
Katerra announced in September it would build a 250,000-square-foot cross-laminating timber facility. The company's plans include a warehouse, research and development institute and storage space.
The company will generate about 225 permanent jobs in manufacturing, design and engineering, as well as an additional 150 construction jobs while the project is being built, according to a city economic development report.
A second company plans to build a 150,000-square-foot manufacturing facility with 115,000 square feet of storage space and a new rail spur – a secondary length of track that allows rail cars to load and unload without interfering with other rail traffic – off the Union Pacific Railroad main line. The spur would be operated by Centennial Properties and also serve Katerra.
Although city officials have declined to name the company due to a nondisclosure agreement, Spokane County Assessor's Office records indicate Progress Rail, a subsidiary of Alabama-based Caterpillar Inc. purchased land adjacent to Katerra from Centennial Properties for $3.2 million.
The addition of Progress Rail would generate $71 million in economic impact and create more than 150 jobs, according to the city economic development report.
"When you bring in an industry like this, people buy homes, people have kids and shop," Basinger said. "It just keeps doubling. It's a domino effect."
Bringing companies
to the Valley
The addition of the two new companies has its genesis in 2012, when Spokane Valley formed an Economic Development Committee to identify short- and long-term goals, as well as to hear community feedback to determine how to entice businesses to Spokane Valley.
Because the city was young, it learned many lessons from the economic development committee that were used to recruit businesses, Basinger said.
The city eventually formed an economic development department and partnered with Greater Spokane Incorporated to identify and recruit both Katerra and Progress Rail to the area.
"We feel like we've gained a really good relationship with Greater Spokane Incorporated and we've been able to build on that relationship for recruitment," Basinger said.
City staff put together cost estimates and conceptual designs that laid out several locations of rail, buildings and roads for Progress Rail.
However, for those sites, complications with pipelines, rail work, lack of sewer infrastructure and required approval by the Utilities and Transportation Commissionfor a rail spur all presented roadblocks.
Eventually, Basinger identified the current location at Barker Road and Euclid Avenue, adjacent to a Union Pacific rail line, and facilitated a meeting with Progress Rail and Union Pacific.
But the city found the property had a few water lines and easements that needed to be removed, including an easement dedicated to the U.S. by the Inland Empire Paper Co. for the purpose of rerouting the Spokane River, which runs through the whole Valley.
The city is working with the U.S. Bureau of Reclamation and Centennial Properties to remove the easement.
The city also found a wetland on the property, placing additional environmental hurdles on the project. Ultimately, the city was able to work with the state Department of Ecology and a wetland biologist to get the designation removed due to the area's lack of wetland vegetation, habitat or characteristics.
"We got industries to come because we are able to get the easements extinguished," Basinger said. "All these things were potential deal breakers. It was just stuff we had to work through."
The city in 2015 was awarded a $144,500 grant from the U.S. Department of Commerce that funded an environmental analysis of the industrial area.
The city partnered with Spokane County, which agreed to extend sewer lines east from Sullivan Road to the site at cost. Those improvements have been added into the county's six-year capital facilities plan, which also will align with Spokane Valley's six-year transportation improvement plan to construct roads in the industrial area.
Both companies
selected Spokane
Greater Spokane Incorporated worked with Katerra to identify potential incentives to bring the company to the area. They were eventually able to secure a reimbursement for site selection, said Robin Toth, vice president of business development for Greater Spokane Incorporated.
Katerra was on a strict timeline to find a site, but Spokane Valley was able to create an attractive proposal because traffic impact and environmental studies already were completed for the site.
"It put us in the position to say 'We're ready whenever you are, you give us your timeline and we will guarantee that we will meet those deadlines,' " said John Hohman, deputy city manager for Spokane Valley. "And we've done that all the way through the process and, thankfully, they were able to select our location."
Katerra wanted rail access, so the construction of a spur made the site even more conducive for business.
"They could design their project to fit well with what was going on and have some influence on the design of the spur itself, so that took a little bit of time to work through," Hohman said. "But that was one of the things that really helped us. We're trying to build a critical mass of companies out in this area and try to build on our successes as we go forward."
The city plans to improve the nearby Barker Road and Trent Avenue intersection by removing the existing at-grade rail crossing. Several proposals for a replacement crossing have been floated, most prominently an overpass at the intersection.
The city has secured several grants to begin reconstruction of the crossing. It remains about $3.2 million short of funding the project, but is nearing the design process.
Editor's note: This story was changed on Jan. 1, 2018 to correct the name of the Utilities and Transportation Commission.
---