News > World
Theresa May's weakness resurfaces as Cabinet reboot descends into chaos
Tue., Jan. 9, 2018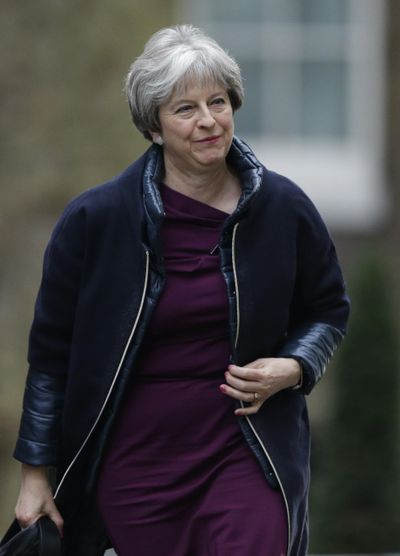 LONDON – British Prime Minister Theresa May's attempt to give her government a 2018 reboot was marred by a chaotic Cabinet reshuffle as senior ministers refused to follow her orders. It's a development that bodes ill for her ability to successfully navigate the next, even trickier stage of Brexit talks.
May's office flagged Monday's events as "a refresh" of her top team. But instead of the usual parade of lawmakers arriving at her office in quick succession to accept their new roles, things went off script. First Health Secretary Jeremy Hunt, then Education Secretary Justine Greening, were locked in discussions with her after rejecting proposed moves.
Hunt eventually won his argument to stay on, but Greening, who spent more than two hours in 10 Downing St., quit rather than accept another job. May was said to be "disappointed" at losing Greening, who opposed Brexit, and could now vote with pro-European Union rebels in the House of Commons.
It was not the restart she wanted. There were echoes of her botched decision to call an election in her announcement of a reshuffle she didn't have to carry out. In both instances May seemed to dissipate any political goodwill she recouped.
She had begun the new year in a position of relative strength, having concluded a problematic first phase of talks over Brexit – still the issue that will define her political legacy and will only get more complicated this year.
"She can't have the government she would choose and has to select from a small group of people," said Matt Beech, director of the Centre for British Politics at the University of Hull. "Even with a majority she'd be facing tough decisions because her party's completely divided on Brexit."
May had hoped to put 2017 behind her with the departure of Damian Green, a trusted friend forced to resign last month over pornography allegations. The idea had been to inject momentum in her domestic policies and show she was not just "Madam Brexit," but a leader with a shot at re-election in 2022.
However, things got off to an inauspicious start when Conservatives tweeted the appointment of Transport Secretary Chris Grayling as the new party chairman only to delete the post quickly. Hours late it was revealed that Grayling, rumored for the chop, was keeping his exact same job.
In a reshuffle that unraveled over the course of several hours and lasted into the night, it became clear that the key takeaway was how little wriggle room May seemed to have to enact change as minister after minister were confirmed in their posts.
Chancellor of the Exchequer Philip Hammond, Brexit Secretary David Davis, Foreign Secretary Boris Johnson and Home Secretary Amber Rudd all stayed put – preserving a delicate balance of pro- and anti-EU voices that May navigates.
There were some surprising developments, unrelated to the planned reshuffle. James Brokenshire, a close ally of May's who had worked with her when she was in charge of the Home Office, quit as Northern Ireland secretary due to ill health. Karen Bradley, another colleague she knows and trusts from her own past experience, was appointed to replace him.
It's a key role both for Brexit and the stability of May's minority government as it will involve delicate negotiations over the Irish border and devolved government with the Democratic Unionist Party, whose lawmakers prop up the government after May lost her majority in June's vote.
Making sure the scales didn't tip in favor of either side of Brexit was a handicap. After Greening's refusal of the role as pensions secretary, May was forced to turn to Esther McVey, a vocal supporter of Brexit, to fill the job.
She had earlier appointed Remainer Brandon Lewis as Conservative Party chairman, with a brief to revitalize the party after June's disastrous election, and had balanced his appointment by making James Cleverly, another Brexiteer, his deputy.
May, who backed remain in the 2016 referendum, has had to ensure there are enough supporters of leaving the EU in her team of ministers to satisfy rank-and-file lawmakers and ordinary members of her party that she won't deliver a watered-down version of Brexit.
"I don't mean to be rude or to be seen to be disloyal," lawmaker Nicholas Soames, the grandson of wartime prime minister and Tory icon Winston Churchill, said on Twitter on Monday evening. "But there needs to be a major improvement to the Reshuffle tomorrow." He then added a hashtag urging May to "get it right."
According to The Sun newspaper, May wanted Hunt, who has been health secretary for five years, to move to become business secretary. Instead, May confirmed Greg Clark would remain in the role.
May did get to appoint her own right-hand man when David Lidington was appointed as Cabinet Office minister to replace Green, and he will stand in for May at weekly grillings in Parliament and chair key Brexit committees.
"The fact she's still in office," said Beech. "You could say that's an achievement after so many people wrote her off.'
Local journalism is essential.
Give directly to The Spokesman-Review's Northwest Passages community forums series -- which helps to offset the costs of several reporter and editor positions at the newspaper -- by using the easy options below. Gifts processed in this system are not tax deductible, but are predominately used to help meet the local financial requirements needed to receive national matching-grant funds.
Subscribe to the Coronavirus newsletter
Get the day's latest Coronavirus news delivered to your inbox by subscribing to our newsletter.
---