News > Spokane
Judge's study calls for more security in Washington courtrooms
Wed., Jan. 10, 2018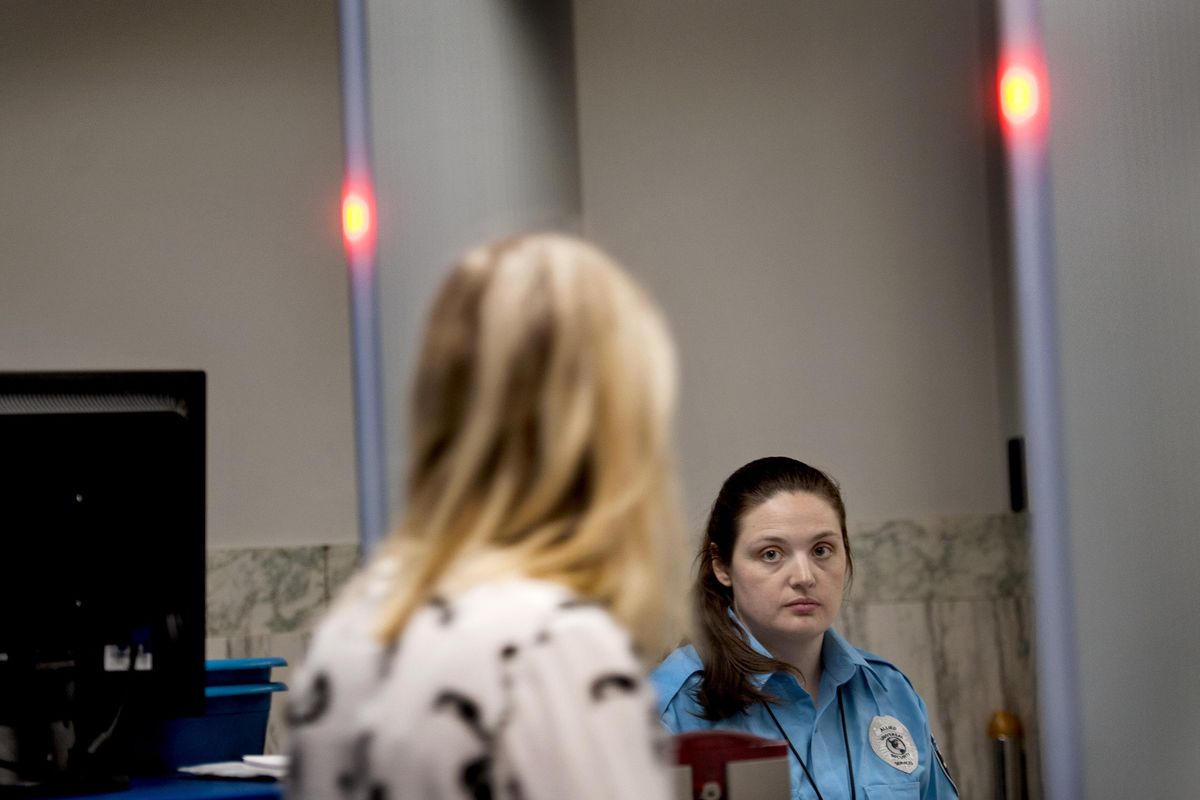 Spokane County Courthouse security officer Renee Hernandez watches a person walk through the metal detectors on Tuesday, Jan. 9, 2018. (Kathy Plonka / The Spokesman-Review)Buy a print of this photo
A courtroom security study has found that about half of the Superior Courts in Washington – where divorces are settled, lawsuits are argued and killers are sentenced – still do not have even the most basic security screenings that would prevent people from entering county courthouses.
Such security issues persist despite clear dangers: In 1994, a man in King County shot and killed his pregnant wife and two friends as they waited for a divorce hearing. In 2012, another man stabbed a Grays Harbor judge before stabbing and shooting a female deputy with her own gun.
Unlike all of the rural counties that surround it, Spokane County pays for full-time screening at all of its court facilities. Last year alone, security staff stopped 1,368 guns, 9,474 knives and 2,747 dangerous tools from getting past the front door.
"The fact that half of county courthouses across this state have no weapons screening at public entrances should be a call to action," said King County Superior Court Judge Sean O'Donnell, president of the Superior Court Judge's Association. "The past formula of asking for help, suffering disaster, and then rushing to 'fix' the problem needs an urgent refresh."
The association's study found, based on statistics dating from 2005-2012, that Washington had the eighth most security incidents in the nation. Of the 20 of 39 courts that do screen, only 68 percent of those counties have metal detectors at all entrances to the county building.
And of those courthouses without screening, many don't have any other safety measures like cameras. A survey of court staff found that only four of the 39 superior courts "strongly agree" that their personnel feel safe in the courthouse.
Based on those findings, the association is calling for state leaders to boost funding rather than continue to force rural counties to pay for the security measures.
"According to the Bureau of Justice Statistics, Washington State ranked 50 out of 50 in state funding for trial courts in 2012, and little has changed since," the study reads. "Because of the general absence of state funding for trial courts, superior courts rely almost exclusively on county funds for critical operations."
Last year Spokane County paid $588,000 for the staff who operate the magnetometers and X-Ray machines used to screen persons who enter the Spokane County Courthouse, Public Safety Building and other buildings that operate courtrooms conducting state business, said Steve Bartel, director of risk management.
Bartel said he believes the county started using metal detectors not long after the King County shooting and he could not imagine returning to a system without it.
"I think that's the single-most important security measure we have for our courts," Bartel said. "We have to recognize that the courts, as well as other public entity buildings, are becoming more of a target."
Adams County Commissioner Jeffrey Stevens said he's personally been checked for weapons in Spokane but doesn't know how he could pay for the same service in Ritzville.
"It'd be impossible," Stevens said. "In order to do that, we would have to cut personnel from many other areas of the whole system. I really can't imagine doing it."
Adams County Superior Court Judge Steve Dixon said he understands the financial quandary that counties face. He noted that county officials installed a panic button that he can use to summon law enforcement.
Dixon has only pushed the button once, after he held a young man in contempt and the man began to act out.
"I had a state trooper come from the other side of town in two minutes," Dixon said. "I was very pleased with the response time. But the problem is if somebody goes off with a firearm, they can kill an awful lot of people in under a minute."
And even if the county could come up with more funding, Stevens said Adams County officials would be forced to modify a courthouse on the National Register of Historic Places.
The county would be required to build an addition "to do a situation like they do in Spokane," Stevens said. "They have a good set up … but you need room to do it."
To the north, persons are not screened as they enter courtrooms in Stevens or Ferry counties.
"Pend Oreille County does have a screening, but they only do it only on court days," Superior Court Administrator Evelyn Bell said. "It's not manned every day."
Instead, the county courthouses most often rely on judges to alert deputies of any cases where more security may be needed.
"The judges do have panic buttons on the benches," Bell said. "Most of the time, we know who we should have security for. If something starts to brew, I call to the sheriff's office … and they run up here as fast as they can."
Based on the security concerns, the Washington State Supreme Court adopted General Rule 36 that went into effect on Sept. 1.
The rule encouraged all trial courts to meet or exceed basic security and safety measures. They include weapons screening and providing employee training to deal with things such as an active shooter scenario.
That training has already occurred to the south in Whitman County, but Superior Court Judge Gary Libey said it's difficult to legislate the same rule on 39 different courthouses.
"Everybody is a little different," Libey said. "You work with what you've got and who your audience is. We are concerned … but we don't expect we will work out of a castle surrounded by a moat."
He said officials in Whitman County operate a metal detector on high-profile cases, but he doesn't think it's been used since Frederick Russell was charged in 2001 and later convicted of three counts of vehicular homicide.
"I have a button I can push," Libey said. "And all courthouse employees have a button we can push and the sheriff's office comes charging down. I think most of us feel comfortable with that."
Local journalism is essential.
Give directly to The Spokesman-Review's Northwest Passages community forums series -- which helps to offset the costs of several reporter and editor positions at the newspaper -- by using the easy options below. Gifts processed in this system are not tax deductible, but are predominately used to help meet the local financial requirements needed to receive national matching-grant funds.
Subscribe now to get breaking news alerts in your email inbox
Get breaking news delivered to your inbox as it happens.
---