News > Spokane
Spokane astronaut Anne McClain selected for space mission
Jan. 20, 2018 Updated Sat., Jan. 20, 2018 at 10:08 p.m.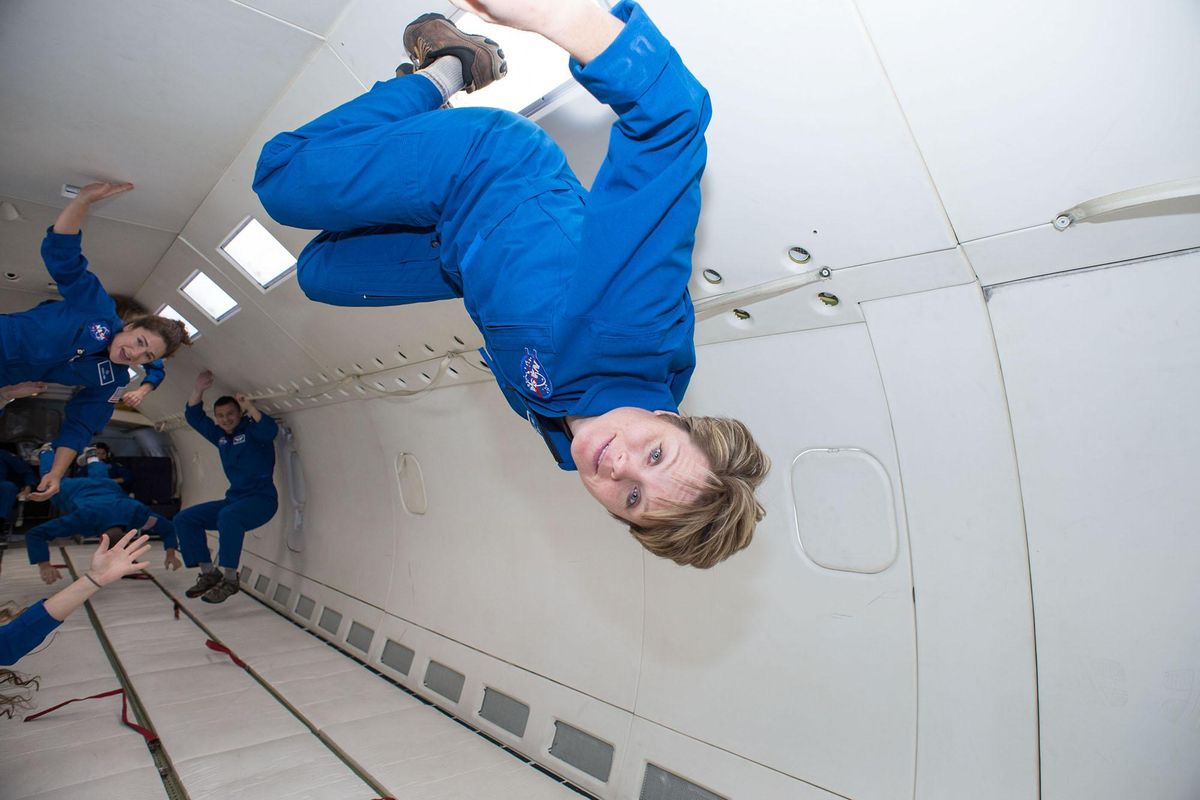 Photographic support for Reduced Gravity Office's ASCAN zero-g checkout flight. Photograph 2013 ASCAN's on C-9 during parabolic flight. Photo Date: September 12, 2013. Location: Ellington Field, C9 Aircraft. (ROBERT MARKOWITZ/ / NASA)
Anne McClain is going to space.
The 38-year-old Spokane native joined an elite class of eight astronaut trainees in 2013, and NASA announced Thursday she's been assigned to Expedition 58, which is scheduled to launch from Kazakhstan in November.
The six-month stay aboard the International Space Station will fulfill a lifelong dream for McClain, a decorated Army major and combat pilot who holds master's degrees in aerospace engineering and international relations.
"As a little girl growing up in Spokane, Washington, I had big dreams," she said in a phone call Friday from Houston, during a short break from her tightly regimented training. "When I looked at astronauts and saw what they did and watched the shuttle launches, it was just pure magic to me, and I wanted to go do it."
McClain graduated from Gonzaga Prep in 1997 and spent a year in the ROTC program at Gonzaga University before attending the U.S. Military Academy at West Point. A 2002 Marshall scholar, she earned her master's degrees from the University of Bath and the University of Bristol, both in the United Kingdom.
She also played on the USA Rugby Women's National Team and was deployed for 15 months as part of Operation Iraqi Freedom, flying planes and helicopters on combat missions.
McClain said her training lately has been "extremely varied" and generally simulates what life will be like aboard the ISS. That includes methods of staying healthy and responding to emergencies, as well as mundane tasks such as vacuuming the workspace – "just like you maintain a house," she said.
On Saturday, McClain is traveling to Russia, where she'll train with the three Russian members of the six-astronaut crew that will be stationed on the ISS.
"Once we have our crew identified, we really try to work together, get to know one another, learn everybody's capabilities and limitations and language," she said. "We all learn Russian, and all the Russians learn English, and during our training we find out what's the best language to use for dinnertime conversation and for emergencies."
McClain, who will serve as a flight engineer, isn't the first Spokane-area kid to make the astronaut corps.
Lt. Col. Michael Anderson, a Cheney High School graduate, was chosen by NASA in 1994 and logged nearly 600 hours in space as a mission and payload specialist. He was among the seven astronauts killed in the space shuttle Columbia disaster in 2003. Several memorials have been built across Spokane commemorating his contributions to the nation's space program, including a statue in Riverfront Park.
On Jan. 29, McClain and five other Gonzaga Prep alumni will be inducted into the school's Hall of Fame, which includes the likes of singer Bing Crosby, former House Speaker Tom Foley and former NFL player Steve Gleason.
"Obviously, we're deeply inspired by Anne's example," said Michael Dougherty, the school's president. "For our students to watch one of our alums develop her strengths, really, in service to humanity – that's not something you get to say every day."
Shari Manikowski, who was McClain's math teacher and softball coach at Gonzaga Prep, said her former student is a shining example of how women can succeed in science and engineering.
"She's the reason people like me go into teaching," Manikowski said. "As opposed to working for the grades, she worked for the love of learning the information."
McClain, who spoke at the school in 2015, will record a Hall of Fame acceptance speech on video, and her mother, Spokane resident Charlotte Lamp, will take home the award.
Lamp said Friday she's excited, if a little nervous, that her daughter is finally fulfilling her dream. As she often does, Lamp recalled how badly 4-year-old Anne wanted to fly up into outer space. In preschool, she wrote and illustrated a book depicting a family of four buying rockets and spacesuits.
"I would have loved to be an astronaut," Lamp said. "I was a child of the '50s, so I didn't have permission to do what I wanted to do. But I looked at her and said, 'Honey, if you work hard you can do anything you want to.' And she did."
Local journalism is essential.
Give directly to The Spokesman-Review's Northwest Passages community forums series -- which helps to offset the costs of several reporter and editor positions at the newspaper -- by using the easy options below. Gifts processed in this system are not tax deductible, but are predominately used to help meet the local financial requirements needed to receive national matching-grant funds.
Subscribe now to get breaking news alerts in your email inbox
Get breaking news delivered to your inbox as it happens.
---