News > Spokane
6,000 strong, Spokane Women's March exceeds expectations
Jan. 21, 2018 Updated Mon., Jan. 22, 2018 at 10:06 a.m.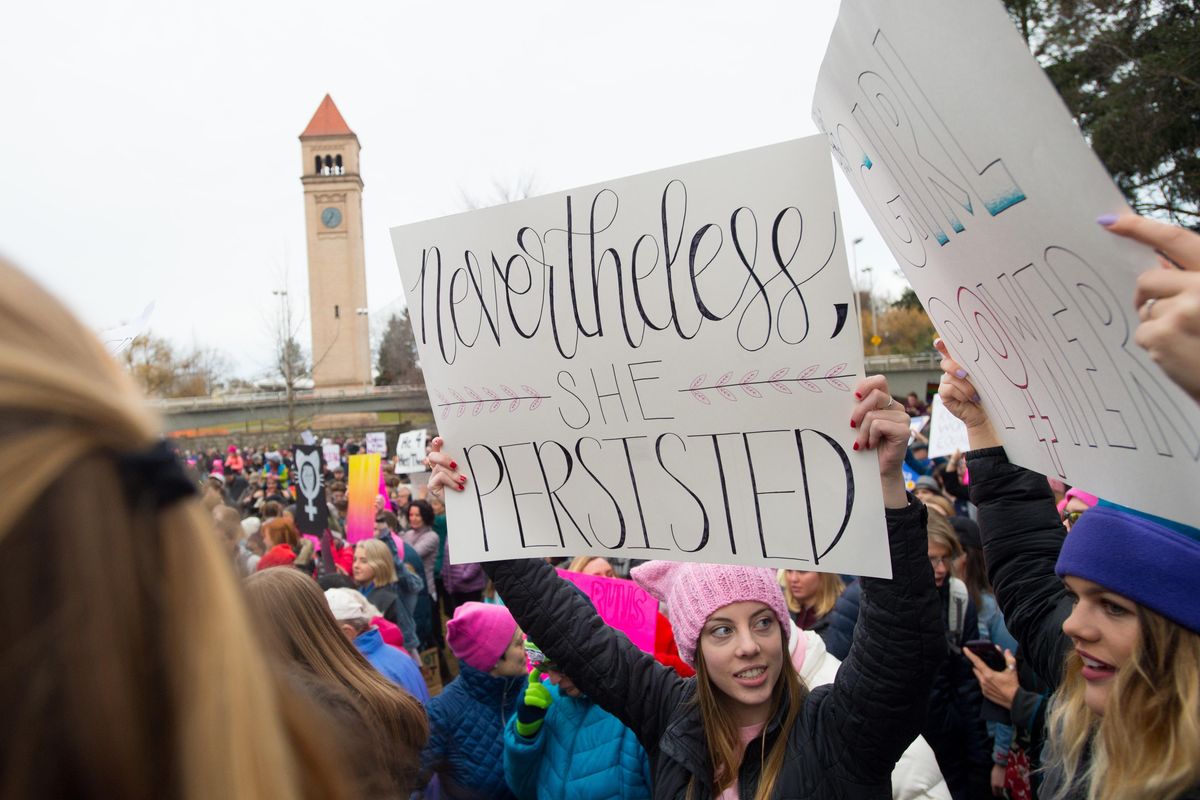 Nicole Lerch, in pink hat, prepares to march with her friend, Maddie Moen, right, during the 2018 Spokane Women's Persistence March on Sunday in downtown Spokane. (Tyler Tjomsland / The Spokesman-Review)
Thousands more people than expected flocked to downtown Sunday, capping off a weekend that saw women and their supporters rally in cities across the United States and around the world.
They came hoisting signs. They came wearing shirts of protest. They came wearing pink hats. In its second year, the Spokane Women's March – now called the Spokane Women's Persistence March – saw an estimated 6,000 people march through the streets, according to organizers and police, before filing into the Convention Center for speeches and songs delivered by local leaders.
The crowd had about 2,000 fewer participants than last year but showed no less spunk. Gathered at the Red Wagon in Riverfront Park, marchers assembled by the hundreds before the sea of people – mostly women – got so large it spilled out onto Spokane Falls Boulevard.
Chants of "We are women, hear us roar, this is how we say 'no more' " echoed in the background. A band played to one side, drowned out by the chatter on the other.
"I'm here because I'm scared for our country," said 57-year-old Ev Hopkins, holding up a large sign of a raised fist within a woman's gender symbol – a pair of catlike ears sitting on top of the circle. "We need to bring the change we want to see."
Linda Miller, a soft-spoken woman with a loud shirt reading "Nasty Woman," said she was proud and excited to see so many women show up. She had just returned from a trip to Florida with her husband Saturday and made her sign, which said "Grab 'em by the midterm."
"We're going the wrong direction," she said of the country. "We're not a democracy. We're governed by special interests, and we have a despicable human in the White House."
As the crowd grew, the line of people grew, too, farther away from the park and onto the adjacent sidewalk. There, a small group of anti-abortion activists were gathered, holding graphic signs and a microphone.
There to drown them out was a makeshift "band" from the Peace and Justice Action League of Spokane. Their members blew on horns, pounded on drums and shook tambourines.
"I think we're having a good effect, 'cause they keep moving," said Mark Rhodes as he tapped his cowbell. "We're almost as fun as a Donald Trump tweet."
When it was time to march, the crowd lined up behind a group of Native Americans led by Shawnee Bearcub of the Colville Indian Tribe. She was there with more than a dozen other Native American marchers in support of missing and murdered women through a group called the Red Skirt Project.
Not far behind them were Shannon Eller and her 8-year-old daughter, Trista. Sara Hooss, a 16-year-old foreign exchange student from Germany, was there as well, a pink "pussy hat" atop her head.
Hooss said that, from an outsider's perspective, there is much not to like about American politics. But she said Spokane has been wonderful to her, especially the Eller family.
The march followed a route similar to last week's celebration of Martin Luther King Jr. and the previous day's Walk for Life Northwest, starting on Spokane Falls Boulevard.
Lisa Brown, who is running against Rep. Cathy McMorris Rodgers this year for a chance to represent Eastern Washington, started by leading the crowd in a chant. "Sisterhood," she yelled. "Is powerful," they shouted back.
McMorris Rodgers was scheduled to showcase a short video, or allow aides to speak on her behalf, but on Friday it was decided that event organizers wouldn't allow it unless she was there in person.
Local journalism is essential.
Give directly to The Spokesman-Review's Northwest Passages community forums series -- which helps to offset the costs of several reporter and editor positions at the newspaper -- by using the easy options below. Gifts processed in this system are not tax deductible, but are predominately used to help meet the local financial requirements needed to receive national matching-grant funds.
Subscribe now to get breaking news alerts in your email inbox
Get breaking news delivered to your inbox as it happens.
---