Sports > Gonzaga basketball
Killian Tillie, Corey Kispert lead No. 15 Gonzaga past Portland 95-79
Jan. 25, 2018 Updated Thu., Jan. 25, 2018 at 11:34 p.m.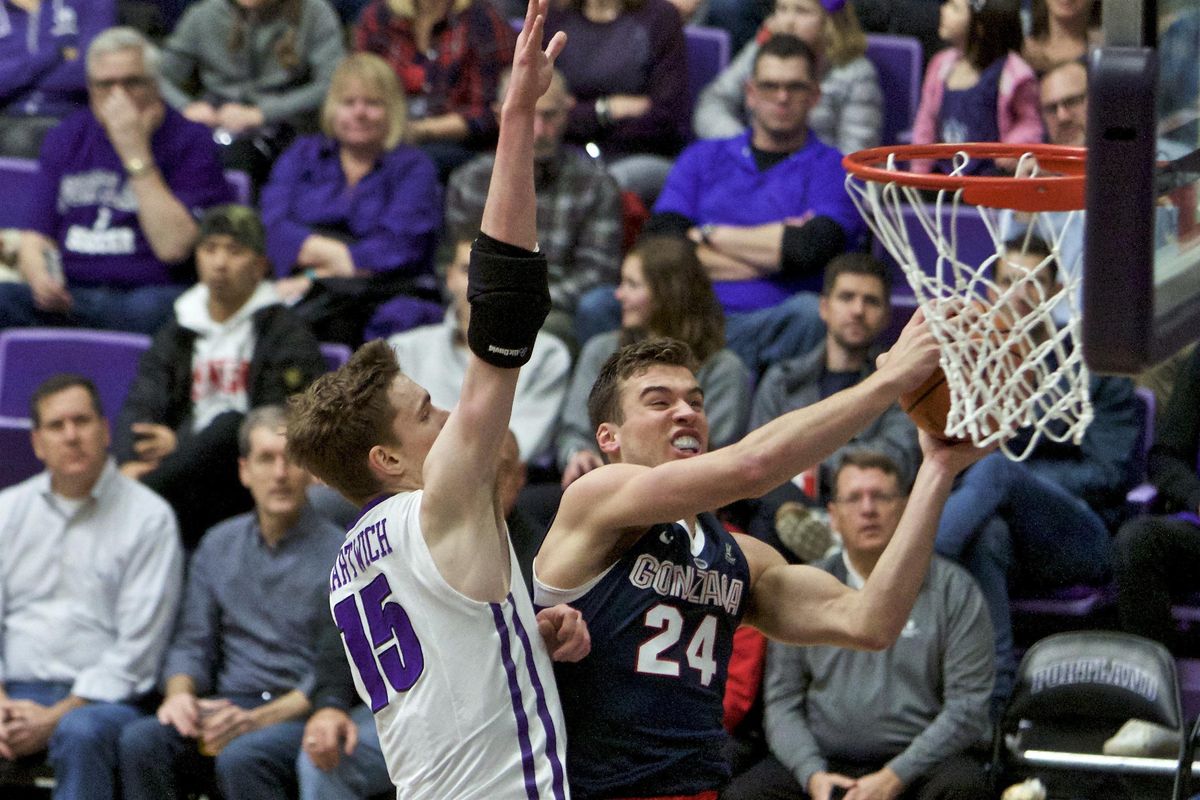 Gonzaga wing Corey Kispert powers inside against Portland center Philipp Hartwich during the first half Thursday. (Craig Mitchelldyer / Associated Press)
PORTLAND – Killian Tillie matched his career-high of 27 points and Corey Kispert added a career-best 23 points as No. 15 Gonzaga handled Portland 95-79 on Thursday at the Chiles Center.
Tillie finished 11-of-14 shooting and grabbed seven rebounds, while Kispert hit a trio of 3-pointers and pulled down 10 boards for his first double-double in a Gonzaga uniform.
The Bulldogs (18-4, 8-1 WCC) got off to a quick start and never looked back against the Pilots (8-14, 2-7), who were led by Marcus Shaver Jr.'s 16-point effort.
Gonzaga finished shooting 54.7 percent from the field and 39 percent from deep, compared to Portland's 44 and 39 percent marks. The Bulldogs also had the decisive advantage on the glass, grabbing 40 rebounds to the Pilots' 15. Both teams finished with 13 turnovers.
The guard duo of Josh Perkins and Silas Melson also finished in double figures for the Zags, with Melson, a Portland native, scoring 14 points and Perkins adding 11.
Gonzaga will return to Spokane and the McCarthey Athletic Center on Saturday for a 5 p.m. tip against San Francisco. The Zags defeated the Dons on the road 75-65 on January 13.
Second half
Final – Gonzaga 95, Portland 79: Portland gets some points back late, but this one was decided a while ago.
Tillie and Kispert have monster games, while the guard duo of Silas Melson and Josh Perkins also finish in double figures.
That's also WCC road win number 20 in a row for the Bulldogs.
2:53 – Gonzaga 95, Portland 73: Portland's Philipp Hartwich fouls out and gets a technical on his way to the bench – a pretty good description of the night for the Pilots.
Subs already in for the Bulldogs, who are chasing the century mark for the seventh time this season and second time against Portland.
Another Kispert dagger from deep gives the reserve guard a career-high 23 points and three triples. He's also pulled down 10 baords for his first double-double as a Bulldog.
7:29 – Gonzaga 84, Portland 57: This is shaping up as one of Kispert's best games this season. The freshman from Edmonds, Washington is up to 18 points after his second triple of the night.
No doubt though, Tillie is still the star of this show.
Tillie now up to 27 points, which ties his career high. He's also grabbed seven rebounds. Bulldogs are dominating the Pilots on the glass 32-16.
11:52 – Gonzaga 68, Portland 47: Bulldogs still feeding Tillie, and there's no reason to stop anytime soon.
The sophomore is up to 23 points on 9 of 12 shooting. Kispert the second Gonzaga player into double figures with 11 points.
Bulldogs now shooting 57 percent from the field, and have dished out 13 assists to Portland's four.
Zags can't quite find the next gear to really pull away though, as three Pilots are now at nine points.
15:57 – Gonzaga 58, Portland 41: After sitting most of the first, Norvell Jr. comes out with a spark on a nice drive and scoop layup for the Zags.
Even more impressive was Williams' first points of the night. Drawn up and executed to perfection, Tillie found Williams on a thunderous alley-oop, followed by a Tillie and-one bucket.
Tillie then adds an alley-oop slam of his own, just for good measure. Fireworks on the offensive end for Gonzaga. Tillie up to 19.
First half
Halftime – Gonzaga 46, Portland 30: Unusually quiet night for Gonzaga big man Johnathan Williams so far. The senior has no points on just a single shot. He has pulled down two rebounds and dished out three assists.
Balanced scoring from the Bulldogs in the half as Tillie leads the way with 13, while Perkins has nine points. Kispert, Norvell and Melson all at seven.
Bulldogs shoot 54.5 percent from the field and 50 percent from deep, while Portland is hitting at 42 percent overall and 28.6 percent from 3-point range. Zags lead 21-13 in rebounds, while Portland has eight turnovers to Gonzaga's five.
D'Marques Tyson leads the Pilots with nine points off the bench.
3:57 – Gonzaga 36, Portland 18: Zags come out of the break with Perkins' third trey of the night, followed by a nifty floater from Killian Tillie, who is up to eight points.
Rough start though from Hachimura though. The team's leading scorer in WCC play this season, the sophomore reserve has committed two turnovers along with a foul and no points so far.
Melson drains his second 3-pointer of the night in his hometown. He's up to seven points. Bulldogs really turning it on now.
7:40 – Gonzaga 24, Portland 14: Second foul in the opening 10 minutes for Norvell sends him to the bench for Kispert.
Gonzaga cooling off on the offensive end as they just can't quite adjust to this Portland defense. The Pilots though are struggling on their own offensive end against the bigger, faster Bulldogs.
Very strong take off a nice ball fake from Kispert results in an and-one layup for the freshman, but the free throw rattles out. Zags just 2 for 5 from the charity stripe so far.
Zags go into the media break off Perkins' second 3-pointer of the game. He's up to six points, while Melson and Kispert have four apiece.
11:32 – Gonzaga 15, Portland 7: A couple of silly turnovers off travels for the Zags so far, but that's about all they can be knocked down for.
Portland playing in a 2-2 zone with Perkins being guarded in a man wherever he goes. Portland seems more worried with the Bulldogs' junior guard than any of the other double-digit scorers.
Gonzaga coach Mark Few going to his bench quickly, with Corey Kispert, Jacob Larsen and Rui Hachimura already into the contest.
Zach Norvell Jr. buries a triple to lead the Zags with seven points.
15:42 – Gonzaga 10, Portland 3: Gonzaga a threat from 3-point range early on as both Josh Perkins and Silas Melson connect from deep in the opening minutes.
Bulldogs playing excellent defense as well, as Portland is just 1 of 5 from the field – the lone make being a Josh McSwiggan 3-pointer.
Zags also dominating on the boards, highlighted by a nice offensive rebound and putback from Johnathan Williams.
Local journalism is essential.
Give directly to The Spokesman-Review's Northwest Passages community forums series -- which helps to offset the costs of several reporter and editor positions at the newspaper -- by using the easy options below. Gifts processed in this system are not tax deductible, but are predominately used to help meet the local financial requirements needed to receive national matching-grant funds.
Follow along with the Zags
Subscribe to our Gonzaga Basketball newsletter to stay up with the latest news.
---