News > Spokane
Spokane to consider extending water service to Indian Trail, Beacon Hill developments
Sun., July 8, 2018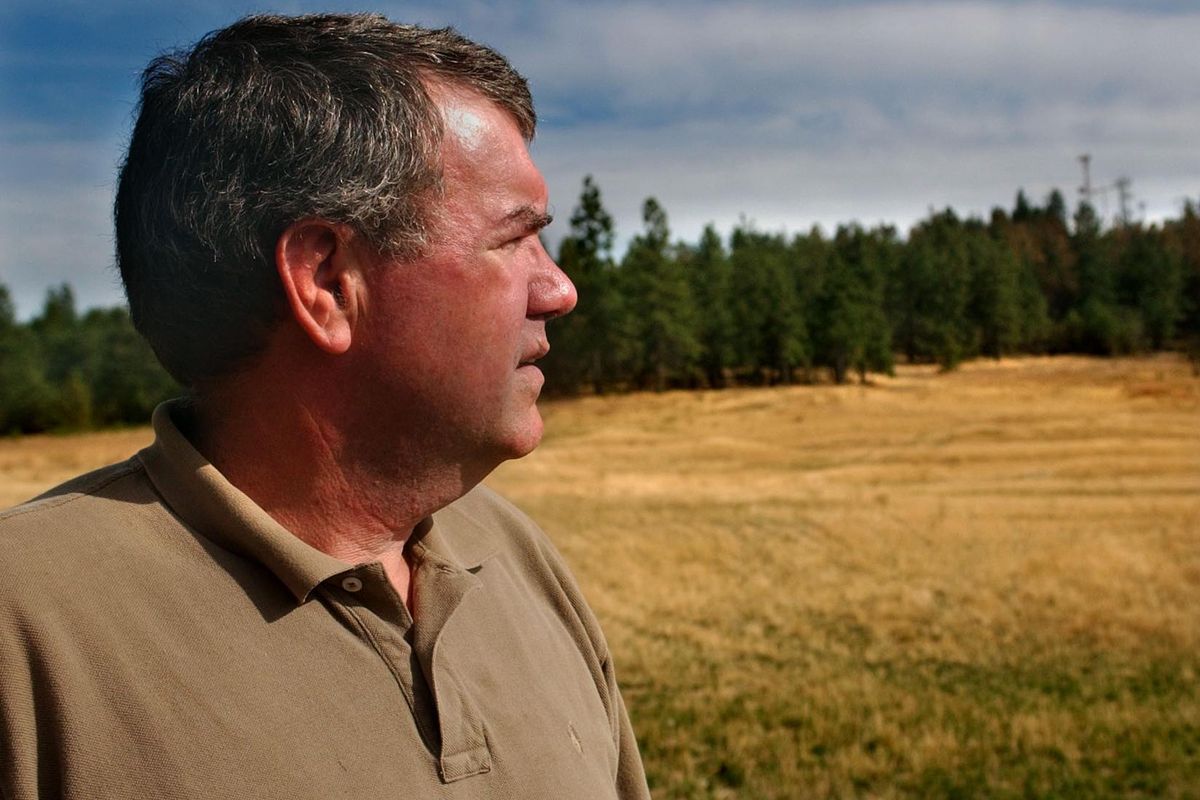 FILE – Pete Rayner looks out over his property off Valley Springs Rd. where he runs the Beacon Hill Event Facility catering to banquets, parties and weddings in this 2002 photo. Rayner is moving forward with his plans to develop the property into a housing subdivision, and is asking the city to extend water service that he says would help get a school and other amenities built on surrounding land. (ROBERT J SHAER / SR)
Three requests to access Spokane's water will come to a vote of the Spokane City Council on Monday, with concerns about future urbanization and the shape of a long-planned housing development in the northeast as the backdrop.
Lawmakers will consider requests to hook up to water in areas beyond those scheduled by planners for future growth. Two are located on the outskirts of Beacon Hill, land zoned for construction of 3,000 residential units in the hills surrounding the event center of the same name. The other sits just north of the Indian Trail neighborhood, where residents have raised concerns that extending water service could leave them high and dry as the climate continues to warm.
The City Council has shown hesitancy to bring water to areas outside what's known as the urban growth boundary, a periodically updated map of where local government officials say denser building should occur. Lawmakers shot down just such a proposal at their meeting June 18, and each request is evaluated separately based on criteria in state law and the city's planning documents.
"There's usually a story for each one," City Councilman Breean Beggs said.
For Pete Rayner, that story spans several decades of trying to get a housing development in the hills above Esmeralda Golf Course. That has included plans for pumping stations that would fill a 24-inch water main beneath Valley Springs Road that Rayner said could serve his development and surrounding areas, which could be prime areas for building as the city expands.
"Having urban water in that area is huge," Rayner said, citing recent wildfires that have scorched areas on top of Beacon Hill.
It would also be useful in Rutter Canyon, near the site of the proposed Indian Trails development, he said. The land is owned by John and Kristianne Blake, the latter of whom is the older sister of Microsoft founder Bill Gates and a member of the Univeristy of Washington's board of regents.
The request there is for water service to a full 150 acres, but Rayner said the plan is only to build two homes on 5-acre lots. The other land has been locked up as open space to a local nonprofit, and water service has already been extended to another subdivision next door.
The Indian Trail neighborhood sent a letter to the council urging a "no" vote, arguing that extending water service could in the future sap the area's water supply, citing the drying climate.
"Higher temperatures are causing glaciers to shrink and disappear, the dropping of ground water tables and the depletion of aquifers," the neighborhood council wrote. "Whatever the causation, it is happening, it is worldwide, and climatologists and multiple other scientists from many disciplines see it as a long-term problem."
Rayner will have to sway a majority of the City Council, who also received warnings that extending service could mean legal action. Rick Eichstaedt, an attorney with the Gonzaga Environmental Law and Land Use Clinic, has urged lawmakers to vote no on the proposed expansion.
"Despite the appearance of compliance with the City Code, it is undisputable that the provision of water is a violation of the Growth Management Act ("GMA")," Eichstaedt wrote in an email to council members, referring to the state law that guides where and how development should occur. "In order to avoid litigation, we urge that the City Council reconsider this course of action."
"This isn't necessarily the way we want to grow," said Kitty Klitzke, Spokane program director for the nonprofit Futurewise, which also opposes the extension. "We want to grow up not out."
Those interests have resorted to legal action in the past to stop what they see as illegal urban sprawl. In 2016, they signed a settlement agreement with Spokane County that freezes the borders of urban growth until 2025.
Rayner said his proposal only includes construction of 10 additional homes outside the growth boundary. Approving the water service in Beacon Hill will enable a land swap, he said, that could allow construction of a new elementary school in the northeast reaches of Spokane.
The city's comprehensive plan, its own document guiding future growth, and its policies for extending water leave it up to the discretion of lawmakers whether to pump city supplies across the urban growth borders. Generally, such extensions may only occur if there's a public health or safety concern, service is extending along the border of the growth boundary and the water service does not "permit urban development."
Rayner said he's looking for four votes to extend service. He doesn't count Spokane City Councilwoman Candace Mumm, who has broken with her colleagues in the past on extending water service on the belief that it shouldn't occur outside the growth boundary, among those who could be swayed.
"I believe we have a long history of working with Mr. Rayner on Beacon Hill projects, but the county and city have not agreed to designate that area of the city for future urban growth," Mumm said.
The next round of adjustments to the boundaries won't occur for several years, Rayner said. He'll likely move forward with building an apartment complex on portions of his property within city limits, rather than offering it to the school district, if water is not extended. Another 5-acre parcel would be converted into five homes served with well water, rather than services such as day cares to support the Beacon Hill development, if the water isn't extended, he said.
Other council members said they'd wait to hear from the public, and the city's legal team, before making up their minds Monday.
"I would love to see that area developed for northeast Spokane," City Councilwoman Karen Stratton said.
Her colleague City Councilwoman Lori Kinnear said she'd need to hear "a pretty darn convincing argument" from Rayner about extending service that went beyond just fire prevention.
City Councilman Breean Beggs said he was waiting for more direction from the city's legal staff before deciding whether to extend services. He said he preferred agreements that kept some land from being developed, as was done in an application last year, when the city stipulated that some of the land be placed in a reserve category that couldn't be developed.
"In general, I'm opposed to going outside the urban growth boundary, unless you get some benefit for open space in the future," he said.
City Council President Ben Stuckart said the law isn't cut and dried, and he has been pushing for additional measures to promote denser development within city limits as a way to combat Spokane's housing shortage.
"There are exceptions. If it's touching the (growth boundary), then it's allowed," Stuckart said.
He also downplayed the legal threat.
"People can threaten lawsuits all they want," Stuckart said. "They always do."
The City Council is scheduled to vote on the water requests during their scheduled legislative session 6 p.m. Monday at City Hall, 808 W. Spokane Falls Blvd. Public testimony will be taken before the vote.
Local journalism is essential.
Give directly to The Spokesman-Review's Northwest Passages community forums series -- which helps to offset the costs of several reporter and editor positions at the newspaper -- by using the easy options below. Gifts processed in this system are not tax deductible, but are predominately used to help meet the local financial requirements needed to receive national matching-grant funds.
Subscribe now to get breaking news alerts in your email inbox
Get breaking news delivered to your inbox as it happens.
---