News > Idaho
Caring for furry friends
Mon., July 30, 2018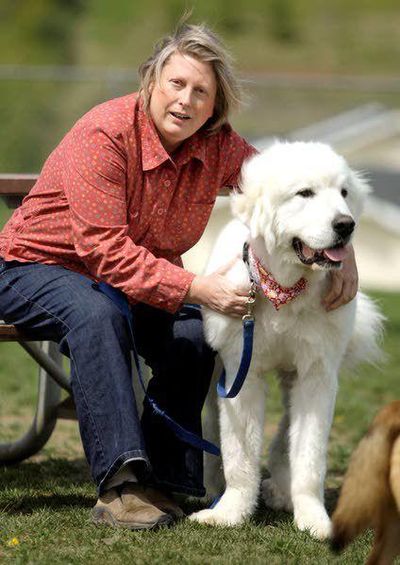 When it comes to animals and their families in need, Cooper's Legacy Foundation is there to help.
Founded in 2012, Cooper's Legacy started with its namesake: Cooper.
Cooper, a Great Pyrenees, belonged to a family friend of Lori Ammons. The family hit hard times and was unable to pay for surgery Cooper needed for torn ligaments. Ammons, a committee member with the foundation, took Cooper on and raised the money needed to rehabilitate him.
And with the help of some friends, Ammons started the Cooper's Legacy Foundation to help people in need get necessary money to treat their pets.
Since its inception, Cooper's Legacy has helped 12 animals.
In order to be eligible for help from Cooper's Legacy, the applicant must live in Washington or Idaho, the animal must be a family pet and either a cat or a dog, the animal's condition must be treatable and curable so the animal is restored to a normal lifespan, and the animal must be treated in Whitman or Latah County.
Cooper's Legacy, so far, has helped treat animals with tooth decay, torn ligaments, cancer, cataracts and more. The foundation is unable to help an animal with issues that must be treated immediately, however, such as if the animal has been hit by a car and needs immediate surgery. This is because the foundation needs about 30 to 60 days to raise the money needed for the treatment, Ammons said.
Typically, Cooper's Legacy works with family pets, but it has also helped animals that take on a more professional role.
"We do see some service animals that we try and help," Ammons said, "so they can go back to doing their job."
As an animal lover, Ammons said all of Cooper's Legacy clients stick with her for one reason or another. However, she said she likes when the clients are locals because she'll see the owner or the animal around town and she can check in on how they're doing, Ammons said.
Many of the clients the foundation works with are from the Palouse area, but it has worked with people from places as far away as Tacoma and Twin Falls. Those applicants typically end up in Pullman because they were advised to take their animal to the Washington State University Animal Hospital for specialized treatment.
Clients are able to work with any vet in the area.
The foundation has five core volunteers who make up the organization's committee. Beyond those five people, the foundation will work with WSU students or community members for an auction held each Mom's Weekend.
The best way people can help the foundation, Ammons said, is to donate money. Donations can be made to the foundation in general, or they can be made to a specific animal.
To learn more about Cooper's Legacy Foundation and how to help or get help for a pet, visit their website at cooperslegacyfoundation.org.
"We could not do it without the support of the local folks," Ammons said. "The people in the Palouse just love their animals and know what it is to have an animal who needs help … because our success is their success, because they could turn a blind eye and they don't."
Local journalism is essential.
Give directly to The Spokesman-Review's Northwest Passages community forums series -- which helps to offset the costs of several reporter and editor positions at the newspaper -- by using the easy options below. Gifts processed in this system are not tax deductible, but are predominately used to help meet the local financial requirements needed to receive national matching-grant funds.
Subscribe to the Coronavirus newsletter
Get the day's latest Coronavirus news delivered to your inbox by subscribing to our newsletter.
---