News > Spokane
Evergreen Elementary's living classroom was labor of love, honors former principal
Thu., June 14, 2018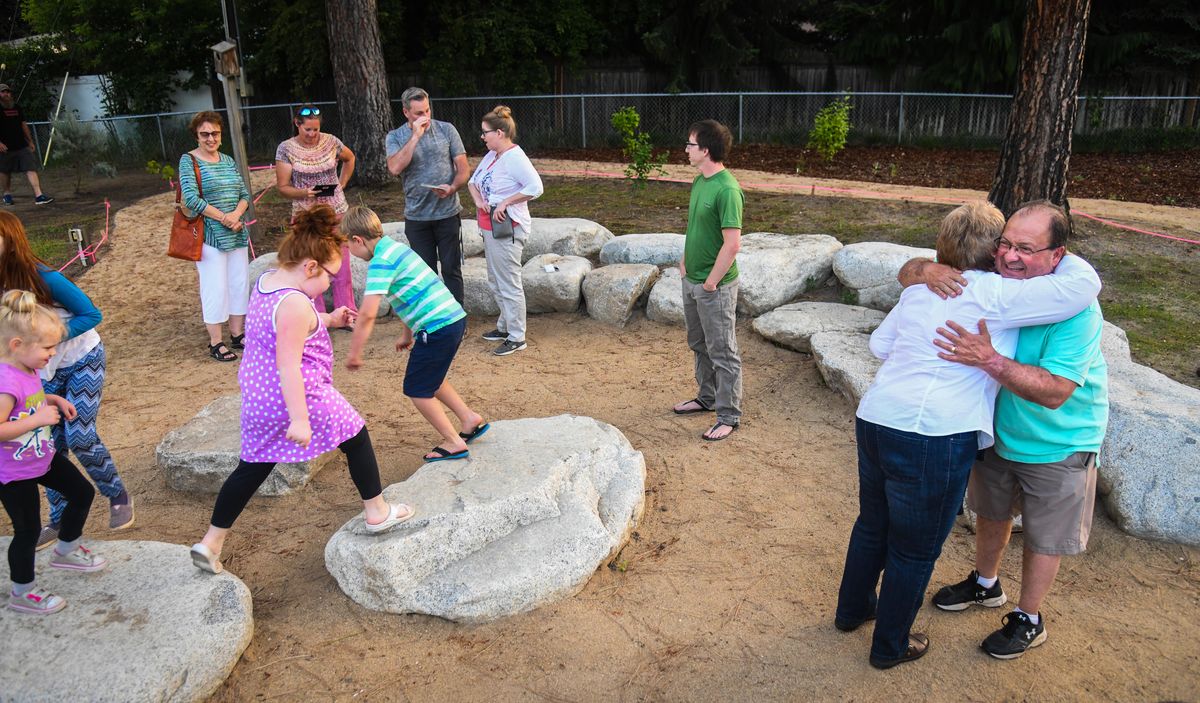 Ron Brooks, right, welcomes friends to the opening ceremony for the living classroom at Evergreen Elementary School in the Mead School District, Friday, June 8, 2018. The Living Classroom was dedicated in memory of his father and Evergreen principal Harry Brook who died in 1975. (Dan Pelle / The Spokesman-Review)Buy a print of this photo
Evergreen Elementary School has finally finished an outdoor living classroom that has been decades in the making, proceeding in fits and starts before finally being pushed over the finish line by parents.
The classroom was officially dedicated in a ceremony at dusk Friday, where people walked on the crushed granite paths and admired the native plants and played or sat on a group of large stones arranged in a circle. There are also benches and a picnic table.
"It's been a labor of love," said Principal Mike Danford. "There's so much potential."
The classroom was named in honor of Harry Brooks, who was principal of the school when he died of cancer in the 1970s. It was originally his dream to create an outdoor space for students. "He loved his work and he loved his kids," Danford said. "Unfortunately, he passed at a young age."
Brooks' son, Ron Brooks, a teacher and coach at Shadle Park High School, attended the ceremony. At times he choked back emotion as he spoke. "This would be what he would have envisioned," he said. "It's amazing what can be done when people have a vision. This is special. He'd be proud."
The plan to create a living classroom proceeded in fits and starts over the decades. Twenty years ago, teacher Chris Vogel headed an effort to create an outdoor space, bulldozing the property, laying out paths and planting trees. But after Vogel left the school, the area once again became weedy and overgrown.
When he arrived at the school Friday, Vogel was pleased to see that a tree he planted there in memory of his father is still there, tall and sturdy. "I cannot tell you what this means," he said. "This went dormant. To see it come back to life again is amazing."
Three years ago, Danford began talking with parent Lori Swan about what to do with the overgrown, weedy patch of ground on the west side of the school property. "It was not an inviting place," he said. "We started talking about bringing it back to life."
Some work days were held, but the handful of volunteers who gathered struggled to make a dent. Then a nearby church sent 20 volunteers and the PTO got involved last year. Swan donated $10,000 to the effort and local companies stepped up to help. The Mead School District paid for the irrigation system.
"Now we have a path and two separate gardens, one with native plants and a butterfly garden," Danford said.
During construction, some lost treasures were unearthed. In the 1990s, Vernon Baker, who would later be awarded the Congressional Medal of Honor, visited the school. A concrete slab with his name and handprints impressed in it was found under the weeds and debris, along with a plaque that was installed when Baker received the Medal of Honor. Both are now displayed near a picnic table.
Teachers and students can have lunch in the living classroom, and teachers can hold class there. Danford said he's also found the space very useful for helping children having behavioral issues. He's taken upset students out there to walk the paths and talk. Invariably the students calm down and are able to go back to class, he said.
The school is also working with a Whitworth University professor, who is creating activity plans that teachers can use in the space. Students can learn about plants or just sit and do creative writing. The possibilities are endless, Danford said.
"I could go on and on and just make stuff up," he said.
There are plans in place to make sure the area is maintained. Work days are already scheduled for the fall and spring, and the PTO has pledged $500 a year for maintenance.
Swan said she was willing to donate her money for the cause because she wanted students to be able to go outside. Children these days spend so much time on computers and other electronic devices and not enough outdoors, she said.
"I can't wait to see it grow up," she said as she looked at the tiny plants placed among the decorative bark. "It's really exciting. I love it."
School Librarian Jennifer Wheeler was giving tours of the space Friday. She noted that the crushed granite paths make it wheelchair accessible and available to all students.
"Oh, it's great," she said. "Part of library now is not just reading, it's doing. It's nice to have a space that you know is going to last."
Local journalism is essential.
Give directly to The Spokesman-Review's Northwest Passages community forums series -- which helps to offset the costs of several reporter and editor positions at the newspaper -- by using the easy options below. Gifts processed in this system are not tax deductible, but are predominately used to help meet the local financial requirements needed to receive national matching-grant funds.
Subscribe now to get breaking news alerts in your email inbox
Get breaking news delivered to your inbox as it happens.
---