Sports > Seattle Mariners
Mariners waste solid start by Felix Hernandez in loss to Red Sox
June 14, 2018 Updated Thu., June 14, 2018 at 10:52 p.m.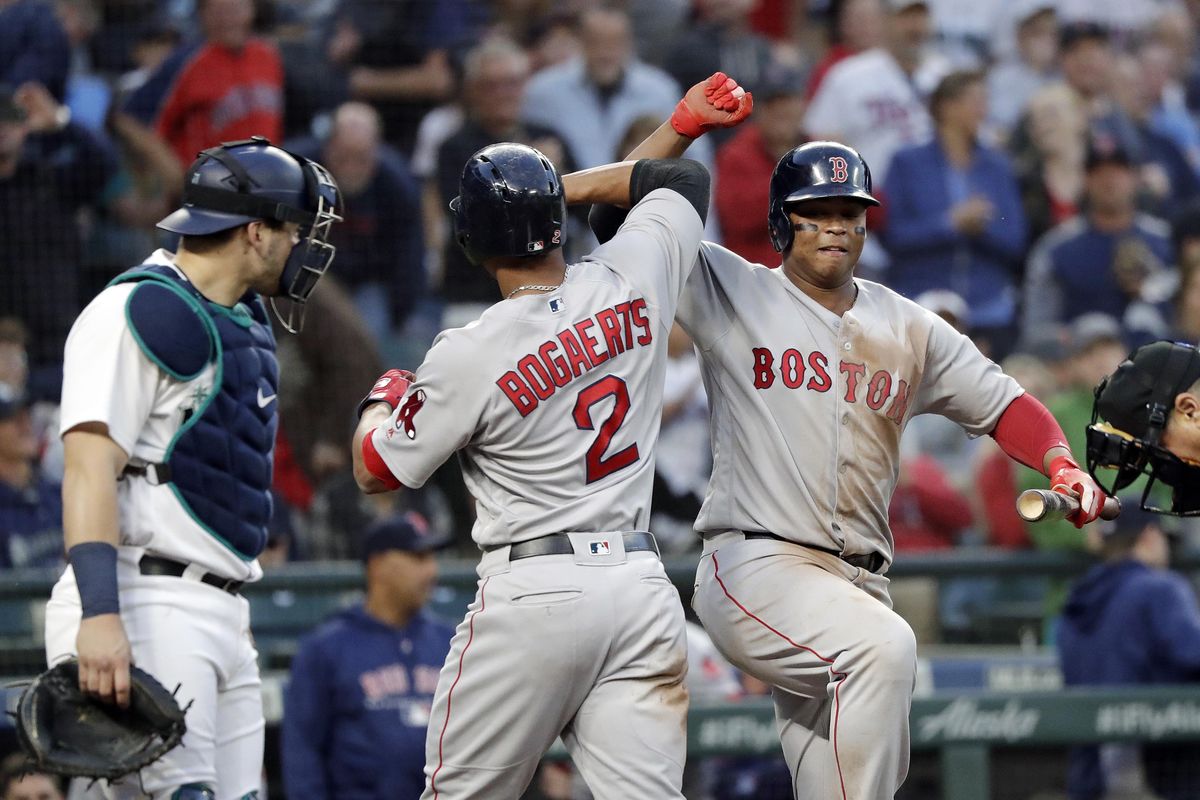 Boston's Xander Bogaerts is congratulated on his solo home run by Rafael Devers as Seattle Mariners catcher Mike Zunino stands nearby during the sixth inning Thursday in Seattle. (Elaine Thompson / AP)
SEATTLE – With apologies to Meat Loaf's longtime songwriter, Jimmy Steinman, when it comes to the productive outings of Felix Hernandez, maybe "two out of three ain't bad."
For the second time in his last three starts, Hernandez pitched at least seven innings while allowing just one run while giving his team a chance at a win. In what has been a frustrating season for the Mariners' longtime ace, that's progress and it's need for the Mariners going forward.
It didn't mean victory for Seattle. No, the Mariners' lost 2-1 to the Red Sox on Thursday night at Safeco Field despite the good outing from Hernandez. Boston starter David Price was even better and the Mariners' late push against closer Craig Kimbrel fell short.
Kimbrel walked Mitch Haniger on four pitches to put the tying run on and walked to Nelson Cruz to put the winning run on first. But he came back to strike out Kyle Seager and get Ryon Healy to ground into a game-ending double play.
The loss hurt. Hernandez's start helped alleviate some of the sting in the hopes that it will lead to similar outings in the future.
But that moral victory meant nothing in the American League West and wild-card standings. With the loss, Seattle fell to 44-23 and out first place in the division. Houston, which won earlier in the day, now leads the division by one-half game.
While the standards for what is a productive outing for Hernandez have been lowered, this showing was something that he could build off. Hernandez pitched seven innings, giving up two runs on eight hits.
It looked as if the Red Sox might not let him out of the seventh. Jackie Bradley Jr. worked a walk and Christian Vazquez blooped a single into right field, bringing Mookie Betts, who came into the game with an A.L.-leading .352 batting average, to the plate.
But a first-pitch changeup got Betts to roll over into an inning-ending 5-4-3 double play.
It was just the second time this season that Hernandez had gone at least seven complete innings. The other came two starts ago on June 3 when he pitched eight complete innings, allowing one run vs. the Rays at Safeco Field.
The first run charged to Hernandez probably shouldn't have occurred, and it certainly should have been an unearned run. With one out in the second, Rafael Devers hit a sinking line drive to right field. Haniger stumbled initially and had the ball hit off the bottom of his glove as he tried to make the running catch. It was ruled a single. It's a play that Haniger usually makes. Devers stole second and scored on Jackie Bradley Jr.'s two-out double to right field.
The Red Sox took the lead for good in the sixth. With two outs and a 2-2 count, Hernandez made the mistake he avoided most of night – leaving a fastball over the middle of the plate. Xander Bogaerts crushed the gift pitch over the wall in deep left-center for a solo homer.
After scoring 19 runs and hitting .360 with a 1.110 on-base plus slugging percentage, six doubles with 10 homers against the Angels in the previous three-game series, the Mariners faced a slightly elevated level of talent in pitching vs. the Red Sox.
Left-hander David Price pitched seven innings, allowing one run on five hits with no walks and seven strikeouts. Price pounded the inside of the strike zone on the Mariners right-handed hitters, sending fastballs and cutters just under their hands.
Price's only run allowed came in the fifth because of the speed of Seager.
Seager led off the fifth with a single and moved to second on Healy's single. With Guillermo Heredia trying to bunt, the Red Sox tried pick off Seager at second base. Seager didn't attempt to go back to the base. Instead, he broke for third base immediately and was able to advance without drawing a throw. He scored moments later on Heredia's fly ball to left field to tie the game at 1.
Local journalism is essential.
Give directly to The Spokesman-Review's Northwest Passages community forums series -- which helps to offset the costs of several reporter and editor positions at the newspaper -- by using the easy options below. Gifts processed in this system are not tax deductible, but are predominately used to help meet the local financial requirements needed to receive national matching-grant funds.
Subscribe to the sports newsletter
Get the day's top sports headlines and breaking news delivered to your inbox by subscribing here.
---