News > Spokane
Nike opens downtown Spokane location; sidewalks barriers cleared
June 14, 2018 Updated Mon., June 18, 2018 at 9:08 a.m.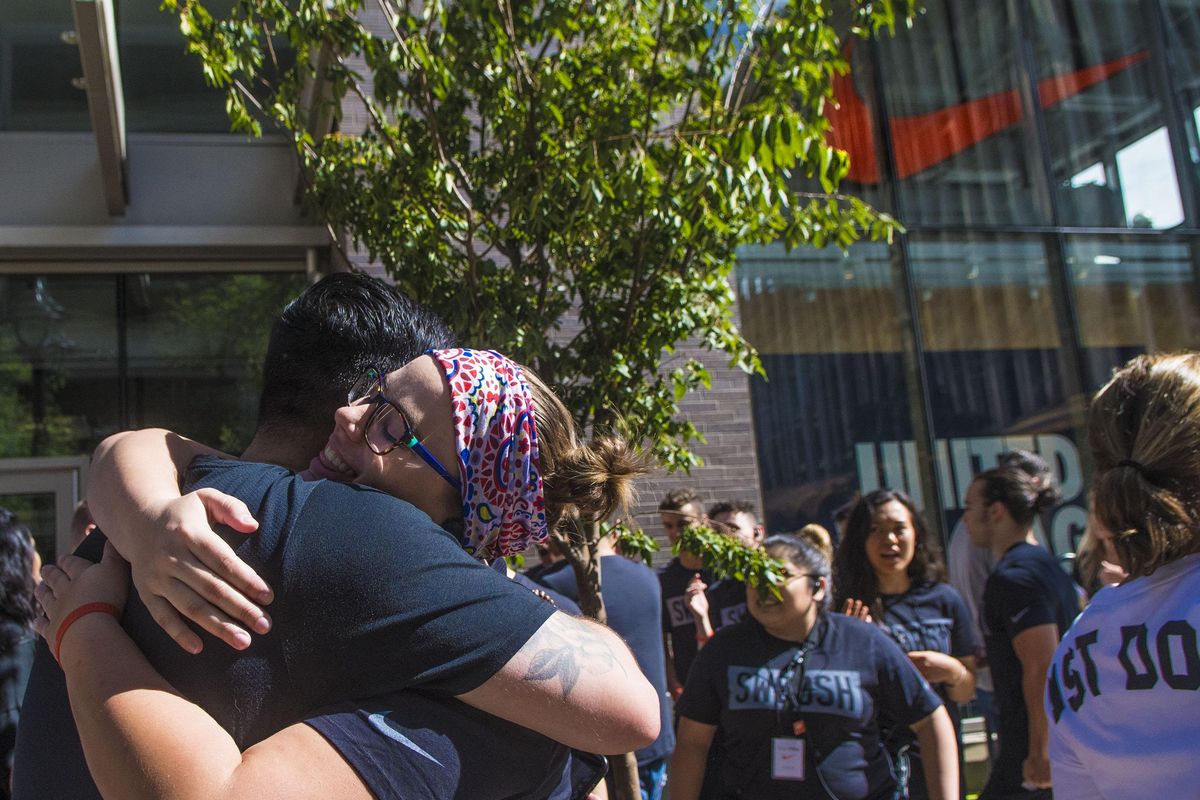 Nike employee Emma Keller, of Deer Park, hugs a fellow employee during the grand opening of Nike Factory Store in downtown Spokane on Thursday, June 14, 2018. (Kathy Plonka / The Spokesman-Review)Buy a print of this photo
Downtown Spokane welcomed its latest retail giant Thursday with the opening of the sportswear company's shop at Main Avenue and Howard Street.
"It's a milestone for Nike to invest in downtown Spokane," said Mark Richard, president of the Downtown Spokane Partnership. "It's a great sign for Spokane's momentum."
Roughly 100 people lined up for the opening, the queue stretching along the sidewalk and wrapping around the block. At the moment the outlet's doors were opened, they flooded inside – many with phones held high, snapping photos – to the applause of the store's employees.
One of those people was Domenic Rehm, 20, who drove from Medical Lake to attend the opening.
"It's pretty big to have access to the store," he said. "The next closest one is on the other side of the mountains."
Richard said the Nike Factory Store is a new reason for people to travel to Spokane, and it will contribute to the downtown economy.
The Nike Factory Store is on the bottom floor of The M building, the former Macy's department store that now holds 114 apartments on its other nine floors. The building is owned by Centennial Properties, a subsidiary of the Cowles Co., which publishes The Spokesman-Review.
Local journalism is essential.
Give directly to The Spokesman-Review's Northwest Passages community forums series -- which helps to offset the costs of several reporter and editor positions at the newspaper -- by using the easy options below. Gifts processed in this system are not tax deductible, but are predominately used to help meet the local financial requirements needed to receive national matching-grant funds.
Subscribe now to get breaking news alerts in your email inbox
Get breaking news delivered to your inbox as it happens.
---