News > Spokane
This Spokane parks patrol program looks a lot like the Old West
Mon., June 18, 2018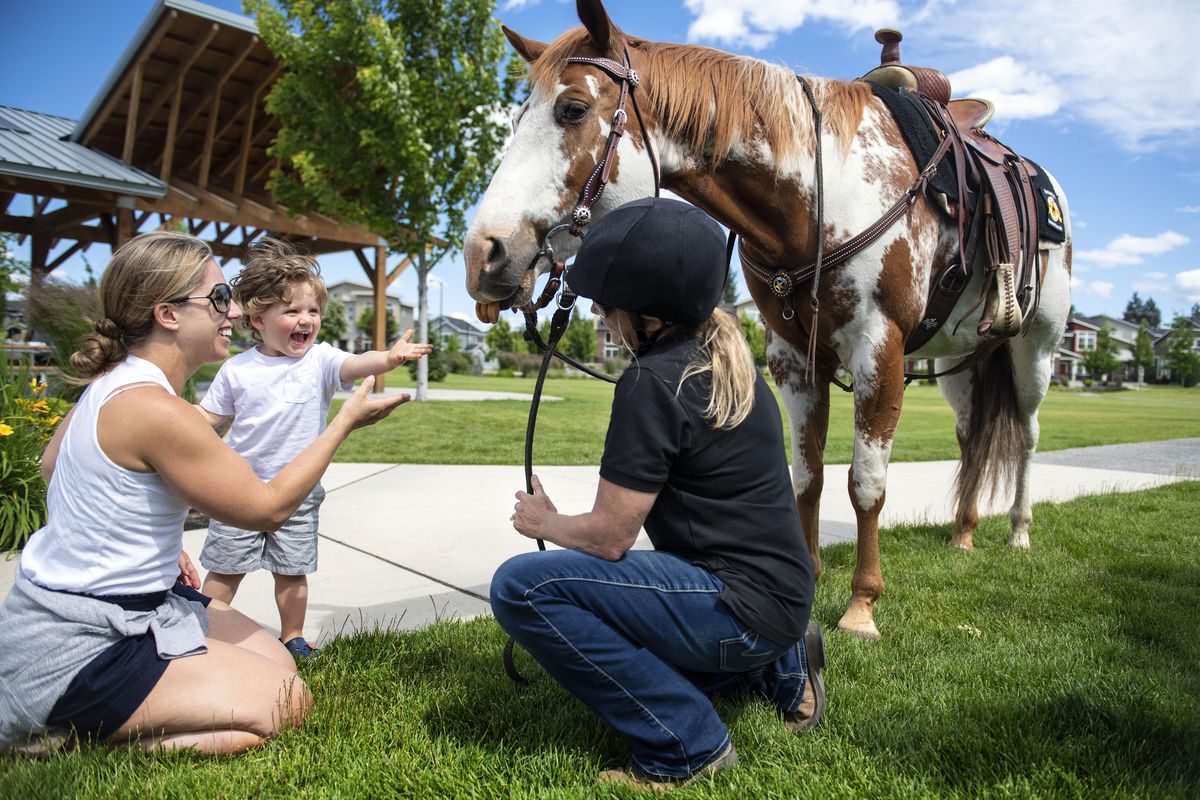 Meagan Porter and her son Jaxsen, 2, try to pet C.O.P.S. Mounted Patrol Unit volunteer Traci Ponto's painted horse, Jackson, who licks their fingers Sunday morning in Olmsted Brothers Green Park. The Spokane C.O.P.S. program has started running a new mounted patrol. (Colin Mulvany / The Spokesman-Review)
The horses stood quietly in the sunshine, accepting pats and strokes while occasionally nuzzling the tiny hands that reached for their soft noses.
Little Emmalyn Marney, who just turned 1 last month, reached out to pet the face of a paint horse named Jackson.
"Her third word was 'Neigh,' " said her mother, Megan Marney. "We got to meet the horses and it just made her day."
Jackson was one of three horses visiting Olmsted Brothers Green Park in Kendall Yards on Sunday morning as part of the new mounted patrol program run by the Spokane Community Oriented Policing Services program. Up to three teams of volunteers visit parks across Spokane every Saturday and Sunday to spread the word about the COPS volunteers and the work they do.
"It's so cool that they're here," the elder Marney said. "We just look at horses in books. It's definitely a cool program."
Jackson belongs to police Officer Traci Ponto, the neighborhood resource officer in the West Central neighborhood. She is one of two commissioned officers who are part of the mounted patrol, but they participate on their own time and as volunteers.
"No guns, no vest, no duty belt, no contacting bad guys," Ponto said. "It's public relations."
The police department used to have a mounted patrol unit, but it was eliminated in the 1990s after staffing cuts. Ponto said she's been trying to bring it back ever since.
"I rode in that," she said. "It was phenomenal. A lot of us, it's our passion. We ride on our days off."
COPS executive director Patrick Striker had the idea to bring the mounted patrol under the COPS umbrella and staff it with volunteers. "The program is whatever we want it to be," he said. "It's much easier."
Plans began coming together in February, and there was no problem attracting volunteers. Volunteers have to own and haul their own horse and provide poop scooping services. The inaugural summer was limited to 16 riders, and the program will be evaluated at the end of the season.
"This is our start-up year," Ponto said. "We're going to have hiccups."
The program is all about observation and patrol. If volunteers see anything suspicious, they report it to police. "We're that extra set of eyes and ears," Ponto said. "You provide a deterrent naturally by being in the park. Really it's our opportunity to talk about COPS shops."
The goal is to make the parks welcoming so that people will use them more for picnics, birthday parties and other gatherings. The more people there are, the less crime there is. "Once the community is there, it's not fun for the bad guys," Striker said. "We want to make the parks a desirable place to go."
On Sunday, there was very little patrolling done in Olmsted park, however. Kids and adults alike streamed over to pet the horses and chat. Many were across the street at Indaba Coffee Roasters when the riders showed up, and came over with cups of coffee in hand.
Meagan Porter said her 2-year-old son Jaxsen spotted the horses after she got her coffee and ran over. After some encouragement from Ponto, he put out his hand so Jackson could lick it. His face beamed.
"He's maybe seen them from the car," Porter said. "He's never been this close. This is special. He'll talk about this for a long time."
Most children who approached the horses were tentative, having never touched the animal before. One boy, however, wrapped his arms around the neck of a warmblood horse named Jewel.
It wasn't only kids who flocked to the horses. Karen Patton, who lives nearby, was getting coffee with her cousin from California when they spotted the horses. Both posed for a photo next to Jewel.
"We almost jumped out of the car when we saw them, they're so beautiful," Patton said. "This is a complete treat – horses, coffee and donuts. I just love it. It's just a compliment to the parks."
The mounted patrol will continue every weekend through September. Each team of two or three volunteers will visit three parks each day, spending an hour in each. Manito Park is so large, however, that teams will spend four hours there when they visit.
The schedule of mounted patrol park visits is available at spokanecops.org/mounted- patrol-unit-schedule-of-park-rides. The horses will also occasionally appear at community events, including the Settlers Day parade in Deer Park on July 28 and the Garland Street Fair on Aug. 11.
Local journalism is essential.
Give directly to The Spokesman-Review's Northwest Passages community forums series -- which helps to offset the costs of several reporter and editor positions at the newspaper -- by using the easy options below. Gifts processed in this system are not tax deductible, but are predominately used to help meet the local financial requirements needed to receive national matching-grant funds.
Subscribe now to get breaking news alerts in your email inbox
Get breaking news delivered to your inbox as it happens.
---