News > Spokane
Spokane's largest block party – Summer Parkways – tonight in Comstock, Manito neighborhoods
Thu., June 21, 2018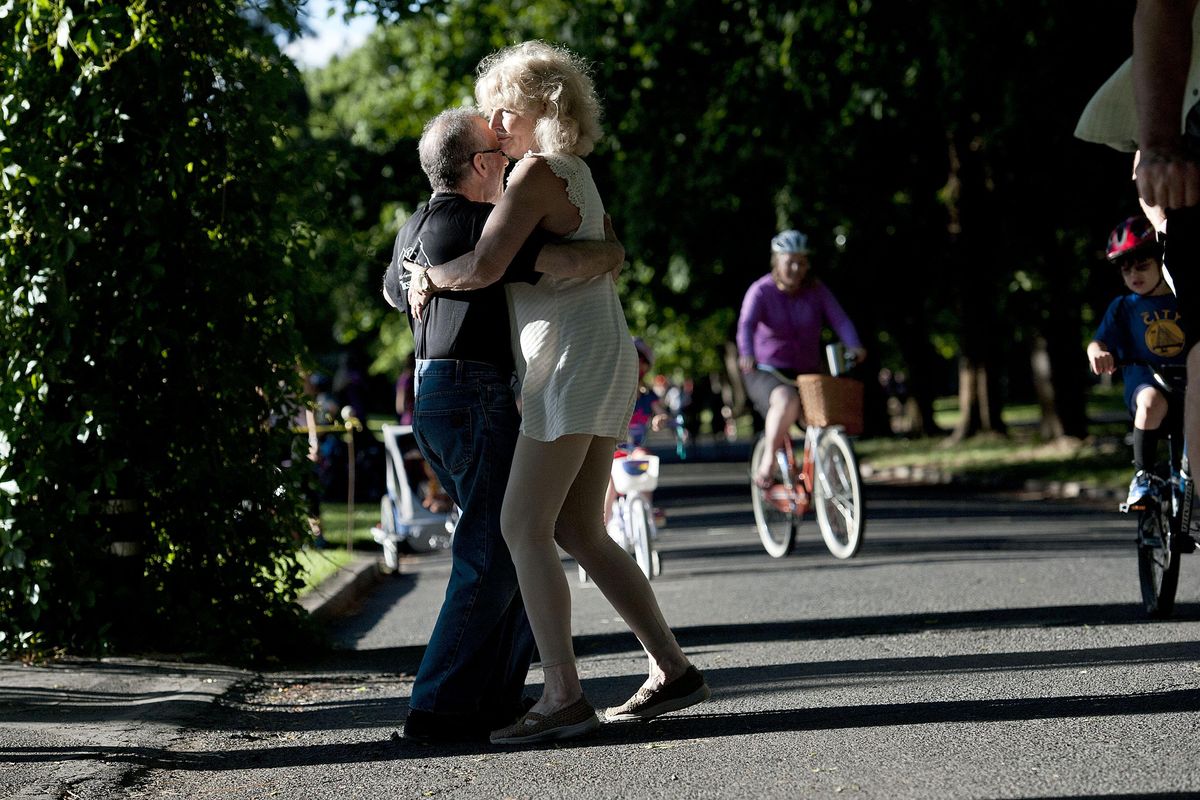 Ann Marie Burk dances the tango with Barry Satin during a break from biking with the Spokane Summer Parkways bikers on Wednesday, June 21, 2017. (Kathy Plonka / The Spokesman-Review)
Spokane Summer Parkways, Spokane's largest block party, will shut down 4 miles of streets on the South Hill today from 6 to 9 p.m.
The streets will be closed to cars and open only to pedestrians, cyclists and skaters. The route begins and ends in Comstock Park, heading east on 32nd Avenue and north on Manito Boulevard before looping through Manito Park and heading west on 23rd Avenue and south on Post Street.
Though the route begins and ends in Comstock Park, people can enter the route wherever they like. "You don't start or finish at a particular point," spokesperson Katherine Widing said. "You can do the whole thing. You can do as much or as little as you want."
The ninth annual event is put on by a local non-profit volunteer group. Organizers rely on donations and sponsors to fund the event. "It's a big event for Spokane," Widing said. "It took a lot of work to get that all organized."
Summer Parkways is a celebration of outdoor activities. It includes a wide selection of family friendly activities, including yoga, tai chi, dancing, jump rope, martial arts, hula hoops and hacky sack. People can even bring their own equipment if they want to. All activities are free.
"It's all about being active," Widing said.
There will also be food trucks along the route. People and groups offering activities are allowed to set up wherever they like along the route so there is no map to follow. The idea is for people to follow the route and explore.
People can also participate in the Passport Parkways Hunt. People can pick up a card at Summer Parkways hubs in Manito Park, Comstock Park or Hart Field and visit each of the 10 booths indicated on the card. The booths will be marked by orange balloons. Everyone who completes the card by doing activities at each stop will win a prize.
About 50 vendors are expected to be in the parks and along the route as well. The WSU Food Sense booth will have a bicycle-powered blender for people to make smoothies.
Local journalism is essential.
Give directly to The Spokesman-Review's Northwest Passages community forums series -- which helps to offset the costs of several reporter and editor positions at the newspaper -- by using the easy options below. Gifts processed in this system are not tax deductible, but are predominately used to help meet the local financial requirements needed to receive national matching-grant funds.
Subscribe now to get breaking news alerts in your email inbox
Get breaking news delivered to your inbox as it happens.
---