Sports > WSU basketball
Orange crush: Oregon State thumps Washington State for second time to close out regular season
UPDATED: Sat., March 3, 2018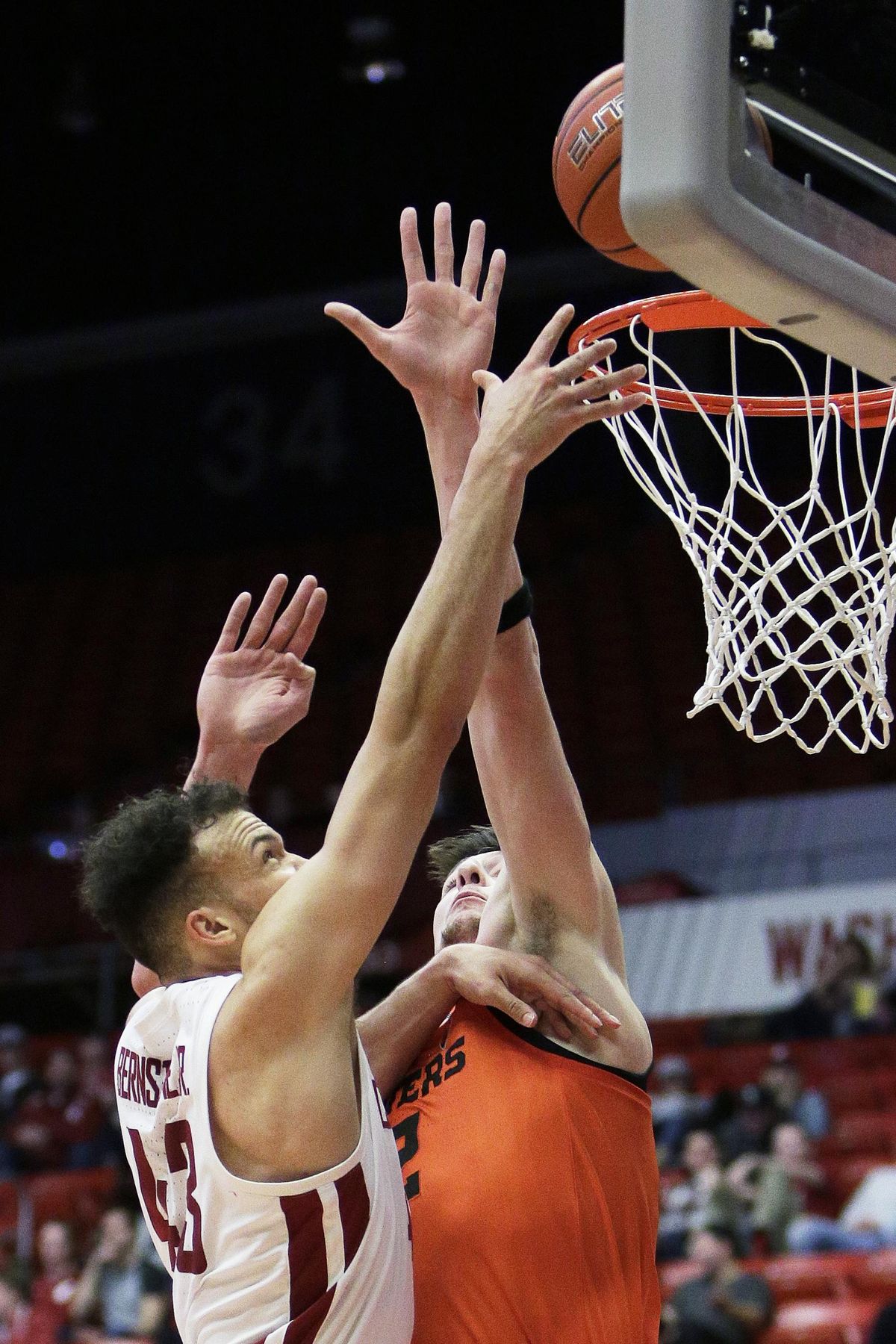 Washington State forward Drick Bernstine shoots over Oregon State forward Drew Eubanks during the first half Saturday. (Young Kwak / AP)
PULLMAN – When all is said and done, Washington State will finish the basketball season with wins over teams significantly more talented than the Oregon State squad the Cougars hosted Saturday afternoon at Beasley Coliseum.
On paper, the 10th-place Beavers should be as beatable as anyone on the WSU schedule. In reality, nobody in the Pac-12 Conference – or on WSU's 30-game schedule for that matter – seems better suited to punish the Cougars over the course of a 40-minute contest than Wayne Tinkle and his bunch at OSU.
On the heels of a marquee win over an Oregon team that appeared in last year's Final Four, the Cougars hoped to build on their late-season success that produced three wins in five games. Instead, they became the first of OSU's 10 road opponents to concede a victory to the Beavers, getting thumped 92-67 on Senior Day and in front of a home crowd that numbered 3,148.
"I didn't think we did anything right," WSU coach Ernie Kent said. "We didn't compete. I didn't think we punched back when we got hit in the mouth. I thought just like in Corvallis, this team is a tough matchup.
The Cougars dressed in white tops and the Beavers wore orange, but that may have been the only drastic difference between Saturday's contest and the 94-62 blowout loss WSU suffered on Feb. 8 at Gill Coliseum.
In that game, the Cougars gave up a 57-point second half to the Beavers. In this one, OSU packed 54 points into the first.
The first meeting featured a 20-0 run from the Beavers that essentially detonated the Cougars in the closing minutes of the first half. The decisive stretch of Saturday's game came earlier, but it wound up proving just as fatal to the home team. OSU trailed 6-2 when Ethan Thompson buried a 3-pointer and the Beavers staged a 19-2 run, keeping the Cougars scoreless for a period of 4:21, to eventually claim a 16-point lead.
"I think all of us didn't play tough enough, honestly," said grad transfer forward Drick Bernstine, one of two seniors feted pregame along with Steven Shpreyregin. "I don't know what happened, but we didn't lock in on defense at all. I can't even think back of a possession where we actually played good defense."
And the offense, when matched up against OSU's rugged zone D, went stagnant for the second time in as many games against the Beavers. WSU managed to shoot 25 of 56 (45 percent) from the field and 11 of 28 (39) from beyond the arc, but the Cougars committed 13 turnovers and shot just 6 of 11 from the free-throw line.
Shpreyregin, a former walk-on who made his first career start, was the first and only Cougar to finish in double digits, but by the time he reached 10 points, four Beavers had already reached that number.
"They're long, they're athletic all over the floor," Kent said. "They're big, they're strong."
On 4-of-6 shooting from the 3-point line, Ethan Thompson was OSU's leader with 23 points. Tres Tinkle added 18 points and 12 rebounds, Stephen Thompson had 18 points and Drew Eubanks gave the Beavers 12 more.
The Beavers nearly doubled the Cougars up in points scored in the paint, totaling 42 to WSU's 24.
Malachi Flynn, the sophomore point guard who scored 78 points in the last three games at Beasley, was held in check, managing just nine against OSU. Arinze Chidom, Carter Skaggs and Bernstine additionally had nine apiece. Robert Franks chipped in eight more.
"Didn't see it coming, because we've been so good the last five games," Kent said. "There's a part of me that says just move it out of the way and get ready for the Pac-12 Tournament. But there's another part of me that says Monday before we get on that plane, we need to make sure we find our game and practice before we get down there."
The 11th-seeded Cougars will play No. 6 seed Oregon in a first-round tournament game Wednesday at 8:30 p.m. at the T-Mobile Arena in Las Vegas.
Local journalism is essential.
Give directly to The Spokesman-Review's Northwest Passages community forums series -- which helps to offset the costs of several reporter and editor positions at the newspaper -- by using the easy options below. Gifts processed in this system are not tax deductible, but are predominately used to help meet the local financial requirements needed to receive national matching-grant funds.
Subscribe to the sports newsletter
Get the day's top sports headlines and breaking news delivered to your inbox by subscribing here.
---