Sports > Outdoors
Welcome to the Thunderdome: World-class ice climbing in Spokane's backyard
March 22, 2018 Updated Thu., March 22, 2018 at 11:01 a.m.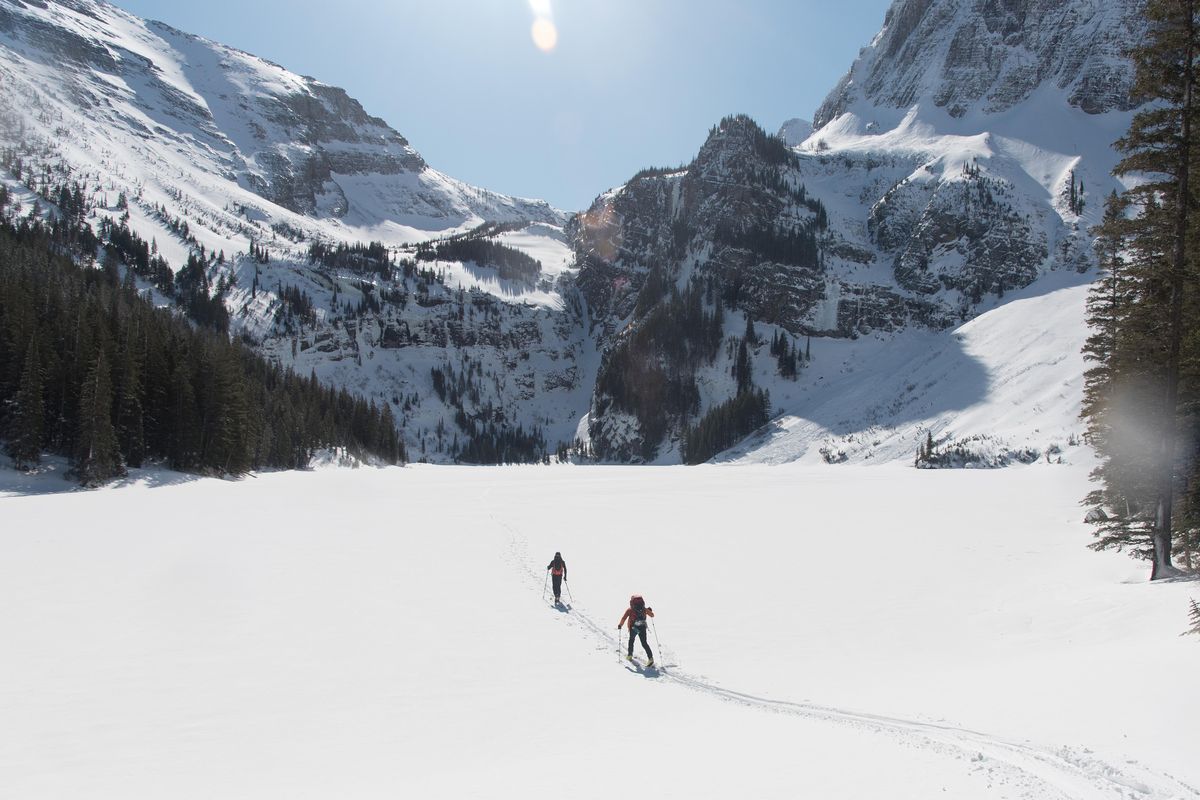 Scott Coldiron (right) and Matt Cornell ski across Granite Lake, Montana, on Saturday, March 10, 2018. For the past four climbing seasons, Coldiron has been developing a new ice climbing spot in the Montana backcountry. (Eli Francovich / The Spokesman-Review)
GRANITE LAKE, MONT. – It was still dark when Scott Coldiron and Matt Cornell crawled out of a tent moored in the snow beside a frozen lake.
The two – separated in age by nearly 30 years – skied across the lake in the early morning darkness.
Coldiron, 50, has raised a family, served in the military, competed semi-professionally in ski mountaineering and nearly had a full career as a firefighter in Spokane.
Cornell is a 23-year-old dirtbag. A nomadic climber in the spirit of Fred Beckey, Cornell spends his winters in Bozeman and his summers in Yosemite. He makes near annual climbing pilgrimages to Alaska and Patagonia. He doesn't own a car.
The climbing partners, who met just days before, are connected by a mutual climbing friend and mentor – legendary mountaineer Conrad Anker.
In the early morning on March 11, the two attempted an 1,100-foot ice climb. Coldiron had attempted the climb several times, but had to turn back each time. The route, nine snowy miles from the nearest passable road, had never been climbed in its entirety.
The glimmer of their headlamps disappeared into the darkness. They were gone.
Despite their external differences the two are propelled into the unknown by a shared desire. Climb ice. Preferably ice that has never been climbed before.
That's the allure of a place like Granite Lake, Coldiron said.
"It's that urge, that mankind has always had, to explore the unexplored," he said. "It's the adventure."
Coldiron has been adventuring and exploring Granite Lake, near Libby, Montana for the past four ice climbing seasons. In the process he's established numerous new routes in an area he has dubbed "Thunderdome" after the Mad Max movies.
Getting to the Thunderdome is no easy task. After a 2 1/2 hour drive from Spokane, hopeful climbers have to ski an additional 9 miles to the lake, crossing numerous streams in the process. The ski in, Coldiron said, can vary tremendously. With good snow conditions he describes it as easy and enjoyable.
If you get caught in bad weather it can be downright treacherous.
"It's a funny place," Coldiron said. "I've had those ups and downs where I'm like 'Oh I don't know if I can keep exploring this another year.' "
Flooded streams and storms tossing trees like matchsticks put a name to a few of the downs.
But, for Coldiron, it's worth it in the end. In the Lower 48 good solid ice climbing lines are rare beasts, reserved for places like Hyalite Canyon in Montana or Cody, Wyoming. Either option, for Spokane residents, necessitates an 8-hour-plus drive.
What's more, Granite Lake is a relatively unknown and nearly unclimbed destination promising first ascents to anyone willing to make the hump.
And the area's remoteness offers its own rewards. It's not uncommon to see lynx and cougar tracks. Once, while skiing out, Coldiron and his partner were serenaded by a pack of wolves.
"Hyalite is advertised as the best ice climbing, the highest concentration of ice climbing in the Lower 48 and everything there has been climbed hundreds of times," Coldiron said.
"But I found a place with a higher concentration of ice. Bigger ice climbs. More ice climbs. And it's totally unexplored. And it's a little more work sure, you can't drive up to the parking lot, but there is nothing else like this."
Coldiron grew up in Montana. But as a kid and young man he didn't climb. Instead, his outdoor recreation was confined to shooting guns and driving four-wheelers.
As a young man he worked on trail crews based in Libby, Montana. That's where he was first exposed to the Cabinet Mountains. The steep peaks infected his heart. But he had none of the skills needed to head into the high wild.
The seed of mountain madness lay dormant.
Coldiron served in the military, had a family and became a firefighter in Spokane. And he began to learn the mountain crafts.
He remembered those mountains in Montana he'd seen as a younger man. This time he returned prepared. He started making winter expeditions to the Cabinet Range – first near Snowshoe Peak, but the avalanche danger was too high. So he decamped one drainage south to Granite Lake.
There he found an area relatively safe from avalanches with hundreds of potential ice lines waiting to be climbed. The ice climbs range in difficulty and complexity. Ice is graded using the Waterfall Ice system – WI grading starts at WI 2 and goes through WI 7.
The easiest in that area are doable for any average ice climber, Coldiron said. Short WI 2s and 3s. The bigger, prouder lines require more skill and courage.
"It's an incredible spot for sure," said Jess Roskelley. "And there is a lot more to do."
Roskelley, a sponsored climber who has summited peaks all over the world, has been to the Thunderdome with Coldiron. He describes the ski in as a "pain in the ass," but says the climbing is world class.
"If you want to go chase new ice … you're going to have go quite a bit farther," he said. "I imagine there are even more spots out there … people just have to go out and get them and be creative."
Roskelley said when he first saw the walls ringing Granite Lake he was shocked.
"Because they're so big. And I though, 'Oh well it's going to get smaller,' " he said.
But the towering lines didn't shrink.
"They're as good as anything in Canada or certainly Colorado," Roskelley said.
But Roskelley emphasized that the area is not suitable for everyone. The approach itself "is a technical approach," with some avalanche danger and plenty of stream crossings.
"People should know what they're doing," he warned.
Because Coldiron is a firefighter and has a flexible schedule, he's been able to spend large chunks of uninterrupted time at the Thunderdome. To facilitate that he establishes a base camp near the lake every winter. With a wood stove, two cots and extra food and gear, it's a comfortable place to dry out and fuel up between climbs.
"He has all the information and all the knowledge on (the area)," Cornell said. "It was easy for me to show up with little to no knowledge of the place and have him show me around."
He added, "We climbed really well together. We were efficient and we got along."
Coldiron agrees. Cornell is one of the best climbers he's ever roped up with, he said.
"I was totally inspired by Matt and we climbed perfectly together," Coldiron said. "It was great for me to have a partner that was so dialed and so inspiring to me."
Hours after heading into the dark, the climbing duo returned exuberant. They successfully climbed an 1,100-foot vertical flow of ice, which they named Mad Max. They rated the climb WI 5+. It's the proudest line in the area, thus the namesake moniker.
Coldiron had attempted that climb several times before and each time he was shut down for one reason or another.
"This is the kind of stuff you can find in Alaska," Coldiron said. "In the lower 48 I don't know another place where people are putting up 1,000-foot ice routes."
Over the course of the next several days, with good weather propelling them, Coldiron and Cornell put up two more big first ascents: The Road Warrior WI 5 M5, 1,000 feet and Master Blaster WI 4 M5, 1,500 feet.
"It was amazing really. We sent the three biggest, best lines there," Coldiron said. "We were incredibly lucky. We had like a near-perfect trip. I kind of couldn't believe we sent those three lines."
Local journalism is essential.
Give directly to The Spokesman-Review's Northwest Passages community forums series -- which helps to offset the costs of several reporter and editor positions at the newspaper -- by using the easy options below. Gifts processed in this system are not tax deductible, but are predominately used to help meet the local financial requirements needed to receive national matching-grant funds.
Subscribe to the sports newsletter
Get the day's top sports headlines and breaking news delivered to your inbox by subscribing here.
---