News > Spokane
Then and Now: Comstock Park
Mon., May 21, 2018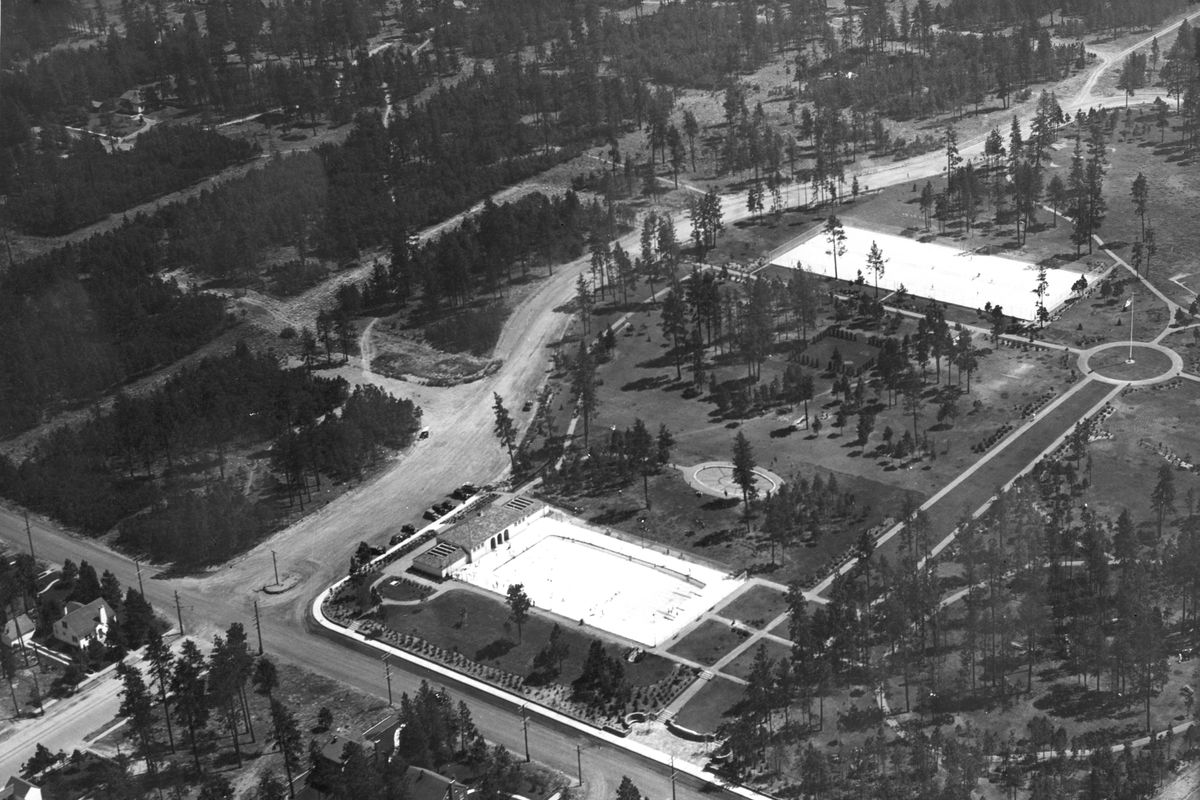 1939 - When Comstock Park opened in 1938, it became a destination for swimming, tennis and other diversions. The park, pool and other amenities were donated by Josie Comstock Shadle, the daughter of James and Elizabeth Comstock, owners of the Crescent Department Store and other businesses. (Charles Libby/Spokesman-Review Photo Archive / SR)
James M. Comstock, born in 1838 in Wisconsin, arrived in Spokane in time to witness the great fire of 1889 and start Spokane Dry Goods with Robert Paterson. It became the Crescent, Spokane's premier department store for a century. He also worked in real estate and owned other businesses. He served a term as Spokane mayor, starting in 1899. James Comstock died in 1918.
Josie Shadle, the Comstocks' daughter, wanted to pay tribute to her parents. She took a sizable chunk of her inheritance and purchased the land between Lincoln and Howard Streets, from 29th to 33rd avenues on the South Hill. The land was graded and landscaped, then donated it to the city in 1936. In addition, Shadle set aside enough money to build a giant swimming pool, 75-by-150 feet, and an elegant bathhouse for changing and showering. She built tennis courts, a children's play area and a baseball diamond on the south end.
The completed park was dedicated in July of 1938.
As the first public pool in the city, children flocked to the South Hill to swim on hot summer days. Over the years, other pools were built, but many residents still went to Comstock for the oversized pool and pleasant facilities. James Comstock loved literature, especially Shakespeare, so a quote from "The Tempest" was added to the bathhouse, about the importance of learning to swim: "Sir, he may live. I saw him beat the surges under him and ride upon their backs."
In the fall of 2007, Spokane voters approved a bond issue to replace the city pools. Comstock neighbors didn't want an aquatics facility to replace the giant lap pool. But in 2009, the city opened a new center with slides, a zero-entry "beach" and a remodeled bathhouse. A small lap swim area was included.
The Spokesman-Review said in 1936, "Comstock Park will be a perpetual testimonial to the fine character and high civic spirit of Mr. And Mrs. J.M. Comstock." When Josie Shadle died in 1954, her estate formed the Comstock Foundation, giving millions to many charitable causes.
Local journalism is essential.
Give directly to The Spokesman-Review's Northwest Passages community forums series -- which helps to offset the costs of several reporter and editor positions at the newspaper -- by using the easy options below. Gifts processed in this system are not tax deductible, but are predominately used to help meet the local financial requirements needed to receive national matching-grant funds.
Subscribe now to get breaking news alerts in your email inbox
Get breaking news delivered to your inbox as it happens.
---