Sports > High school sports
Prep track and field: St. George's sprinter Ashley Sande nears finish line of stellar career
May 23, 2018 Updated Wed., May 23, 2018 at 5:16 p.m.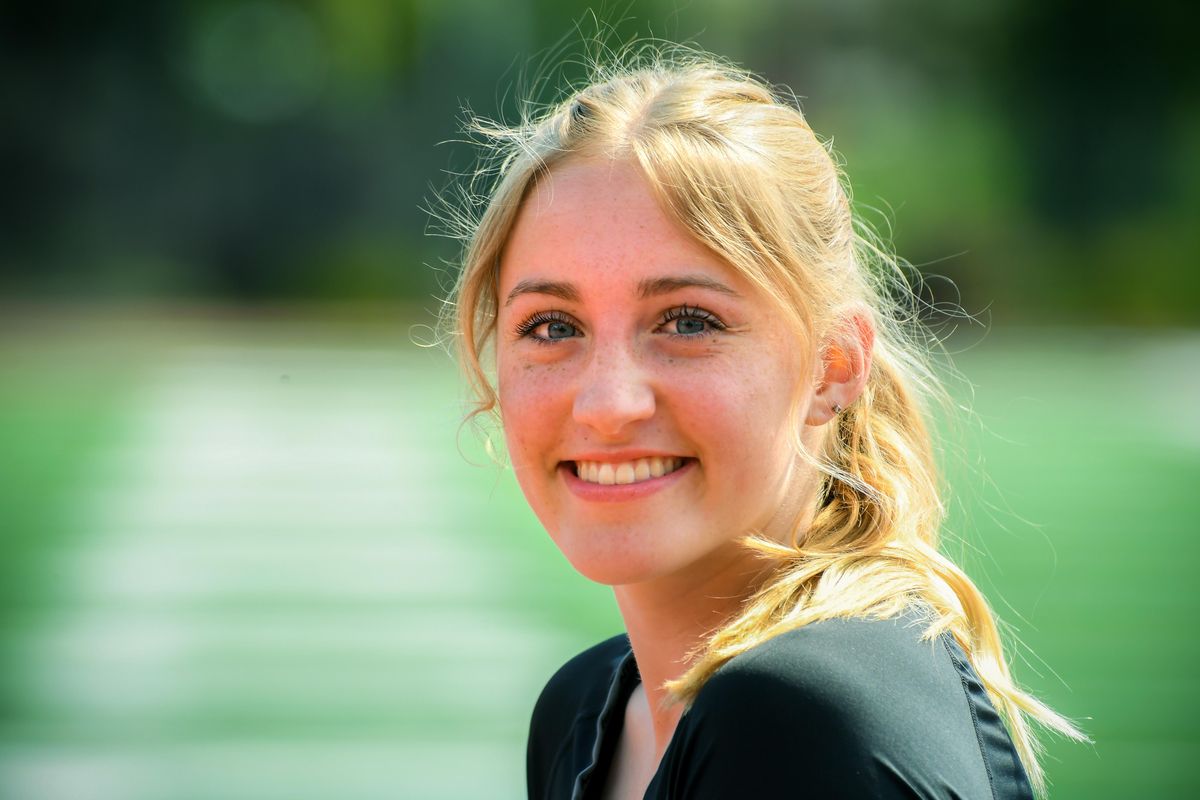 St. George's senior sprinter Ashley Sande is the defending State 2B 200-meter champion and leads all running categories in her classification, from the 100 to the 800, by large margins. (Dan Pelle / The Spokesman-Review)Buy a print of this photo
Everything is coming to a sprint finish for Ashley Sande.
She went through final tests at St. George's School last week, graduating on Sunday with a 3.9 grade-point average.
Her work, though, isn't finished. A decorated track and field career concludes this weekend at the State 2B meet at Eastern Washington University.
"I love the whole state atmosphere," Sande said. "It's the last time I'll be there, so I'm just going to try to take it all in. It's sad that it's coming to an end."
Sande leaves her footprints all over the Dragons' record book. She owns records in the 100-meter run (12.49 seconds), 200 (25.71), 400 (57.16) and 800 (2:16.89). She also ran the anchor leg on the record-setting 1,600 relay (4:05.51).
She has earned 11 state medals, including five championships. She's helped St. George's to a state title and two runner-up finishes.
"She has meant an enormous amount to our program," Dragons coach Rick Riley said. "She has shouldered all the heavy lifting the last four years."
Sande wants to go out with a few more memorable moments.
She is ranked No. 1 in six events and probably could have qualified in seven. State rules only allow an athlete to compete in four.
Sande will do her staple sprints – 100, 200 and 400 – and anchor the 1,600 relay, which is seeking a fourth straight state title.
Riley said that to his knowledge, only one other school in all classifications has won four straight titles in the 1,600 relay, and it's never been done in 2B.
Sande, who lives in Chattaroy but has attended St. George's since first grade, thought about doing the 800 this week and dropping one of the shorter sprints. But the WIAA changed the order of events and doing the longer race won't allow her enough recovery time to compete with optimal energy.
She has fallen in love, though, with the 800. It's a race that calls for a strategically paced first lap and a sprint-like final lap.
It will be the event she does in college. She earned a full academic scholarship to the University of Washington. Riley has contacted UW coaches about Sande walking on.
"Her speed base is incredible for that event," Riley said. "What more and more people have found at the world class level is the 800 is an extended sprint."
Sande has run the 800 competitively twice and has used it as a workout in some meets.
"When I ran it the first time, I knew that's my race," Sande said. "You feel like you're not going as hard the first lap and then you just go for it on the second lap."
Sande is particularly focused this week on redeeming herself in the 400. She was far and away the state leader a year ago when she false started at the state-qualifying regional meet and was disqualified.
Sande was so concerned about false starting that she decided to use a standing start instead of getting into the blocks.
"At the command, 'Set,' she rocked backward a bit," Riley said. "It was a controversial call. I'm not second-guessing the officials. There's a bit of her that wants the 400 title she didn't get last year."
At the regional meet last weekend, Sande lowered her personal best in the 400 by more than half a second.
"I was thinking of all the ways I could not false start," Sande said of a year ago. "I think I've false started once out of the blocks. I was just trying to be safe. I overthought it."
Sande wants to finish with a team title one more time. She will be joined at state by eight teammates.
Riley figures defending champ Northwest Christian (Lacey), La Conner and Asotin will be in the title mix with the Dragons.
"It's going to take a lot of grit," Sande said. "We just all have to give it our best."
Local journalism is essential.
Give directly to The Spokesman-Review's Northwest Passages community forums series -- which helps to offset the costs of several reporter and editor positions at the newspaper -- by using the easy options below. Gifts processed in this system are not tax deductible, but are predominately used to help meet the local financial requirements needed to receive national matching-grant funds.
Subscribe to the sports newsletter
Get the day's top sports headlines and breaking news delivered to your inbox by subscribing here.
---