Coding is in his blood – and his name: Classical Christian senior a budding tech entrepreneur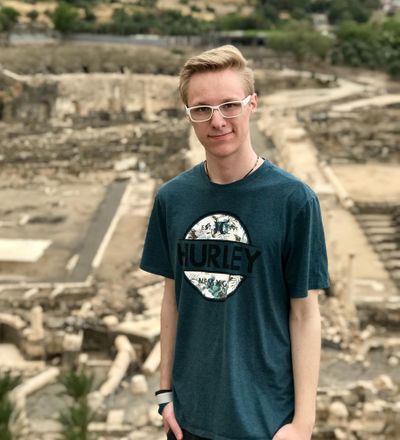 Sometimes a name just fits. Elisha Coad knows how to code with the best of them.
A senior at Classical Christian Academy in Post Falls, Coad already boasts a résumé with more technology and leadership experience than many twice his age. He co-owns a business with his older brother, called CodeBros, which specializes in professional graphic and web design, as well as 3-D modeling and animation.
That's just scratching the surface of a skill set that is largely self-taught. It all started around seventh grade, when Coad became interested in some of the more complicated programming aspects of the video game "Minecraft."
"There is another part of the game that can get pretty in-depth … it teaches the basics of circuitry and logic, and I started looking up how to make modifications and to develop my own mods," Coad said. "I had a brain for it, I suppose."
It certainly runs in the family. Coad's father is an inventor who holds several patents, he has another brother who is a computer engineer. Another brother, Josiah, is his business partner in CodeBros and is also studying computer science at Texas A&M.
"He is in a constant state of learning," said Coad's mother, Carolin Coad. "He is very motivated and he had just decided he was going to teach himself programming."
Classical Christian Academy has been an excellent fit for Coad, though the small school was limited in activities related to programming. But he started his own Community Programming Club and reached out to other local tech leaders in the community, organizing "hackathon" events to help others learn about programming.
"The hackathons are times for people to come together and program for projects," Coad said. "Programming, I feel, is such a necessary skill to the younger generation. That's the language of computers, and basically if you know how it works, it's going to help you a lot in life."
Ever since he learned the programming game, Coad hasn't really stopped, and he spends as much time helping others learn as he does on his own projects. He has been a regular instructor for people of all ages at the Gizmo Makerspace in Coeur d'Alene; has led teams on robotics challenges and mentored younger students at robotics camps; serves on the executive board of TEDx Coeur d'Alene; interned for the Kootenai Health informational technology security department, and has served as treasurer and a class ambassador at Classical Christian while maintaining a 4.0 GPA.
All this, plus he does CodeBros contracting work and serves as a chief developer for reVsearch, a potentially game-changing program that can streamline screening processes for medical documents. The concept won the 2017 Oxford Hackathon Empowering Knowledge prize from one of Europe's largest entrepreneurship societies.
Carolin Coad emphasized her son's creativity, crediting Classical Christian for fostering a tight-knit community for its students. She also feels blessed to have children who were energized to pursue their interests at an early age, and to get a jump on potential careers.
"Education is not so much a filling of the bucket but a lighting of a fire," she said. "If a child loves education, then they won't want to stop learning, and that's very much how Eli is."
Next fall, Elisha Coad will join his fellow CodeBro at Texas A&M, and with that continued education, it may not be long before people see the Coad name on the next big startup. The future is a spectacular road of potential.
"Programming teaches you how to learn in a different way, kind of like learning a new language," Coad said.
---