'Role model' Malik Cheek likes internship and work through STEP; aims for employment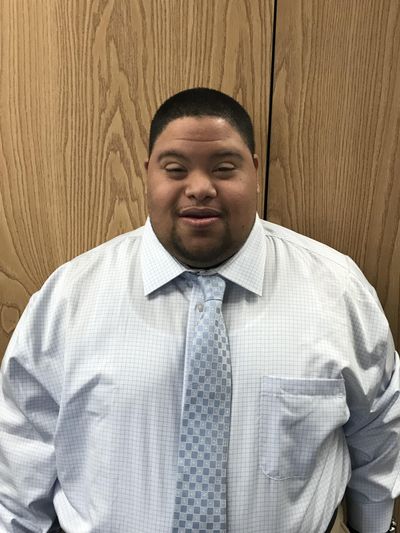 Malik Cordell Cheek is considered nonverbal, but his larger-than-life personality has won him friends and admirers in school and in life.
Cheek is a graduate of the Secondary Transition Education Program, which is part of the Transition programs offered by Spokane Public Schools designed to provide vocational and personal skills training for students age 19-21 with intellectual disabilities.
"The name of our game is employment," said STEP teacher Jim Hutchens.
Cheek is a huge Pittsburgh Steelers fan, loves WWE and likes to bowl. He placed at the state Special Olympics competition, Hutchens said. "He's a blast," he said.
While Cheek is considered nonverbal, that doesn't mean he can't speak. "He can talk up a storm, but you can't understand a word he's saying," Hutchens said. "He can't pronounce things. It hasn't limited him for the most part. He's extremely outgoing. Half the city knows him."
STEP students work in one or more unpaid internships to learn job skills and build up their resumes. Cheek has been working 15 hours a week in the lunchroom at Glover Middle School, helping serve students and cleaning up.
Hutchens said Cheek, who has no problem understanding other people, is willing to do anything that's asked of him. "He's always doing the right things," he said. "He is the role model of all the other students here."
Cheek's mother, Kristine Scott, said she is proud of the work Cheek has been doing. "He's pretty smart," she said. "He just wants to work."
Cheek also loves to clean and Scott said his room is the cleanest one in the house. "He keeps his room immaculate," she said.
Cheek was born with Down syndrome and Trisomy 21, which means he has an extra 21st chromosome. Scott said she enrolled him in Spokane Guilds School when he was a month old, and he's been in multiple types of therapies since.
"He's just been a true blessing in disguise," she said. "He's loving. He's caring. He can be funny. He's flirty."
Scott said she can sometimes understand what her son is trying to say, but they use text messages to communicate a lot. He also has an iPad program that speaks messages that he types into it.
Like most STEP graduates, Cheek hopes to get a paid job. "We're hoping the school district will maybe carve out a position for him at Glover," Scott said. "They want to keep him. We're working on that right now."
Though one of the goals of the Transition programs offered by the school district is independent living, Scott said she doesn't see that happening for her son anytime soon. "Right now I don't see that happening because he's so vulnerable since he has no voice," she said.
And Scott is just fine with her son staying home. "He's a good kid, a very good kid," she said. "He's got a good heart."
---