News > WA Government
Spokane County ballot returns continue at record pace
Sat., Nov. 3, 2018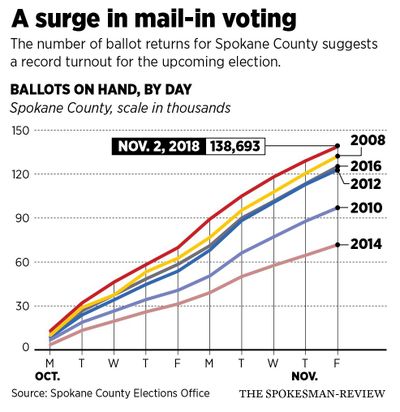 Spokane County voters continue to turn in their ballots in record numbers and at a faster pace than the state average.
A total of 138,693 ballots had been mailed back or deposited in drop boxes by Friday, Spokane elections officials reported. That represents more than 43 percent of registered voters in the county.
If returns continue at that pace, more Spokane voters could cast ballots in this midterm election than in any previous election, including the recent contests for president. The greatest ballot returns are typically on Election Day, when drop box use is heaviest, and the mail delivery on the day after, county records show.
A ballot with a hotly contested congressional race between Republican Rep. Cathy McMorris Rodgers and Democratic challenger Lisa Brown may be contributing to the heavy turnout, as six of the 10 counties of Eastern Washington's 5th Congressional District were reporting ballot numbers above the state average Friday.
Spokane County is by far the most populous in the district, with 70 percent of the registered voters.
But Columbia, Ferry, Garfield, Lincoln and Pend Oreille counties also have turnout significantly above the state average of 37 percent, the daily report from the secretary of state's office said. Asotin, Walla Walla and Whitman counties were close to the average or slightly below and Stevens County was reporting only about 25 percent of its ballots returned.
Also on the ballot are initiatives for a fee designed to reduce carbon pollution, a ban on new local taxes on soda, new gun control measures, and changes to law enforcement procedures handling and investigating fatal encounters. It also has races for the U.S. Senate, the Washington Legislature, county officials and judicial posts.
Ballots must be deposited in drop boxes by 8 p.m. Tuesday or mailed in their postage-paid envelopes so they are postmarked by that date.
Local journalism is essential.
Give directly to The Spokesman-Review's Northwest Passages community forums series -- which helps to offset the costs of several reporter and editor positions at the newspaper -- by using the easy options below. Gifts processed in this system are not tax deductible, but are predominately used to help meet the local financial requirements needed to receive national matching-grant funds.
Subscribe to the Coronavirus newsletter
Get the day's latest Coronavirus news delivered to your inbox by subscribing to our newsletter.
---