News > Spokane
Spokane County commissioners make way for developments near Whitworth University
UPDATED: Tue., Nov. 27, 2018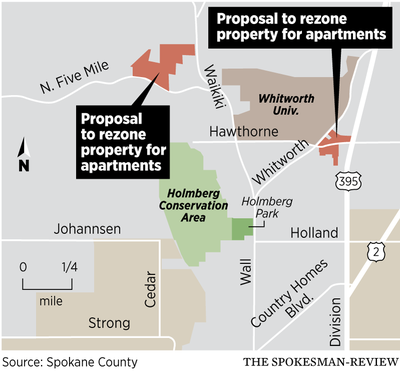 Spokane County commissioners on Tuesday approved two amendments to the county's comprehensive plan for property near Whitworth University, one of which has been somewhat controversial among neighbors.
Developer Harley Douglass proposed a zoning change from low- to medium-density residential for more than 22 acres of vacant land northwest of Five Mile and Waikiki roads, with subsequent plans to build more than 300 apartments, according to an environmental study submitted to the county.
Residents had voiced concerns with the county's Planning Commission last year, pointing to traffic growth, capacity issues at Mead School District, lack of proper notice for the zoning change, disruption to wildlife and environmental impacts because the land is in a "Critical Aquifer Recharge Area."
Medium-density residential zoning in the county allows for compact, urban-style development – including multifamily homes. The neighborhood, bounded by the vacant parcel of land to the west and Whitworth University to the east, consists largely of single-family homes.
A group of residents appealed an environmental review for the zoning change, in which the county's hearing examiner at the time, Michael Dempsey, ruled a traffic study submitted by Douglass didn't meet proper requirements set forth by the county engineer.
The hearing examiner also ruled future development would require primary access to Waikiki Road and limit Five Mile Road to emergency access. The attorney for Douglass filed a motion for reconsideration of the decision, stating there were several errors in Dempsey's ruling, which prompted him to reverse findings.
The zoning change, as a result, was sent back to the Planning Commission, which voted 6 to 1 to approve it with a condition that future development would be restricted to 99 apartments until a second access road is built by Douglass.
County commissioners voted unanimously Tuesday to approve the plan amendment on the condition that a development agreement is created that upholds the Planning Commission's recommendations.
Debbie Rauen, who was among the group of residents involved in the appeal, said residents were disappointed that commissioners approved the zoning change.
"There didn't seem to be very much interest in exploring it at depth," she said. "Once the zoning is changed, it uncorks the bottle. You can try to address things at a project level, but it doesn't address a lot of our concerns."
Rauen also said development on the site would require blasting of rocks, which would impact residents as well as wildlife.
"There's a lot of things about the topography that are worrisome or troublesome," she said. "Hopefully, it will be addressed properly at the project level."
Commissioners also approved a second comprehensive plan amendment initiated by Taudd Hume of the law firm Parsons/Burnett/Bjordahl/Hume LLP on behalf of Whitworth University.
The amendment calls for a zoning change from low-density residential to mixed-use and regional commercial on more than 7 acres of land near Hawthorne Road and Division Street. It would allow for a proposed 30-unit student housing complex north of Hawthorne Road. The land currently contains 16 single-family homes that were converted into themed student housing, according to an application filed with Spokane County.
Plans also call for possible addition of a coffee shop, restaurant or bookstore south of Hawthorne Road, according to an environmental study.
Lawrence Probus, vice president for finance and administration at Whitworth University, said development of a coffee shop or restaurant could occur within the next 12 to 24 months.
"We're still in the planning stages for that," he said. "But, ideally, it's something that could start construction next summer and be ready to open a year after."
Probus said the proposed housing developments in Whitworth's environmental study aren't likely to be built anytime soon.
"But as the university continues to grow, it's something we would like to consider in the future," he said.
Probus said the zoning change, which is in a "very strategic location" for Whitworth, will allow the university to plan for the future.
"It's the front door where most people enter to visit Whitworth, and we want to make it as welcoming as possible," he said.
Local journalism is essential.
Give directly to The Spokesman-Review's Northwest Passages community forums series -- which helps to offset the costs of several reporter and editor positions at the newspaper -- by using the easy options below. Gifts processed in this system are not tax deductible, but are predominately used to help meet the local financial requirements needed to receive national matching-grant funds.
Subscribe to the Coronavirus newsletter
Get the day's latest Coronavirus news delivered to your inbox by subscribing to our newsletter.
---