Scott Maclay, sheriff's candidate who changed name to DumpOzzie Dot Com, dies in motorcycle crash near St. Maries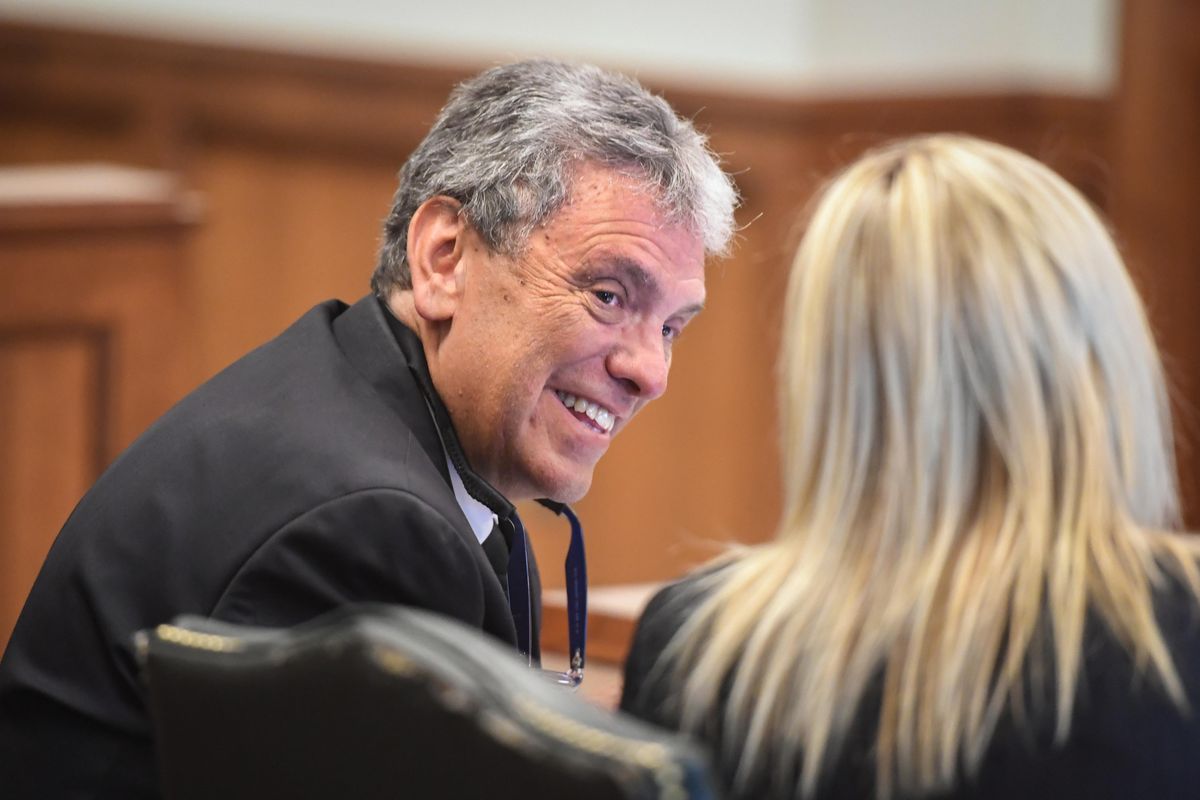 Michael "Scott" Maclay, the Harley-riding respiratory therapist who changed his name to DumpOzzie Dot Com as part of a conspiracy theory-fueled campaign to unseat Spokane County Sheriff Ozzie Knezovich, died in a motorcycle crash Monday afternoon near Mashburn, Idaho.
Benewah County Sheriff Dave Resser said Maclay, 60, was traveling southbound on state Highway 3 when he lost control of his bike, rode into some gravel on the side of the road, hit a guardrail and fell down an embankment near the small community south of St. Maries.
Deputies and medical personnel received a 911 call around 3:20 p.m. and responded to find bystanders performing CPR on Maclay, who was unresponsive, the sheriff's office said. The bystanders told deputies they had been trying to revive Maclay for about 25 minutes.
Resser said several people witnessed the crash, including Maclay's friend, Erik Hansen, who had been riding his motorcycle ahead of Maclay.
"The friend was in the lead, he looked in the rearview mirror, saw the motorcycle as it was coming up to the guardrail, and it was fish-tailing," Resser said.
Maclay was alone on his motorcycle, Resser said. Investigators determined the crash was caused by loose gravel on the roadway.
"He hit his head and neck on the ground," Resser said. "Don't know if he was wearing a helmet. There's no indication in my deputy report that he was not."
Maclay was no stranger to conflict and controversy, and he was known to push the limits of free speech when attacking his ex-wife, Knezovich and others who disagreed with his worldview. Interviews and court records spanning decades described Maclay as a con man, cyberstalker and bully who lost his real estate license for cheating and liked to pull out his gun in public.
The FBI began investigating Maclay last year after an informant came forward alleging Maclay was planning to hurt Knezovich. And in July, Maclay unsettled members of the local Muslim community when he wrote a Facebook post calling for the 24-hour monitoring of the Spokane Islamic Center and declaring the religion "the only real problem in Spokane County."
Maclay also was known for unsubstantiated boasting. The self-appointed president of the Rattlesnakes Motorcycle Club often claimed he had helped bring down the Aryan Nations, had volunteered on the sheriff's dive team, had also spent two decades as the leading real estate agent in Spokane Valley, and had once turned down a job offer from the CIA.
Before he changed his name and announced his intention to run against Knezovich in May, Maclay had spent several years needling the three-term sheriff over his handling of high-profile incidents such as the death of Spokane Valley pastor W. Scott Creach, who was shot by a deputy in 2010, and the death of 15-year-old Ryan Holyk, who was struck by a deputy's patrol car while riding his bicycle in 2014.
On his website, DumpOzzie.com, Maclay often called Knezovich "a corrupt and murderous sheriff with blood on his hands."
Asked for comment on Maclay's death, Knezovich said in a phone call Tuesday: "Our thoughts and prayers go out to his family and friends during this tragic time, and we wish them comfort and peace."
Maclay did drum up some support in his bid to replace Knezovich. A list of candidate endorsements released by Northwest Grassroots framed the race this way: "County Sheriff: Ozzie or Insanity? It's actually a thoughtful question."
Northwest Grassroots is the local conservative group led by Cecily Wright, who resigned as chairwoman of the Spokane County Republican Party last month after a video surfaced showing her defending white nationalist James Allsup at a group meeting. Other members of Northwest Grassroots include Spokane Valley Mayor Rod Higgins and Spokane County Treasurer Rob Chase.
In the August primary, Maclay received about 12 percent of the countywide vote, compared to Knezovich's 86 percent. About 2 percent voted for write-in candidates.
Spokane County Auditor Vicky Dalton said ballots for the November general election were being sent to the printer Tuesday morning, meaning it's too late to remove Maclay's legal name, DumpOzzie Dot Com.
If Maclay were to win in November, Dalton said, the county would follow the usual process for filling a vacancy, in which the winning candidate's preferred party nominates three people and the Spokane County Commission votes to select a replacement from that list.
However, since Maclay registered as a member of the Independent Party, which does not have an official branch in Spokane County, selecting a replacement would present an unusual predicament. Dalton said she called the Washington secretary of state's office Tuesday morning to notify election officials of the situation.
"It's an issue that hasn't been addressed in real life yet," Dalton said. "But that's only if he wins. This might all be a moot point."
---