News > Spokane
When it comes to Bloomsday team names, creativity counts
April 3, 2019 Updated Wed., April 3, 2019 at 9:38 p.m.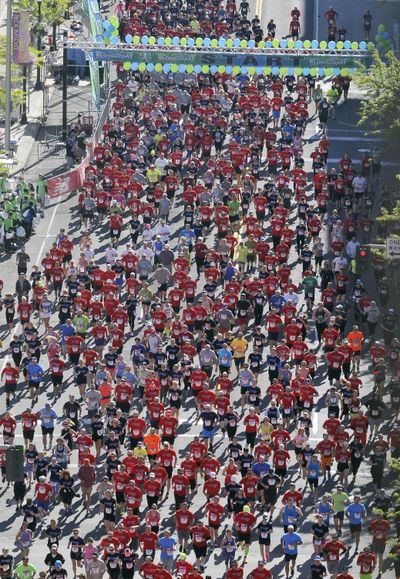 Sometimes an idea is so good, you just have to run with it.
Even when you can barely walk.
There's no other way to explain this name concocted by the Gonzaga University Bloomsday Corporate Cup team: "Thought it was a Pub Crawl."
Or this gem from Mischke Drywall: "Three Sheets to the Win."
And from the 141st Air Refueling Wing, which thankfully flies at 30,000 feet, came a motto and a warning: "Pass N' Gas."
Those are just three of the 29 finalists – out of 350 entries – in a contest that rewards clever minds instead of fast times.
The list was announced Wednesday, not long after a Bloomsday panel met over a lunch that was spent "laughing over some of the creative play on words some teams submitted," Cup Director Sarah Ranson said.
The winner gets a plaque and an invitation to the annual awards luncheon following the May 5 race, as well as bragging rights, which likely means more.
Blame it on the endorphins – and all that down time during the February freeze – but once again, the Corporate Cup is overflowing with puns.
Nearly all of them are funny.
From the Spokane Eye Clinic came a dose of healthy humor: "Eyes on the Road."
Spokane Symphony offered up this classic: "Run Your Rachmaninoff."
And from Premera Blue Cross, this bit of whimsy: "Worst Game of Tag Ever."
Other teams must have spent extra time combining fun and creative advertising:
At Spokane Teachers Credit Union, they even mixed finance and pop culture into this message: "Game of Loans."
DSI Construction offered a promise – "Smooth Finishers" – while First Interstate Bank offered a friendly warning: "Dye Pack."
And if you don't know what they do at PotlatchDeltic Corp., it's "Lumber, Not Limber."
Quite a few teams hope to win with self-deprecating humor.
The partners at the law firm of Wolff Hislop and Crockett offered a "Motion To Shorten Time," while the Idaho Forest Group came up with "The Young and the Rest of Us."
Two other teams hedged their bets with humor, should they finish at the back of the pack. Environmental Control's team name is "Lost in Pace," while the West Valley School District makes the most of a lost opportunity with "We Missed the Bus."
And from Cerium Networks, this hopeful message: "Ce You at the Finish."
Last year's winner was Kaiser Aluminum's "Aluminumb to the Pain," which topped the Spokane Symphony's "Running Against the Winds" (second place) and Drywall Specialties' "Smooth Finishers" (third place).
This year's panel of judges included Don Kardong Jr., Bloomsday race director and founder; Bloomsday Race Director Jon Neill; Bloomsday Board member Sarah Ranson; Inlander Publisher Ted McGregor; KXLY meteorologist Kris Crocker; Quinanna Robins of Northwest Orthopaedic Specialists; Hoopfest Executive Director Matt Santangelo; Crystal Yurik of Alliant; and Shae Fasbender of Itron.
Local journalism is essential.
Give directly to The Spokesman-Review's Northwest Passages community forums series -- which helps to offset the costs of several reporter and editor positions at the newspaper -- by using the easy options below. Gifts processed in this system are not tax deductible, but are predominately used to help meet the local financial requirements needed to receive national matching-grant funds.
Subscribe now to get breaking news alerts in your email inbox
Get breaking news delivered to your inbox as it happens.
---