Sports > Outdoors
Bower Climbing Coalition, The Great PNW honoring alpinist Jess Roskelley
April 24, 2019 Updated Fri., April 26, 2019 at 11:06 a.m.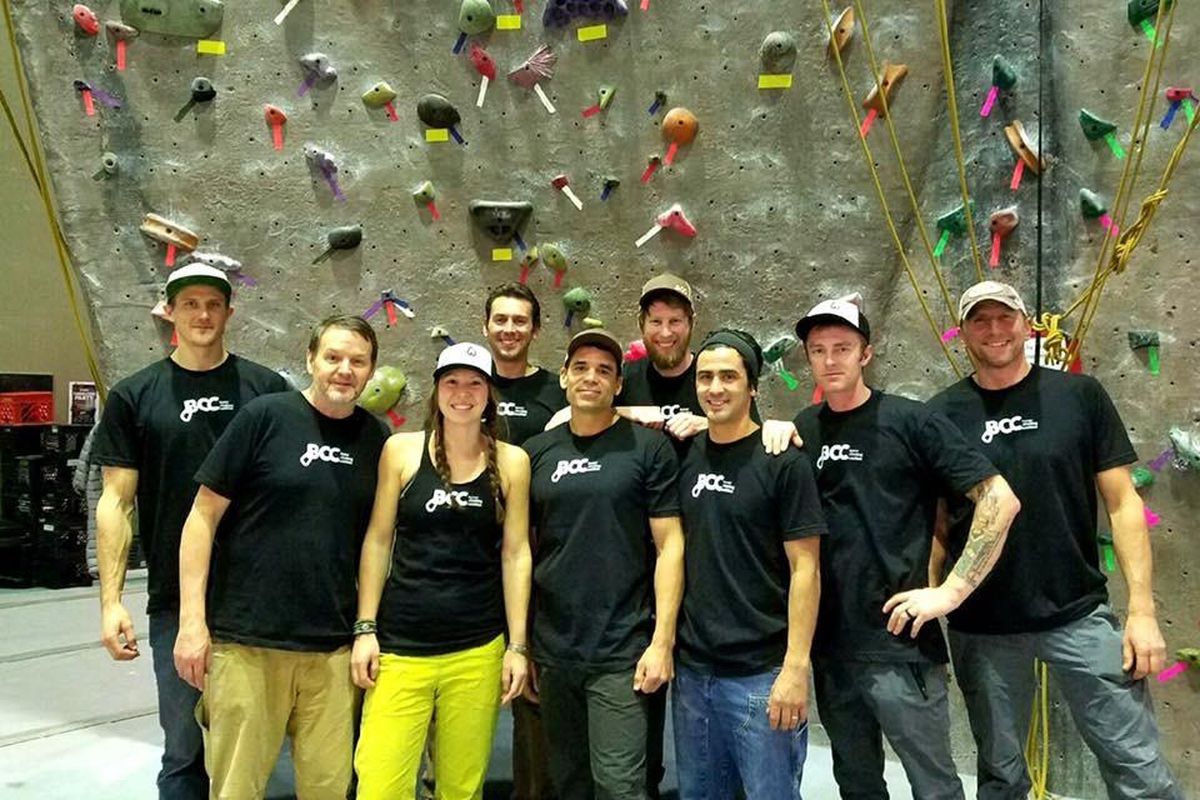 The founding members of the Bower Climbing Coalition including Jess Roskelley. (BCC / Courtesy)
As the shock waves from renowned alpinist Jess Roskelley's death continue to ripple outward, local organizations and businesses are honoring his life and supporting his family.
Joel Barbour, the founder and co-owner of The Great PNW, was friends with Roskelley. His death in an avalanche last week shocked Barbour.
Roskelley, 36, along with Austrians David Lama, 28, and Hansjörg Auer, 35, were overdue after Roskelley failed to contact his family last Tuesday. Searchers in a helicopter reported seeing signs that the three were swept off Howse Peak by an avalanche. Bad weather kept crews from Parks Canada from recovering the bodies until Sunday. A photo recovered from Jess Roskelley's phone shows what appears to be a summit shot.
"What we feared the most has happened," Barbour said. "That's where I was like 'Oh man, what can I do?' OK well I have a platform. I have a business."
So, Barbour decided to re-release a T-shirt collection called the Roskelley. In 2016, he'd made a shirt in honor of Jess and Allison Roskelley "simply out of the fact that I loved them."
That shirt is now available to buy again. All proceeds will go to the Roskelley family, Barbour said. On the shirt are the jagged edges of a mountain. Barbour said the design is inspired by the stories Jess Roskelley told him of being in the alpine.
Since he made the announcement Tuesday, Barbour said the company has sold more than 700 shirts.
"I looked at the sales numbers after I sent the email out and I started crying," Barbour said.
BCC to honor Jess
Meanwhile, the Bower Climbing Coalition plans to honor Jess Roskelley's life on Sunday.
The nonprofit climbing coalition, which is dedicated to maintaining and expanding climbing routes in the Spokane area, is named after another local climber who died, Andrew Bower.
The BCC had a previously planned event Sunday. BCC members and supporters will spend the day cleaning up local climbing areas. Then starting at 5 p.m. they will meet at the Washington Cracker Building to watch "Dirtbag: The Legend of Fred Beckey," a climbing film following famous climber Fred Beckey's life.
Roskelley was a founding member of the BCC and an influential member of Spokane's climbing community.
Sunday's event is not a memorial, said founding BCC member Alan Shepherd. The Roskelley family is still organizing a public memorial. A date has not been set.
However, Shepherd said it would be impossible to hold the event without mentioning Roskelley.
So, BCC members spoke to the Roskelley family and decided on a middle ground. They will collect photos of Jess and send them to the family. Scott Coldiron, one of Jess Roskelley's climbing partners and friends, will say a few words, and photos of Jess will be displayed throughout the night.
Plus, they've dropped the admission fee to the movie viewing. Anyone who previously purchased tickets will be refunded.
"We feel that coming together as a climbing community to celebrate Earth Day is what Jess would have wanted and can help us to cope with this great loss," the BCC said in a news release.
Family blown away
by support
The Roskelley family returned to Spokane on Wednesday, said John Roskelley, Jess' father. They've been blown away by the support and love they've received. Roskelley was cremated in Canada, per his wishes. The other two climbers, Auer and Lama, will be returned to their families in Austria.
John and Joyce Roskelley plan to attend Sunday's BCC event.
Meanwhile, John Roskelley said he believes the avalanche that killed the three alpinists originated from a cornice break on the peak of the 10,810-foot Howse Peak. A cornice is an overhanging edge of snow on a ridge or peak. If that's the case, the falling ice and snow would have swept the three climbers off the wall.
And, while it was believed the three climbers were attempting a previously climbed route called M-16, Roskelley said it's possible they were trying to establish a new, unclimbed route up the east face of the mountain.
"I'm going to try and piece it together," John Roskelley said. "By looking at the photos."
Local journalism is essential.
Give directly to The Spokesman-Review's Northwest Passages community forums series -- which helps to offset the costs of several reporter and editor positions at the newspaper -- by using the easy options below. Gifts processed in this system are not tax deductible, but are predominately used to help meet the local financial requirements needed to receive national matching-grant funds.
Subscribe to the sports newsletter
Get the day's top sports headlines and breaking news delivered to your inbox by subscribing here.
---