'It's an amazing gift': Donated RV to give Spokane kid a crucial cross-country lift for potentially lifesaving surgery When the Alderson family learned their 4-year-old son, Noah, needed a lifesaving open heart surgery that local doctors were unable to perform, it led to many second opinions and several trips to Seattle Children's Hospital.
Doctors informed the Aldersons there was nothing they could do for Noah, but that changed when the family found a specialist at Boston Children's Hospital, who agreed to perform the biventricular repair surgery.
But because Noah relies on a nebulizer, ventilator and feeding tubes to stay alive, he can't travel in a standard vehicle or airplane due to oxygen needs and the risk of exposure to germs before surgery.
The Aldersons were grappling with the cost of an RV rental to travel 6,000 miles round trip to Boston, until Austin, Texas-based Outdoorsy donated an RV and agreed to cover mileage, insurance, gas and lodging for the family.
"It's an amazing gift," Tanasha Alderson said.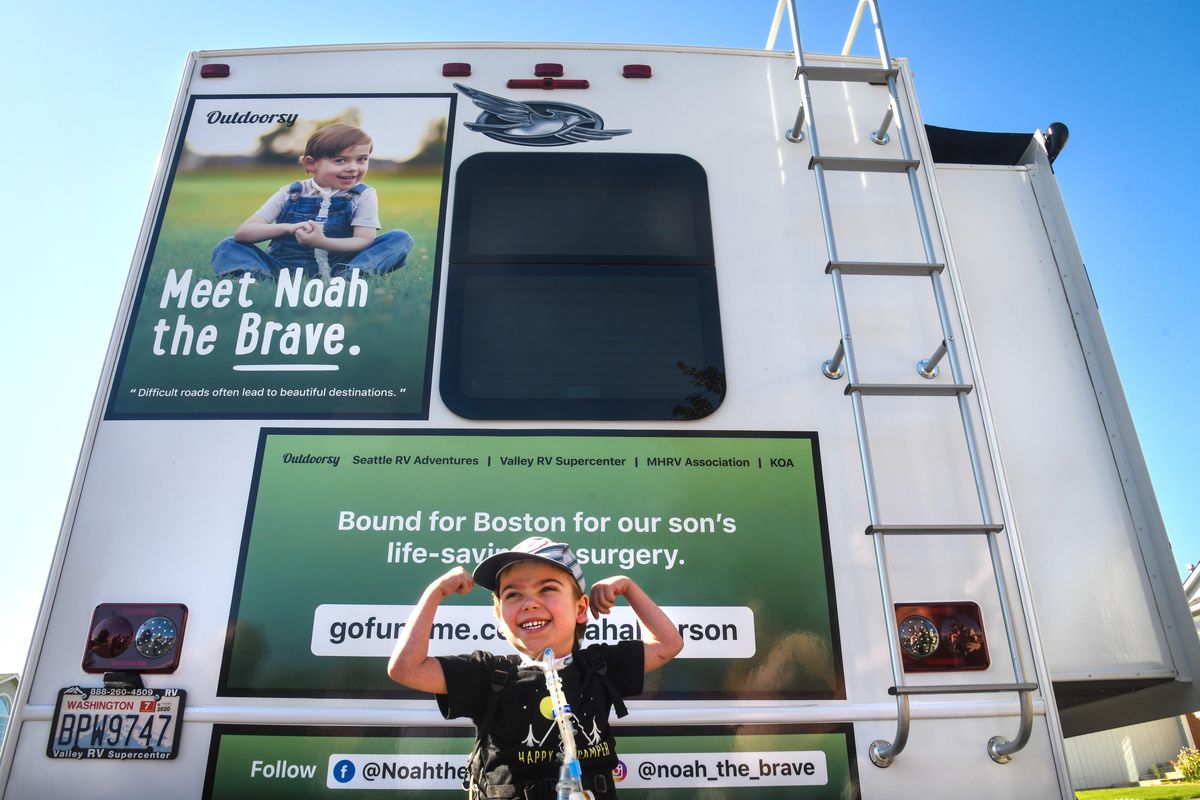 Noah was born with four heart defects, including a rare medical condition with three-quarters of his heart facing the opposite direction. His first open heart surgery occurred when he was 4 days old and another followed 10 months later.
Since then, Noah has learned to walk and communicate via sign language, because he can't speak due to a trach tube. Despite his medical condition, Noah maintains a positive attitude, often joking and playing tricks on family members and nurses.
"Noah lights up any room," Alderson said. "He has this spirit about him. When you are around him, you feel so much joy."
Outdoorsy CEO Jeff Cavins connected with the Alderson family after members of the company's community Facebook group posted a link to Noah's story by KHQ-TV, a subsidiary of Cowles Co., which also owns The Spokesman-Review.
The story focused on the family's efforts to raise money for an RV through a GoFundMe campaign.
"Our heartstrings were pulled by the little boy in the story and our community of users around the world started rallying around him," Cavins said, adding that Outdoorsy senior editor April Cummings set out to organize the trip of a lifetime for the family.
Cavins partnered with Sebastian Bularz of Seattle RV Adventures, who purchased a 2019 Class C Jayco RV and installed a backup generator to ensure Noah's medical equipment would be safe from electrical outages.
"It's so amazing that they thought about making sure it was a super safe vehicle for my son," Alderson said.
Kampgrounds of America agreed to cover costs for the family's campground stays along the way, and Outdoorsy arranged a trip itinerary that includes stops at Mount Rushmore, Legoland Discovery Center and a Chicago Cubs baseball game, where Noah has been invited to throw the first pitch.
Other stops include the Columbus (Ohio) Zoo and Aquarium and Niagara Falls.
"We Facetimed with Noah and he signed, 'Thank you for the big car,' " Cavins said. "One value of Outdoorsy is that we pay our gratitude back to the world. We are happy we get to play a small part."
The Alderson family departed in the RV Thursday afternoon with more than 40 containers of medical equipment to meet Sitaram Amani, director of the complex biventricular repair program at Boston Children's Hospital, who is anticipated to perform Noah's surgery on Aug. 19.
Boston Children's Hospital uses innovative technology to create a heart with two pumping ventricles for children with single ventricle heart defects, who normally aren't candidates for the approach at other hospitals.
"If this surgery works like it should, it can prolong Noah's life for many years," Alderson said. "It could literally save his life."
---