News > Travel
In the neighborhood: Eclectic and walkable Highland Park is a fun place to explore while in L.A.
Sat., Aug. 10, 2019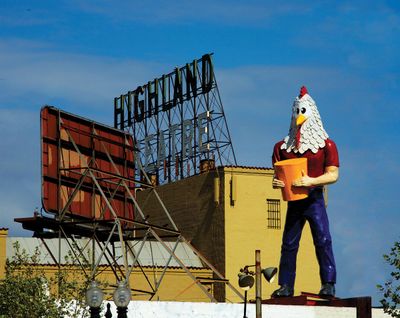 LOS ANGELES – By all means, go to the beach, but don't pass up the eclectic and rapidly changing northeast Los Angeles neighborhood of Highland Park.
Just a few miles from downtown, historic Highland Park is becoming one of the hippest – and most walkable – sections of L.A. It's lined with trees, taquerias, vintage shops, bistros and bars. And it's often overlooked by tourists trapped by the Venice Beach Boardwalk, Santa Monica's famed pier or Hollywood's Walk of Fame.
On your next visit, venture away from the water and spend a day exploring the highlights of this multifaceted neighborhood – starting with an urban hike.
Walk around Mount Washington. Technically, it's its own neighborhood. The residential enclave of Mount Washington lies just southwest of Highland Park, but its hillsides offer some spectacular views, making it a great place to get acquainted with the area – and work up an appetite. Some of the neighborhood's winding streets don't have sidewalks, so – even though they are fairly quiet – watch for cars while you take in the sights, including distinguished Craftsman homes and the San Rafael Hills. Start or end at the world headquarters of the Self-Realization Fellowship, which occupies a former Mission Revival hotel and offers picturesque pathways and gardens. Just be mindful of those who use the contemplative gardens for meditation. 3880 San Rafael Ave. yogananda.org.
Take a selfie with Chicken Boy. This iconic 22-foot fiberglass statue – part chicken, part man – has kept watch over Highland Park from its perch atop Future Studio Gallery since 2007. But it was hatched long before that. In the 1960s, Chicken Boy stood atop a fried chicken restaurant in downtown L.A. When the owner died in 1984, Chicken Boy was saved by art director Amy Inouye, who kept the statue in storage for nearly 20 years until a suitable roost could be found. 5558 N. Figueroa St. chickenboy.com.
Strike it lucky or mark it zero. The Highland Park Bowl isn't your average bowling alley. Long leather couches can be found at the end of the lanes at this local landmark, built in 1927 and recently refurbished. The Prohibition-era bowling alley and former music venue reopened in 2016 with steampunk vibes, vintage bowling banners and chandeliers made from old pinsetters. Lane rentals run from $25 to $70, and reservations are recommended. Saturday from 11 a.m. to 4 p.m. offers the best rate. Pizza is the thing to order here – you walk by the wood-fired oven on your way in – but the menu also includes calamari, sweet potato fries, meatballs, salads and a burger. For dessert, there's Nutella pizza and chocolate ravioli. Craft cocktails include the Pinsetter with grapefruit, lime, Yellow Chartreuse, Luxardo Maraschino and Singani 63. The Dude Abides is an homage to "The Big Lebowski" with Tito's Vodka, house-made Civil Coffee liqueur, horchata cream and cinnamon tincture. 5621 N. Figueroa St. highlandparkbowl.com.
Get Civilized. Highland Park is home to a bunch of quality coffee shops, with Civil Coffee topping the list. Its aesthetic – pretty patterned tile flooring, high ceilings, wainscoting, a marble backsplash that extends to the ceiling and a light, bright and airy vibe – is as much of a draw as its brews. Civil features rotating single-origin coffees and specialty drinks, such as the Arroyo – lavender syrup, milk, espresso – and the Figueroa, with sweetened condensed milk, espresso and cinnamon. Avocado toast – with peas, pea tendrils, mint, lemon vinaigrette, lebne and sea salt on grained bread – is $12. Other breakfast items – Civil is known for them – include a breakfast burrito, Belgian waffles and fried chicken and waffles with browned butter and blueberry syrup. 5629 N. Figueroa St. civilcoffee.com. Note: If Civil is too busy, try the nearby Kindness & Mischief. 5537 N. Figueroa St. kandmcoffee.com.
Delight in dumplings. Mason's Dumpling Shop specializes in handmade fried, steamed and boiled dumplings. The pan-fried pork buns are the way to go. Others include beef, cheese and onion; chicken and cabbage; chive, pork, egg and shrimp; cabbage, pork and shrimp; pork and celery (another favorite); and more. The only downside is you can expect to wait in line almost any time of day, particularly on weekends. (Or, if you're staying in the neighborhood, do what I did and order dumplings for delivery.) 5803 N. Figueroa St. (Search for "Mason's Dumpling Shop on Facebook.)
Browse. Boutiques, vintage shops and record stores dot the neighborhood's two main drags. Midcentury and other treasures abound at Sunbeam Vintage. Matters of Space specializes in modernist home décor. Cookbook has cookbooks, of course, but this well-curated market also offers local and responsibly grown produce, high-end pantry items, cheese, charcuterie, salads and sandwiches. Shop for vinyl at Permanent Records, Gimme Gimme Records and Mount Analog. Books at the new Owl Bureau bookstore, located in an old Owl Rexall drugstore, are displayed to show covers, not spines. So are some of the tomes at Pop-Hop Books & Print, which offers new and used books, as well as zines and gifts. The Juicy Leaf sells fancy plants – that is, designer terrariums and succulent arrangements. For vintage threads, shop Urchin and Possession Vintage. Galco's Soda Pop Stop offers more than 600 flavors of soda, plus the chance to create your own, with more than 100 syrups for choosing. Get a beard trim, then have a drink at Blind Barber and its Back Room bar.
Imbibe. There are lots of options. Start with these four. The dimly lighted Sonny's Hideaway features a retro and swanky – but still friendly – vibe, well-balanced classic and craft cocktails and attentive bartenders and servers. Once a dive bar called the Little Cave, La Cuevita is now an updated, Day-of-the-Dead-themed drinkery specializing in tequila and mezcal cocktails. Happy hour runs daily until 7 p.m. at ETA, where cocktails are either classics or imaginative, handcrafted creations, and the menu features small bar bites, burgers and oysters. Enter Good Housekeeping through the alley and find red brick walls, a casual atmosphere and high-quality cocktails.
Dine. Highland Park is known for its Mexican fare, including pan dulce. Try La Fuente and El Huarache Azteca for traditional south-of-the-border eats and Delicia's Bakery, La Perla Bakery and La Monarca for sweet treats. For vegan doughnuts – the neighborhood is gentrifying – there's Donut Friend. HomeState offers a taste of Texas; the flour tortillas are made in-house, and there's usually a wait, particularly for weekend brunch. For vegetarian, dairy-free and gluten-free brunch, there's Kitchen Mouse. Café Birdie is a popular California kitchen with Mediterranean influences. Greyhound Bar & Grill and the York offer modern American fare. Find creative, rotating flavor combinations at Scoops, where the ice cream – dairy and non-dairy alike – is hand-made. And, if you need Polish comfort food (like I did), head to Polka in a small strip mall in the adjacent neighborhood of Eagle Rock, just a short drive away, for pierogi, Polish sausage, cabbage rolls and more.
Local journalism is essential.
Give directly to The Spokesman-Review's Northwest Passages community forums series -- which helps to offset the costs of several reporter and editor positions at the newspaper -- by using the easy options below. Gifts processed in this system are not tax deductible, but are predominately used to help meet the local financial requirements needed to receive national matching-grant funds.
Subscribe to the Coronavirus newsletter
Get the day's latest Coronavirus news delivered to your inbox by subscribing to our newsletter.
---