News > Spokane
Spin Control: Light voting precincts a problem for Fagan
Sun., Aug. 11, 2019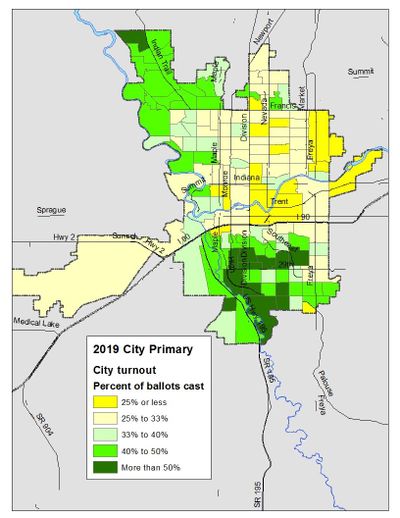 For two elections over eight years, northeast Spokane's City Council District 1 has been Mike Fagan's strength and his road to a council seat.
This year, it was his weakness. Fagan easily carried District 1 in the council president race, but finished third overall, behind fellow Councilman Breean Beggs and Cindy Wendle. Along with problems growing his support in the rest of the city, District 1's pattern of light voting left Fagan off the general election ballot.
Because of lighter registration, District 1 has about 13,000 fewer voters than District 3 to the west and 15,500 fewer than District 2 to the south. As of Friday, those voters had turned in about 8,000 fewer ballots than District 3 and 11,200 fewer than District 2.
The pattern is familiar. In the city's district council elections, those numbers mean that a resident of northeast Spokane who registers and votes has more voice than residents of the other districts. In citywide elections, however, that voice continues to be harder to hear.
A computer analysis of the ballots counted so far shows Fagan finished first in most District 1 precincts, sometimes with a majority, not just a plurality in the four-way race. But he was almost 2,000 votes behind Wendle in the race for a second-place finish that would qualify for the general.
Here's to 2020
While many voters and reporters were paying attention to the primary election last week, a few far-thinking politicians were talking about the 2020 elections. And they weren't even Democrats running for president.
State Sen. Phil Fortunato, R-Auburn, announced last week a run for governor. This set off a wave of relief among political reporters, who were afraid the Republicans were going to be without a real candidate until the filing deadline next year, much as they were in 2018 for the U.S. Senate race.
If a legitimate GOP hopeful didn't show up, all manner of unknown and in some cases unhinged candidates – claiming to be Republicans because in Washington one can claim any political preference one chooses – could file. That would require us to call each one in the weeks leading up to the primary asking them questions about serious state issues and getting answers so spacey they seem to come from somewhere past Uranus.
A secondary fear was that Republicans would field a generic Republican placeholder who seemed straight out of central casting but was a bit, well, bland.
Fortunato may not be a household name but is not an unknown quantity; neither is he bland. He won a House seat in a suburban King and Pierce counties district in 2016, was appointed to an open Senate seat in 2017, and held it in last year's election. He's a reliable orator on gun rights. This year, he sponsored a law that would have required any legislator proposing a gun control bill to prove they had passed a firearms training course (it didn't pass) and was the first name on a bipartisan revision to the state's concealed weapons permit rules to require an FBI fingerprint check (it did).
He can also be counted on to speak against abortion. He sponsored a bill to require the state Health Department to license abortion facilities and another to require women seeking an abortion to be "fully informed" about the procedure and adoption. Neither got far.
He's decidedly not a fan of Sound Transit and the taxes it has levied for the proposed rail system, or of a state income tax, a capital gains tax or pretty much any tax. One could say he's a true-blue conservative, but Republicans steer clear of that color these days.
Running for AG. Maybe
Seattle City Councilwoman Lorena Gonzalez sort of announced her campaign as a Democrat for state attorney general last week, also. The daughter of migrant farm workers in the Yakima Valley, she's an immigration attorney who said she would "lead the fight against white nationalism and its links to domestic terrorism and violence." She'd also fight against gun violence and for economic and social justice.
All of that, however, is contingent on current Attorney General Bob Ferguson, also a Democrat, running for governor, as he has said he would do if Inslee doesn't seek a third term. But if Ferguson runs for re-election, Gonzalez won't run against him.
Ferguson "has led the state, and the nation, in protecting our civil rights," she said in a tweet after an early report suggested she'd challenge him.
Local journalism is essential.
Give directly to The Spokesman-Review's Northwest Passages community forums series -- which helps to offset the costs of several reporter and editor positions at the newspaper -- by using the easy options below. Gifts processed in this system are not tax deductible, but are predominately used to help meet the local financial requirements needed to receive national matching-grant funds.
Subscribe to the Coronavirus newsletter
Get the day's latest Coronavirus news delivered to your inbox by subscribing to our newsletter.
---