News > Spokane
100 years ago in Spokane: Postwar 'profiteers' targeted, but city inspectors say food and housing shortage a reality
Tue., Aug. 13, 2019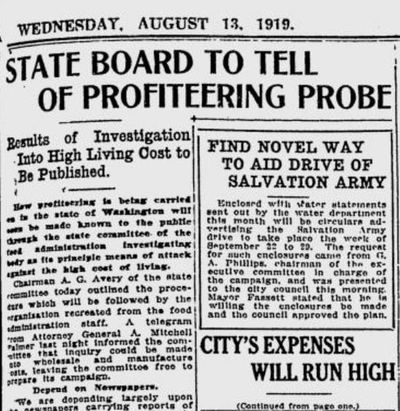 The high cost of living in postwar Spokane was dominating the news.
Prices for nearly all common items — food, fuel and housing — had ballooned over the past year, and many people were blaming "profiteers" trying to make a fast buck.
A state commission had been formed to expose statewide food profiteers. Commissions in Spokane County and other counties were formed to do the same locally.
However, another news item on the same day debunked rumors that Spokane food merchants and packers were hoarding food in order to drive up the price.
The city health officer inspected cold storage plants, mills, packing houses, grocery warehouses and restaurant pantries and concluded that there was, in fact, a true shortage of food. The meat packers in town had a "subnormal" supply of beef and pork on hand. Far from hoarding meat, the packers were anxiously trying to get more. In other words, high prices were the result of a true scarcity, not a contrived scarcity.
On the housing front, the city's real estate men said the need was so acute that "at least 400 small houses or apartment (units) are needed at once to overcome the shortage."
Meanwhile, the proposed Spokane city budget illustrated the inflationary times. Expense estimates for every department were way up, largely because salaries for most city employees would have to be boosted 10% to 15% just to keep up with the cost of living.
Local journalism is essential.
Give directly to The Spokesman-Review's Northwest Passages community forums series -- which helps to offset the costs of several reporter and editor positions at the newspaper -- by using the easy options below. Gifts processed in this system are not tax deductible, but are predominately used to help meet the local financial requirements needed to receive national matching-grant funds.
Subscribe to the Coronavirus newsletter
Get the day's latest Coronavirus news delivered to your inbox by subscribing to our newsletter.
---