News > Spokane
U.S. Pavilion in Riverfront Park will reopen in September with inaugural performance by new Spokane Symphony director
Aug. 21, 2019 Updated Wed., Aug. 21, 2019 at 8:21 p.m.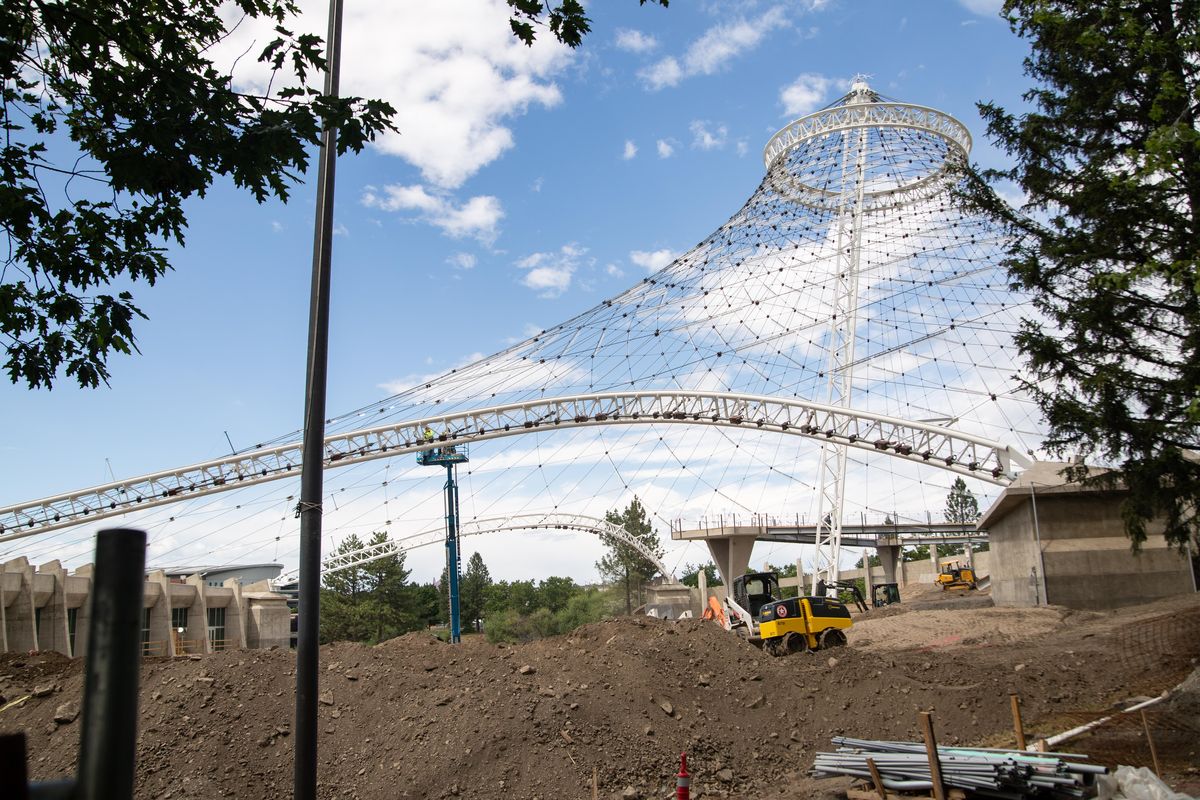 Crews are at work on the renovation of the U.S. Pavilion in Spokane's Riverfront Park in this June 19, 2019, photo. The space is scheduled to open with a ribbon-cutting Sept. 6 with music to follow, including the inaugural performance of Spokane Symphony Music Director James Lowe. (Libby Kamrowski / The Spokesman-Review)
The iconic centerpiece of Riverfront Park will reopen to the public Sept. 6 after a $24.6 million renovation that began in early 2018.
Spokane Parks and Recreation is planning a two-day opening celebration for the U.S. Pavilion beginning with a ribbon-cutting at 5 p.m. Sept. 6 and ending with a light show beneath the illumination blades strung from the rebuilt remnant of Expo '74 the following night. Activities for children, a beer garden and musical performances from contemporary artists, as well as the first public performance by new Spokane Symphony Music Director James Lowe, are planned for the weekend.
Lowe, selected in June to replace outgoing Music Director Eckart Preu, said Wednesday from his home in Scotland he was thrilled his first performance would be in the new pavilion.
"For me, it's an ideal way to kind of start my work there," said Lowe, who had been involved in talks between the symphony and Spokane Parks about performing at the pavilion but said he was only recently given a date for the performance. "I believe the orchestra is for the whole city, and I think this is the perfect way, as our kind of gift to the city, to provide some great music for this wonderful opening event."
The Spokane Symphony is scheduled to perform at 4 p.m. Sept. 7 following a presentation by the Covenant United Methodist Marimba Band and the Spokane Children's Theatre that afternoon. Lowe said the performance will include some previews of the symphony's planned 10-concert masterworks series this fall, including work by Aaron Copland, as well as tunes that will be familiar to those who aren't experts in the classics, including the film work of John Williams.
"It's great for us, because it really is a chance to connect with people who might not come and see us in the concert hall," said Lowe. "Then they may hear us and think, wow, that's fantastic, I've got to get more of this."
The pavilion is seen as the signature project in a $64 million taxpayer-funded redevelopment of the downtown park that began after voters approved a bond in 2014. Garco Construction developed a design for the new facility along with NAC Architecture and has installed a new "elevated experience" viewing platform 40 feet above ground level beneath the pavilion's rigging, as well as updated event space and tiered landscaping.
"Shared spaces like these bring our community together," Garrett Jones, interim director of Spokane Parks, said in a statement Wednesday announcing the grand opening. "The Pavilion is now our community's central gathering place and our lantern, as outlined in the Master Plan for the park. It's amazing to see how the transformation honors the past while bringing the city's icon into the future."
The structure also features 72 panels on the structure's west side, intended to provide shade from the sun during the summer months when the pavilion is expected to house events including Pig Out in the Park, Hoopfest and other festivities. The panels were a design choice made after it was determined, despite some concern from elected officials, that re-covering the building as it was for the world's fair would delay the project and add millions of dollars to its budget.
Festivities will also include performances by the Whitworth String Quartet and Spokane Area Youth Choirs. Native cultural presentations by the Spokane Tribe are scheduled for both Friday and Saturday.
In addition to the Symphony, Spokane rock and roll quartet the Cronkites are scheduled to play at 6:30 p.m. Sept. 6, followed by a light show at 8 p.m.
Seattle-based soul outfit The Dip is scheduled to perform beginning at 7 p.m. Sept. 7, following an appearance at the Bumbershoot music festival the weekend prior.
Light shows synced with the final acts of both bands are scheduled for Friday and Saturday, said Amy Lindsey, marketing and programming director for Riverfront Park. Fifteen-minute light shows synced to a musical playlist will follow.
Food vendors will be on hand both nights until 9 p.m., according to Spokane Parks. Entry is free, and visitors are encouraged to bring blankets or low-profile seating for the concerts. About 1,500 chairs will be set up by parks staff for those who need them on a first-come, first-served basis, Lindsey said, with seating available inside the pavilion for up to 5,000 people.
Following the grand opening, the pavilion will be open to the public every day until midnight. Fall programming includes plans for a yoga class, a hay maze and ghost stories synced to a light show intended for a teenage and adult audience.
AEG Presents, a booking firm based in Los Angeles that also provides event planning for Marymoor Park in Redmond, Washington, signed a deal with Spokane Parks this summer to bring 30 concerts to the Pavilion over the next three years. AEG will retain the profits from the events and pay the city $2 for every ticket sold up to $80,000 annually as a facility rental fee, per the terms of the contract. The company will also receive a portion of food and beverage sales.
Performers will include nationally known music acts, Lindsey said. Shows are expected to begin next summer.
"We'll see some headlining acts, some national acts," Lindsey said. "We're excited."
Local journalism is essential.
Give directly to The Spokesman-Review's Northwest Passages community forums series -- which helps to offset the costs of several reporter and editor positions at the newspaper -- by using the easy options below. Gifts processed in this system are not tax deductible, but are predominately used to help meet the local financial requirements needed to receive national matching-grant funds.
Subscribe now to get breaking news alerts in your email inbox
Get breaking news delivered to your inbox as it happens.
---