News > Spokane
Mechanical bull champion signed up on a whim, but the contest was no bull
Aug. 25, 2019 Updated Sun., Aug. 25, 2019 at 9:52 p.m.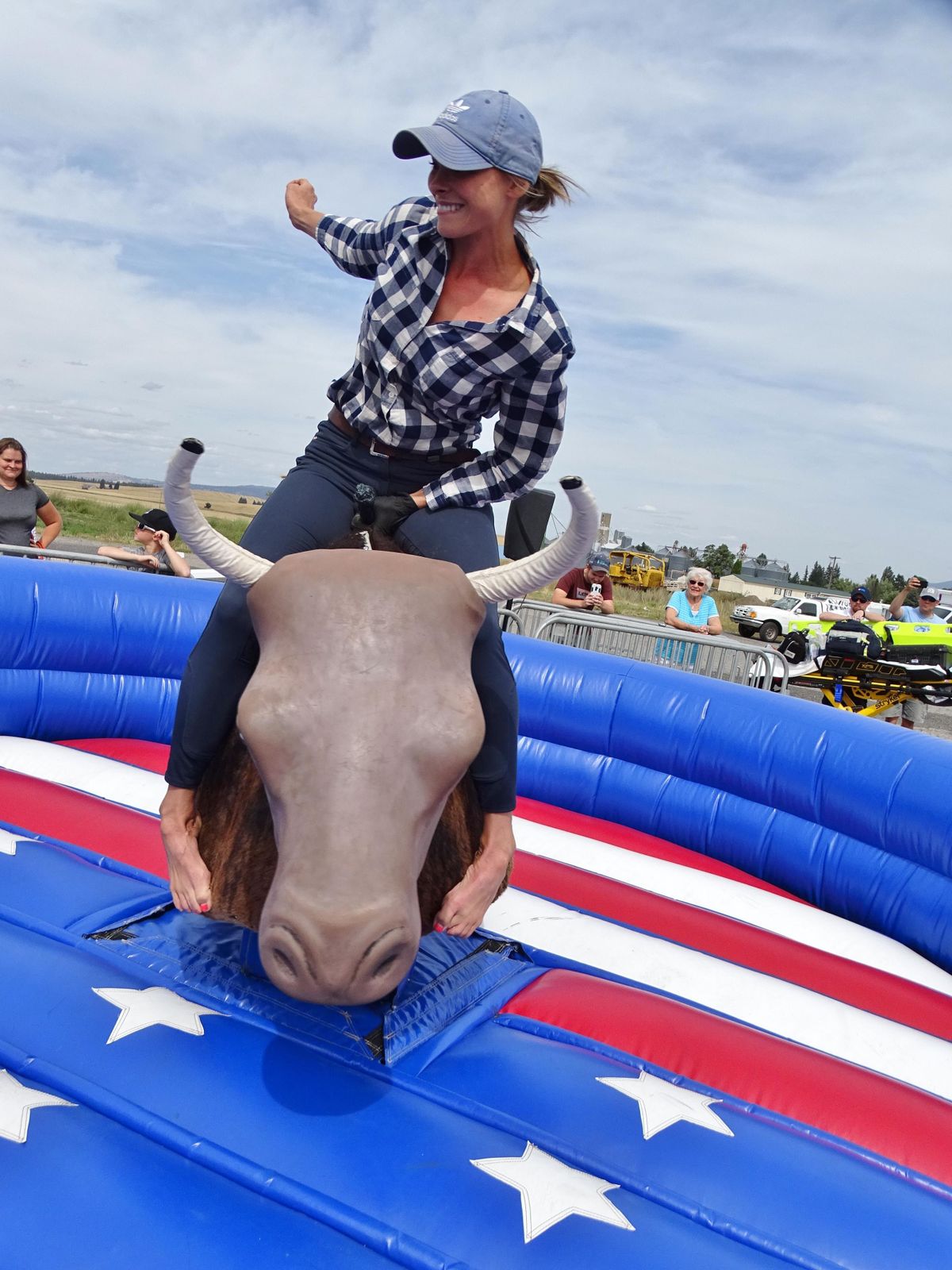 Laura Moore, a Washington State University equestrian team coach from Moscow, Idaho, hangs on to capture first place at the mechanical bull "world championship" in Spangle on Saturday, Aug. 24, 2019. (Courtesy, Melaine Williams)
Laura Moore had just taken the lead with a 57-second ride at the mechanical bull riding "world championship" held at Spangle's Harvester Restaurant on Saturday.
But Mitch Chandler, a rough stock bull rider from Spokane clad in a cowboy hat and chaps, was up last.
"It was really suspenseful," said George Chicha, the event's organizer. "It was really tight."
Then Chandler got bucked off after 52 seconds. And Moore, of Moscow, Idaho, walked away with the $4,000 grand prize and a championship belt buckle.
Moore said signing up started as a joke between her and her husband when they saw a flyer. Then a social media memory on her husband's phone, with a photo from the Spangle Days community events 10 years ago, reminded her to send in her $100 registration fee.
"I thought I'd do well," said Moore, who grew up breaking horses at her parents' equestrian center outside Seattle and coaches the Washington State University equestrian team.
"I didn't quite realize how serious it was going to be. There were some pretty great cowboys there," she said.
Chicha said he looked over years of research showing that men and women could compete equally in bull riding, so he decided to have one division of riders.
In all, 20 men and four women signed up. But two out of the top four finishers were women.
One of them was fourth-place finisher Kyla Gabriel from Liberty Lake, who rode for Moore at WSU. Cade Hartley of Cusick came in third.
"It took until the last ride to figure out what was going to happen," Chicha said.
He said the restaurant was full all day, and estimated that around 300 people showed up to watch. He plans to have it at the same place next year.
"The goal was to have an event that everybody came out a winner," Chicha said. "We don't think it could have been better."
Although Moore isn't sure what she'll do with the prize money, she said she'll be back, too.
"Now that it went well, I'll have to defend the title," she said.
Local journalism is essential.
Give directly to The Spokesman-Review's Northwest Passages community forums series -- which helps to offset the costs of several reporter and editor positions at the newspaper -- by using the easy options below. Gifts processed in this system are not tax deductible, but are predominately used to help meet the local financial requirements needed to receive national matching-grant funds.
Subscribe now to get breaking news alerts in your email inbox
Get breaking news delivered to your inbox as it happens.
---