Spokane animal lovers, adoptable pets converge for Santa Claws 2019 Hundreds of visitors and their animals gathered at the Spokane County fairgrounds Sunday, some for a holiday photo with Santa and others to adopt a new pet.
The Santa Claws event, which is the Sunday after Thanksgiving every year, was a fundraiser for Washington Basset Rescue, which rescues all types of dogs but specializes in hounds. Rita Michalak, an accountant from Rathdrum, Idaho, attended the event with two basset hounds, one of which was adopted just a few weeks ago from Basset Rescue.
"I just saw his picture and fell in love," Michalak said.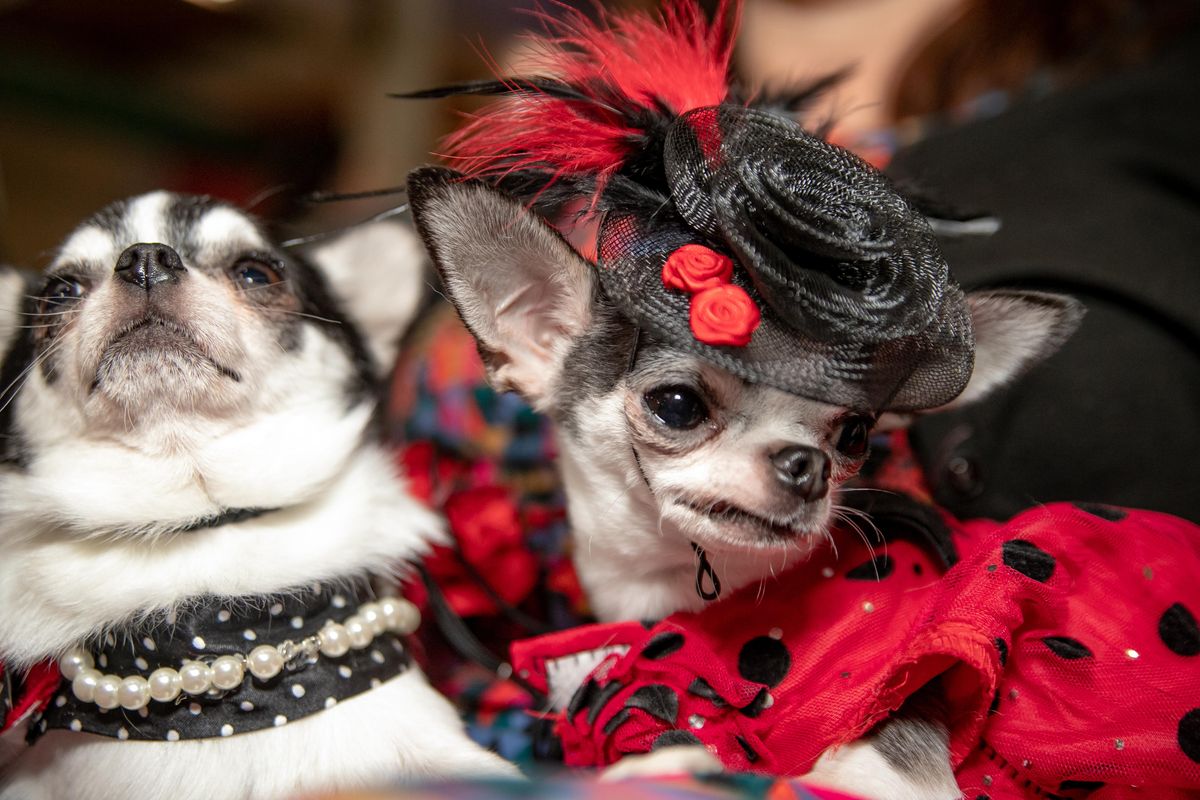 She has loved basset hounds since 1995, when her family rescued a stray. The family was able to find the original owners and return their dog to them, but since then Michalak always had a place in her heart for those types of dogs. Her husband purchased their first basset hound from a breeder, but the four dogs she has adopted since have been rescues.
"They just have so much personality, and they're just good dogs," she said. "They're loving and friendly. It's very rare to get an aggressive basset."
Michalak left one of her hounds, an older dog named Frankie Jo, at home because she doesn't handle crowds and other dogs well but took her daughter and her other two dogs, Norman and Gibson, for a holiday photo with Santa.
While many dog owners took family photos with Santa or purchased dog supplies, some attended with the hopes of adding a new pet to their family.
Cristene Justus, founder of the Double J Dog Ranch nonprofit that cares for dogs with special needs, said the organization had already received one application to adopt one of the four dogs they brought an hour and a half into the five-hour event. She said there are six currently up for adoption, including a deaf Australian shepherd named Lulu.
"She's just as smart as a normal dog, and maybe even better trained," said Justus.
She said many people she's spoken to have misconceptions about how to handle a special needs dog, thinking they need to be supervised constantly, or need intense care and maintenance. Dogs that are deaf and blind, however, often just communicate differently and can take the same amount of time and care as a dog without a disability, she said.
Justus said an event like Santa Claws gives people a chance to interact with a dog with a special need for the first time and realize that it could have a home with their family.
"They're perfect in all the ways that matter," she said.
Attendees at the annual Santa Paws event could interact with dogs, ferrets and livestock and many brought their own animals to to socialize. Haley Baggins brought her golden retriever, Mia, and golden retriever-Australian shepherd mix Sammy for the family's holiday Christmas card photo, along with her husband and mother.
Baggins said her favorite part of the event was the number of well-dressed dogs that attend every year. Dogs could be seen in tutus, ball gowns, sweaters and antlers.
"It's a fashion show of adorable dogs, and it's fantastic," she said.
The event also included several dog fashion retailers. Melissa Schmitz, owner of Pawing Around Pet Boutique, had several dogs modeling ball gowns and dresses she made. Schmitz said many of the dog models that appear at her fashion shows throughout the year are rescue dogs, dogs with disabilities or retired show dogs.
Schmitz, a Spokane-based designer, is allergic to dogs, and didn't own one or know how to sew until five years ago, when she found two abandoned dogs along the highway. Since then, she's made dog wedding dresses, costumes, fashion collars and tuxedos.
She said several dogs that have had issues with nervousness or training have actually improved after they appeared in doggy fashion shows, including her own dog, Bailey Dior.
"It sounds frou-frou," she said, "but it helps them with socializing and being around people. Everyone gives them cookies and loves them and claps for them."
The event also included professional Santa and Mrs. Claus, Paul and Mary Charbonneau, who will appear at dozens of Christmas fundraisers over the next month. This is the only time Mary Charbonneau will appear at one for her own organization, Washington Basset Rescue, which she co-directs.
One of the directors of Washington Basset Rescue, Judy Brown, said Santa Claws is the organization's only fundraiser, but the nonprofit, as well as other area shelters and rescues, always have animals that need to be adopted.
"(There are) great dogs in shelters and in rescues," she said. "If people would just consider saving a dog that's been rehomed rather than buying from a pet shop or buying from a breeder, that's a wonderful thing. Rescue dogs need love."
---