A&E
Go big or go home: New breweries Brick West and Lumberbeard will be two of the largest in the area
Dec. 10, 2019 Updated Tue., Dec. 10, 2019 at 1:07 p.m.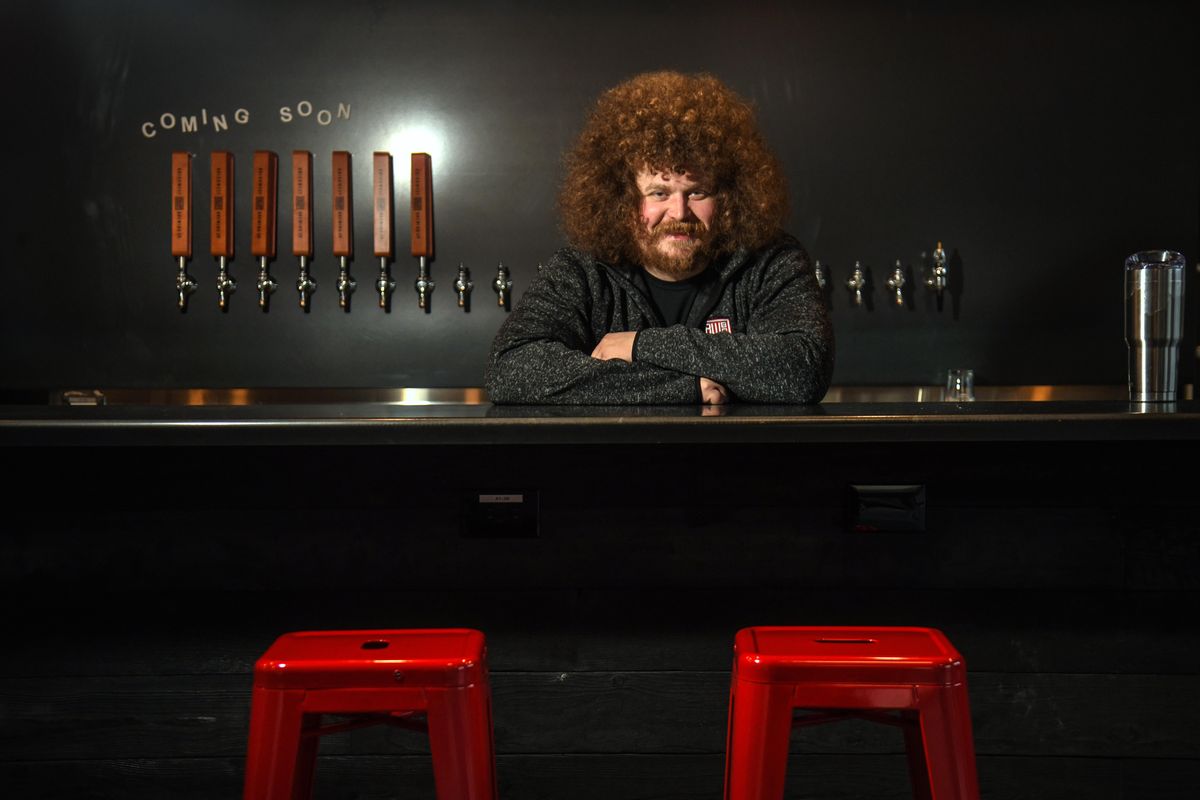 Brian Carpenter is the general manager at the new Brick West Brewing Co. in downtown Spokane. (Dan Pelle / The Spokesman-Review)
One advantage that the Inland Northwest brewing scene has compared to other places on the West Coast is that startup costs can be considerably lower than for similarly sized breweries in larger metro areas. While starting a brewery is never going to be a cheap proposition, a person with desire and talent can start small, find reasonable rents, invest in brewing equipment and let the beer speak for itself.
This year, the region has seen several "nano" breweries open their doors, which means they brew beer on a system that produces three or fewer barrels of beer in a single batch – or approximately 108 gallons. These smaller systems allow a brewer to produce enough beer to supply a taproom and maybe do some local distribution, but it won't stretch much further than that.
While these smaller breweries are great and frequently produce impressive beer, as the craft beer scene in the region has grown, some brewers have come into the area with big plans and the capital to execute them.
In fact, two new breweries will be opening on opposite ends of downtown Spokane this month, and both will immediately become two of the largest in the area. The goal for each isn't any different than any other brewery even if the scale is: Make the best beer possible.
Lumberbeard Brewing
The area around Third Avenue and Division Street does not feel like the most welcoming part of downtown. In the shadow of Interstate 90, and at the intersection of two busy arterials, it wouldn't be the first place you'd expect to find a craft brewery, but, according to Bret Gordon, a co-owner and head brewer of Lumberbeard Brewing, that is exactly what drew him to the space.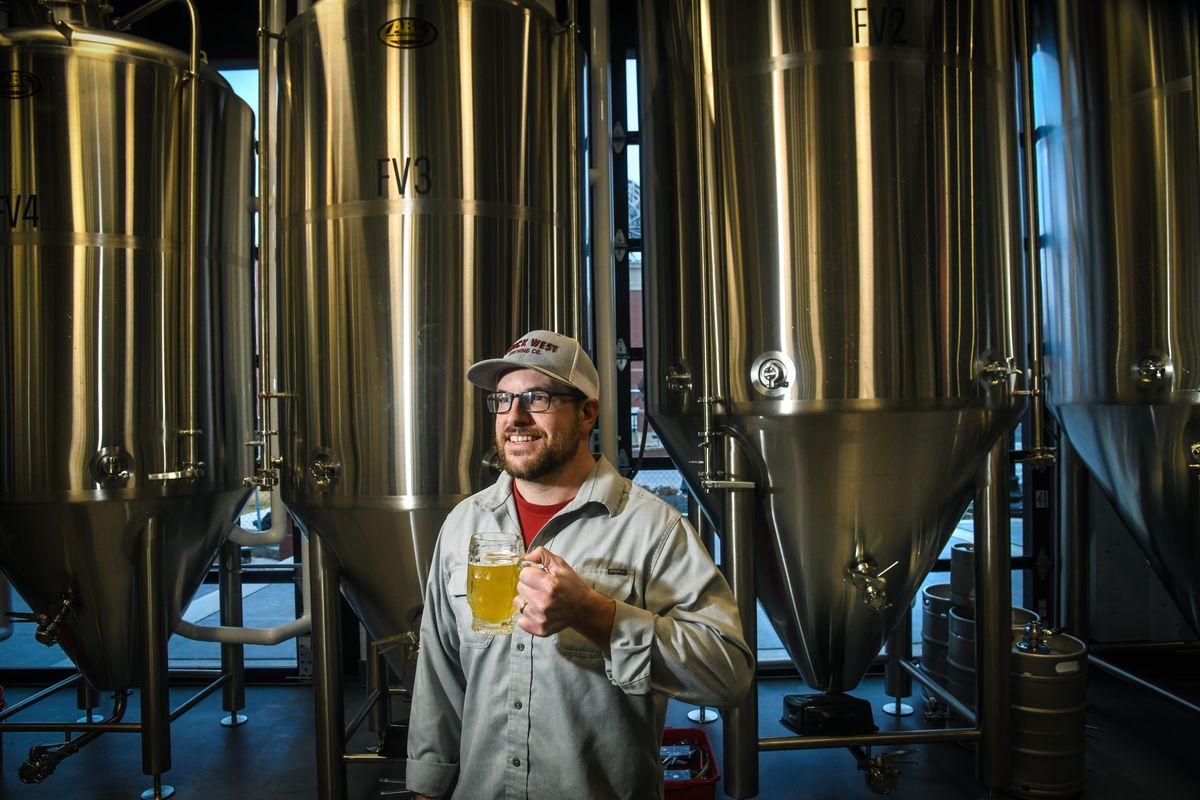 Sam Milne is the head brewer at the new Brick West Brewing Co. in downtown Spokane. (Dan Pelle / The Spokesman-Review)
"We looked at lots of buildings, and this was by far the best location," said Gordon, who co-owns the brewery with his father, Norman. "When a brewery comes in, it raises up the area, and this area is already starting to come up." He mentioned several examples, including a newly built La Quinta Inn as an example of the area's budding renaissance.
Gordon is a native of Orange County in California. His sister relocated to attend Whitworth in the early 2000s, and Spokane became a part of his life. After working for several breweries in the Los Angeles region, Gordon began to draw up plans for his own. When he decided that he wanted to raise his young family away from Southern California, Spokane was a logical choice.
"The opportunity to start a brewery in Spokane is way more enticing than starting one in Southern California. (Spokane) has an awesome and growing beer scene," Gordon said.
The building that houses the brewery, located at 25 E. Third Ave., began life as a GMC diesel repair shop and was in a state of disrepair when Gordon took ownership. The process of converting it to usable brew space was arduous, including removing an estimated 30,000 pounds of junk and tearing up nearly 2,000 square feet of concrete flooring. According to Gordon, only one room was left mostly untouched, as the rest of the building was taken down to the brick.
The newly renovated building now houses a 20-barrel brewing system, with the capacity to produce thousands of barrels of beer per year, and a large and bright taproom that will eventually have a moveable wall to convert a portion of it into private event space for as many as 50 people.
Food is not currently planned, but outside food is welcome, especially the Spokane institution that is Dick's Hamburgers just across Third Avenue. Lumberbeard also has secured space across Pine Street from the brewery that will provide plenty of free parking.
Lumberbeard plans to have 16 to 18 of its own brews at any one time. Given his Southern California background, Gordon expects a heavy focus on IPAs. "We will be pretty IPA heavy, but I'm also excited to start a barrel-aging program."
He also expects Belgian-style ales will eventually be added to the rotation. For now, Gordon is just excited about being part of the community. "In craft beer, a rising tide floats all boats, and Spokane is a cool beer scene that is rising."
Lumberbeard is in a soft opening phase, with an expected grand opening in the next couple of weeks.
Brick West Brewing Co.
The owners of Brick West Brewing Co., Matt Goodwin and Jordan Tampien, are widely known in the Spokane restaurant and bar scene, having been involved with various places including the Volstead Act, the Boiler Room and Fast Eddie's, but this is their first foray into building a brewery.
They acquired the Watts Automotive building at 1312 W. Sprague Ave. – adjacent to the new plaza that was built over the massive storm-water runoff cistern on South Adams Street between Sprague and First avenues – with the hope that it could anchor the continuing revitalization of downtown's west end.
Not being brewers themselves, they cast a wide net to find someone who could turn that dream into a reality. Enter head brewer Sam Milne. Milne arrived in Spokane after working at Kulshan Brewing in Bellingham. In 2018, he was awarded the prestigious Glen Falconer Scholarship, which allowed him to study craft beer at Chicago's the Siebel Institute, one of the largest brewing labs in the U.S., and Doemens Academy in Munich, Germany.
Once he completed the program, he began looking for a startup brewery that would value his experience in crafting traditional German-style beers. In Brick West, Milne was given the opportunity to design the 15-barrel brewing system from the ground up and had one main goal in mind: "Every decision we made, in terms of laying out the brewery as well as engineering and design, was made with the goal of making a world class pilsner."
This devotion includes a propriety water treatment procedure, which helps bring Spokane's notoriously hard water to something more in line with the soft water found in the traditional pilsner brewing regions of Germany and the Czech Republic.
Brick West also has a quality assurance lab on-site that will allow it to analyze each batch of beer to determine how small changes to the brewing process negatively or positively affect the overall product as more data are gathered.
Although his first passion is German-style beers, Milne considers himself a "brewer for the people." He expects to have a diverse portfolio of 10 core beers on tap at any one time, with additional space for seasonal brews, as well as local wines and ciders.
"I want (Brick West's beer) to be approachable and accessible," Milne said. In light of this, you can expect to see Brick West begin to show up at bars and restaurants throughout the region with hopes of further expanding as it gets up to speed.
As for the taproom, the large space can fit as many as 165 people, and, during the warm months, a patio with space for at least another 60 is planned. Although the exact details are still being worked out, Brick West also expects to have access to the adjacent plaza to be used as a gathering space in the west end for live music or collaborative events with other local breweries.
Brick West will have a food program consisting of premium sausages, as well as a limited menu from the attached restaurant that is going in next door. Brick West Brewing is hoping for a pre-Christmas grand opening.
Brick West and Lumberbeard are entering a competitive market. Consumers of craft beer in the region have more options than ever before and are more informed about the qualities of great craft beer. Their size definitely gives them advantages, but ultimately the quality will have to be there. Competition breeds better beer, so it can only be a good thing for local beer fans.
Other local beer news
Despite its many residents, the upper South Hill has surprisingly been left out as the local craft brewing industry has continued to expand. Brothers Marco and Nick Plastino have finally changed this with the recent opening of their new Bottle Bay Brewing Co. Located at 503 E. 30th Ave., the brewery is the culmination of many years of home brewing with their father and working different jobs in the restaurant industry.
After graduating from the prestigious Brewmasters Program at the University of California, Davis, in 2018, Marco moved back to Spokane and founded the brewery with his brother, self-distributing and spending a lot of time on the beer festival circuit.
With the new location and lake cabin-themed taproom, they have expanded to a two-barrel brewing system, which should allow them to keep their taproom well stocked and continue local distribution. The taproom is open, with plans for an official grand opening celebration sometime in the next few weeks.
Ownership of Coeur d'Alene's Slate Creek Brewing has changed hands for the second time in two years. Current owner Danica Gilbert reached an agreement to sell the taproom and brewing facility located at 1710 N. Fourth St. to investors who intend on starting a new brewery at the location.
Gilbert has retained the rights to the Slate Creek brand and said she hopes to find an alternate location in the Coeur d'Alene area, possibly with a restaurant, at some point in the future.
T.J. Wallin, owner of the popular East Sprague beer bar Community Pint (120 E. Sprague Ave.) and his brewing partner Adam Keys have founded Project Craft Brewing, a one-barrel nano brewery. The beers produced will be a combination of Wallin's love of traditional-style beers and Keys' desire to push the envelope and find new trends in the industry.
The small system will allow the brewers to experiment with many styles. While the hope is to eventually expand and open a taproom, Project Craft will right now be exclusively available at Community Pint. There will be a launch party on Saturday from noon-10 p.m. at Community Pint.
Find more beer news at 509beerblog.com.
Local journalism is essential.
Give directly to The Spokesman-Review's Northwest Passages community forums series -- which helps to offset the costs of several reporter and editor positions at the newspaper -- by using the easy options below. Gifts processed in this system are not tax deductible, but are predominately used to help meet the local financial requirements needed to receive national matching-grant funds.
Subscribe to the Spokane7 email newsletter
Get the day's top entertainment headlines delivered to your inbox every morning.
---