A&E
Christmas shows are plentiful through the weekend
Thu., Dec. 19, 2019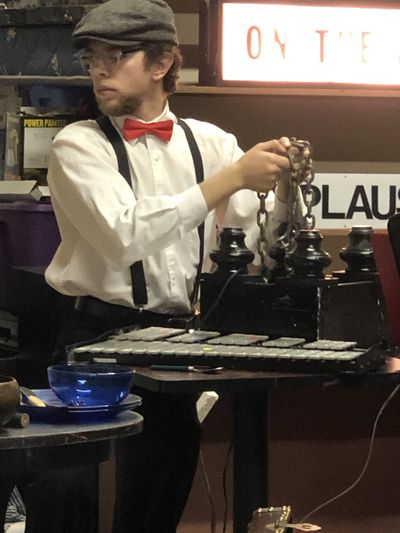 The countdown to Christmas has begun in earnest, but the area's lively entertainment scene offers plenty of glittering gifts to unwrap before Santa's arrival.
Here are some holiday highlights:
'A Christmas Carol - A Live Radio Play'
Produced by Coeur d'Alene Summer Theatre, this live radio broadcast-style play brings to life the Charles Dickens story of Ebenezer Scrooge, the holiday-hating miser who sees the error of his ways thanks to a trio of ghostly visitors on Christmas Eve.
The tale unfolds as a 1940s radio broadcast featuring a few actors gathered around a microphone. The show is complete with vintage commercials for fruitcake (extra fancy) and the magic of live sound effects and musical underscoring.
If you go: 7:30 p.m. Friday and Saturday and 2 p.m. Sunday; Innovation Collective, 418 E. Lakeside Ave., Suite 7, Coeur d'Alene; $27, (208) 660-2958.
More 'A Christmas Carol'
If you are in the mood for a holiday story, though, you're in luck, as both Spark Central and Pullman Civic Theatre will perform radio plays of "A Christmas Carol" this week.
The classic tale follows Ebenezer Scrooge as three ghosts visit him in one night to teach him the true meaning of Christmas.
Pullman Community Theatre will perform its second weekend of "A Christmas Carol" today through Sunday, and Spark Central will produce its version today.
Spark Central: 7:30 p.m. today; 1214 W. Summit Parkway; free.
Pullman Civic Theatre: 7:30 p.m. Friday and Saturday; 2 p.m. Sunday; 1220 NW Nye St., Pullman; $12 Friday and Saturday; $10 Sunday, available through pullmancivictheatre.org.
'Adam Trent's Holiday Magic'
Broadway and TV star Adam Trent is bringing his signature brand of magic and illusion to Spokane in a high-tech stage spectacle. This holiday-themed magic show features illusions, music and comedy designed to entertain the whole family.
The interactive show brings volunteers onstage and even encompasses the entire theater audience into illusions.
"America's Got Talent" finalist Evie Clair is Trent's musical guest star. Clair stole the hearts of America in Season 12 with her angelic voice and her strength through personal tragedy when she lost her beloved father to cancer just before appearing on the finals.
If you go: Sunday. Showtime is 2 and 7:30 p.m. Bing Crosby Theater, 901 W. Sprague Ave. $22-$37. (509) 227-7638
'A Broadway Christmas on Bernard'
Unity Spiritual Center presents a musical revue featuring holiday songs for the entire family. This show features the Unity choir, soloists and small ensembles in an evening of beautiful and memorable Christmas vocal numbers that are guaranteed to lift your spirits in fine holiday fashion.
If you go: 7 p.m. Friday and 3 p.m. Sunday, Unity Spiritual Center, 2900 S. Bernard; $15, (509) 838-6518 and unityspokane.org
'Twas the Night Before Christmas'
"'Twas the Night Before Christmas" continues at Spokane's Children's Theatre. This retelling of the classic Clement Moore poem will have visions of sugar plums dancing in your head as Moore pens his poem in a houseful of children who are eagerly awaiting St. Nick's arrival.
Doors open 30 minutes before showtime, and some performances are already sold out.
If you go: 4 p.m. Friday and 2 p.m. Saturdays and Sundays, Spokane Children's Theatre, 2727 N. Madella Ave.; $16 adult, $15 senior/military and $12 children ages 12 and younger; (509) 328-4886 and spokanechildrenstheatre.org
'Traditions of Christmas'
With a cast of 72 featuring 500 costumes, this Radio City Music Hall-style show has it all – choreographed tap numbers, a stirring military tribute and a live nativity. Highlights include Rockettes-style kick line dance numbers. And, yes, Santa's workshop is involved, too.
If you go: 3 and 7 p.m. Friday and Saturday and 3 p.m. Sunday, Salvation Army Kroc Center, 1765 W. Golf Course Road, Coeur d'Alene; $34 adults, $27 senior/military and $21 children; (208) 667-1865
'It's a Wonderful Life'
The Christmas staple "It's a Wonderful Life" continues at Spokane Civic Theatre. Clarence, George Bailey's guardian angel, descends to Earth to show George what would happen if he'd never been born and to remind him that it really is a wonderful life.
If you go: 7:30 p.m. Friday and Saturday and 2 p.m. Sunday, Spokane Civic Theatre, 1020 N. Howard St.; $35 adults, $30 seniors/military, $25 students and $15 children; (509) 325-2507 and spokanecivictheatre.com
'The Best Christmas Pageant Ever'
This stage adaptation of the children's novel feature the Herdmans, aka "the worst kids in the history of the world," who show up at church for the free snacks and suddenly take over the Christmas pageant.
The Herdmans have never heard the Christmas story before and start to reimagine it in their own way. Some performances are already sold out.
If you go: 7:30 p.m. Friday and Saturday and 2 p.m. Saturday and Sunday, Spokane Civic Theatre, 1020 N. Howard St.; $20 general, $10 children, (509) 325-2507
'Ellen Travolta's Christmas Miracles'
The Travolta Christmas show at the Coeur d'Alene Resort is a local holiday tradition. Starring Ellen, sister Margaret Travolta, daughter Molly Allen and featuring Abbey Crawford, the show promises a night filled with music, laughter and memories.
Directed by Troy Nickerson, with accompaniment by Jennifer Twitchell on piano and Eugene Jablonsky on bass, this year's theme of miracles is sure to delight.
If you go: 7:30 p.m. Friday and Saturday and 5 p.m. Sunday at 5 p.m., Coeur d'Alene Resort, 115 S. Second St., Coeur d'Alene; $27.50, (208) 765-4000
Azaria Podplesky contributed to this roundup.
Local journalism is essential.
Give directly to The Spokesman-Review's Northwest Passages community forums series -- which helps to offset the costs of several reporter and editor positions at the newspaper -- by using the easy options below. Gifts processed in this system are not tax deductible, but are predominately used to help meet the local financial requirements needed to receive national matching-grant funds.
Subscribe to the Spokane7 email newsletter
Get the day's top entertainment headlines delivered to your inbox every morning.
---