Sports > Outdoors
Gonzaga study reveals high levels of microplastics in Spokane River, suggests particles in drinking water as well
Sun., Feb. 3, 2019 The tenuous plastic fibers, visible only through the magnified view of a microscope, sent Jacob Peterson reeling into eddies of anxiety.
The sudden upwelling of fear wasn't completely new. The biology student suffered from anxiety in other areas of his life. But this was the first time his own research triggered the feeling.
"Realizing how much microplastic was in tap water and our drinking water really freaked me out," he said. "When we started the project, we thought 'Oh we're going to find it in a few samples.' "
They found more than a few.
"It started to affect me a lot. I would be sitting there looking at my Nalgene and go, 'Oh my God,' " he said.
Researchers 'stunned'
by prevalence
Over the course of nine weeks in 2018, the avid kayaker and outdoorsman collected a dozen water samples a week from various spots on the Spokane River. Peterson, then a senior at Gonzaga University, processed and analyzed the samples under the tutelage of Betsy Bancroft, a professor of biology and environmental studies at Gonzaga.
On average he found 12 microplastics in every Nalgene-water-bottle sized sample. The results of his research have not been published or peer reviewed, although the Spokane River Keeper posted a draft on its blog.
The data is troubling, Bancroft said.
"We were actually just stunned by the number that he found," she said. "We were skeptical that he would find any at all."
Microplastics in the Earth's oceans have been studied for decades.
Less research has been done on the prevalence of the tiny plastics in rivers, Bancroft said. This scientific blind spot makes sense. For one, rivers dump into oceans depositing the plastic effluent – between five and 15 million tons per year. In oceans, the adverse effects of the invisible plastics has been documented on highly visible species, like whales.
"It think it was just more obvious," she said.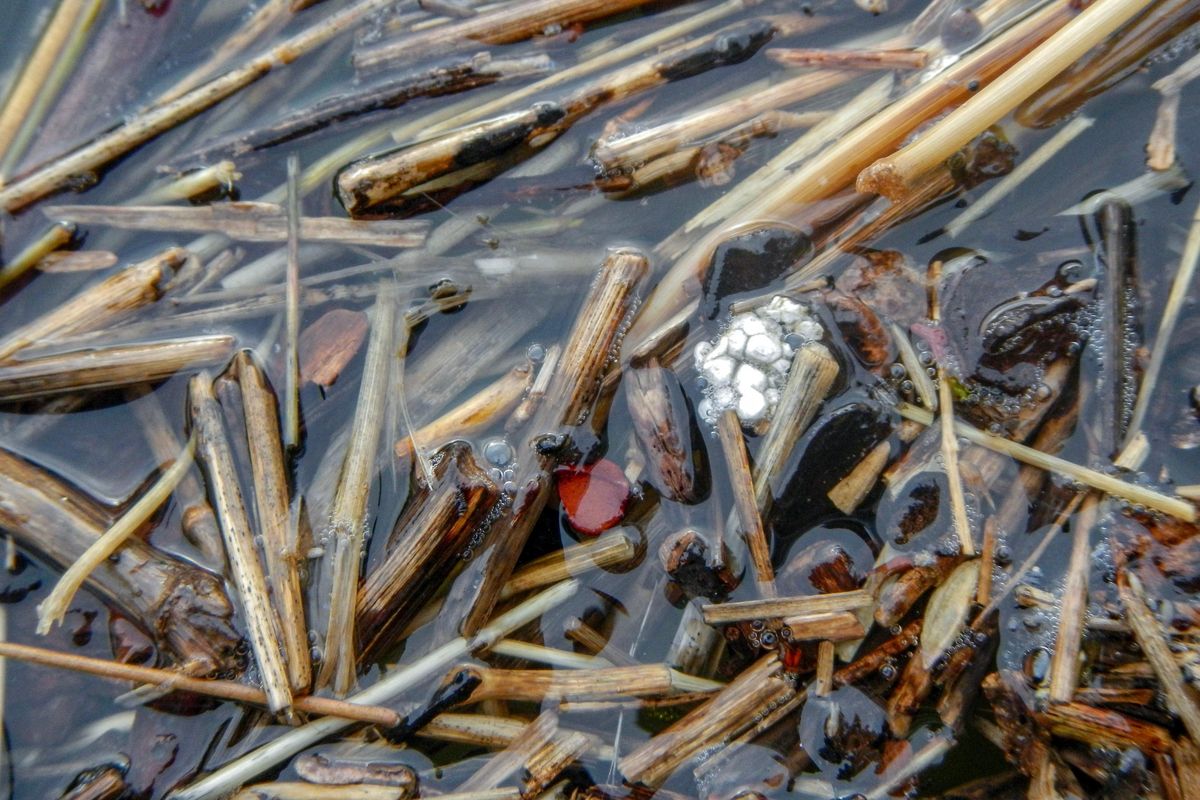 Fragments of styrofoam mixed with wood and other debris in the Spokane River's Bowl and Pitcher. JACOB PETERSON/COURTESY (JACOB PETERSON / COURTESY)
Spokane River prime study environment
Research is increasingly showing that microplastics are not confined to the oceans. The Spokane River, as urban and relatively short as it is, offers a prime study environment.
"Spokane is a pretty unique system, being as short as it is," said Joanne Smieja, a chemistry and biochemistry professor at Gonzaga working with Bancroft. "If we can say something about what is happening here, I think it will add a lot to the story of other rivers."
Despite flowing through the second-largest urban area in the state, much of the river's ecology remains unstudied. For instance, the Spokane Riverkeeper is just now starting to take systematic temperature measurements in an effort to accurately track global warming's impact on river health.
Studying microplastic proliferation in the river fits into that larger goal, said Jerry White, the Spokane Riverkeeper.
"I think all that is poorly understood," he said.
The Spokane Riverkeeper and Gonzaga University will continue to partner on studies like Peterson's, White said, and his study will be submitted for publication and peer review sometime this year.
The only other study that looked at plastics in the river was conducted in 2017 by a Lewis and Clark High School senior who found microplastics in the guts of Spokane River whitefish. No studies had looked at microplastics in the water itself.
Peterson modeled much of his study methodology off the Florida Microplastic Awareness Project. He sampled the river upstream and downstream of the Spokane Wastewater Treatment Plant in an effort to determine if the plant is an entry point for microplasitcs into the river.
It is.
Microplastics were found in every sample Peterson collected. During one high-water event in April, Peterson found 47 microplastics per liter. The lowest sample recorded was one microplastic a liter in early March. On average, Peterson found 12.1 micro plastics per liter.
More of the mostly invisible plastics were found below the Wastewater Treatment Plant than upstream. This finding is supported by the 2017 study which found higher concentrations of plastic in whitefish near the treatment center.
Where these plastics come from isn't clear, although Peterson points to a study commissioned by Patagonia in 2016 that found that laundering fleece and other synthetic clothing released as many as 250,000 synthetic fibers. Sun, wind, waves and heat break macroplastics into successively smaller pieces in oceans. Plastic trash in and along the Spokane River could be behaving the same way. although that has yet to be studied.
Paul Hurst, a senior at Gonzaga, is continuing Peterson's work. Although, he's looking specifically at how microplastic levels change month to month.
Because Hurst is only three months into his study, he can't say anything definitive about trends. But the number of microplastics he's finding is comparable to what Peterson found.
"We're pretty riddled with microplastics," he said.
"There are Riverkeepers (throughout the country) that are producing data that is pretty similar to ours and they are also pretty worried."
These findings, on their own, are troubling. For Peterson, the real shock came nearly as an afterthought.
He took a number of "opportunistic" samples of tap water and snow from Mount Spokane.
All contained significant amounts of microplastic – in some cases, higher than documented in the river.
"This is the first step in trying to figure out in the Spokane area what is the plastic load that people are consuming on a daily basis," he said.
Where isn't it?
Peterson's random samples of snow and drinking water align with other studies that found microplastics in drinking water, beer and table salt.
In 2018, a small pilot study found microplastics in the fecal matter of eight people from eight countries. In marine animals, microplastics have been found in 114 aquatic species.
For many aquatic species the tiny, often brightly colored, pieces of plastic look like food.
In extreme cases, marine animals have starved to death with their stomachs packed with plastic.
Even more concerning, at least for humans, is research indicating that microplastics transfer dangerous chemicals once ingested and compromise the animals' livers. In another study, microplastics caused oysters to produce fewer eggs and less viable sperm.
Peterson worries that microplastics in the Spokane River could transfer PCBs and heavy metals into the human body.
As little as is known about the quantity of microplastics in rivers, less is known about the human health impacts of consuming the tiny particles.
"We basically don't know anything," Bancroft said. "We can speculate sort of based on studies that have been conducted in marine systems."
Plastic can absorb contaminates and carry pathogens, she said. But it's not clear to what extent, or if, they impact human health.
One review of published scientific literature on the subject noted the lack of data and emphasized the importance of "assessing current exposure levels."
In the future, Bancroft hopes to do just that. Although most of the Spokane region's potable water comes from the aquifer, she expects future research to confirm plastic in the area's subterranean reservoir.
"Just based on the sort of exchange that we have between that aquifer and the river, I wouldn't be surprised if they were in the aquifer," she said.
'I can't drink this'
Microplastics, CO2 emissions, PCBs and other invisible pollutants can induce a particular kind of stress. An overwhelming hopelessness triggered by the ubiquity of the problem combined with its near invisibility. Some psychologists have dubbed this "eco-anxiety." A 2017 report by the American Psychological Association documented how the ongoing specter of global warming is causing chronic, low-level stress in many.
That was what Peterson felt while studying microplastics.
"I had to go to counseling after I really dove into it," he said. "Because I would try and drink tap water. I'd grab my water bottle and I'd have this panic attack. I can't drink this. I can't drink this."
Hurst has also felt some anxiety continuing the research Peterson started. But once he realized there was little he could do about it in the short term, he relaxed.
"I think that's the part that keeps me sane about it," he said. "I'm not going to go through the process of filtering out microplastics every time I want a glass of water."
Instead, he hopes his research can add to the overall knowledge about the issue and eventually lead to a solution.
Peterson said his anxiety has subsided, to some extent. But the intractable nature of the problem remains.
"Plastic is such a big part of our lives," he said in a phone interview. "I tried to cut it out as much as I could but I can't."
At that moment, he wore several layers of fleece clothing. As he talked, he scraped accumulated snow and ice off his car after a day of working as a ski patroller on Mount Spokane.
"The reality of it all is plastic is everywhere," he said. "I'm holding this plastic ice scraper thing right now … probably every time I knock ice off my car, I'm knocking a bunch of microfibers into the environment."
Local journalism is essential.
Give directly to The Spokesman-Review's Northwest Passages community forums series -- which helps to offset the costs of several reporter and editor positions at the newspaper -- by using the easy options below. Gifts processed in this system are not tax deductible, but are predominately used to help meet the local financial requirements needed to receive national matching-grant funds.
Subscribe to the sports newsletter
Get the day's top sports headlines and breaking news delivered to your inbox by subscribing here.
---