Sports > Gonzaga basketball
John Blanchette: Jay Hillock, Bruce Wilson return to Gonzaga for look at amazing transformation
Jan. 4, 2019 Updated Fri., Jan. 4, 2019 at 8:29 p.m.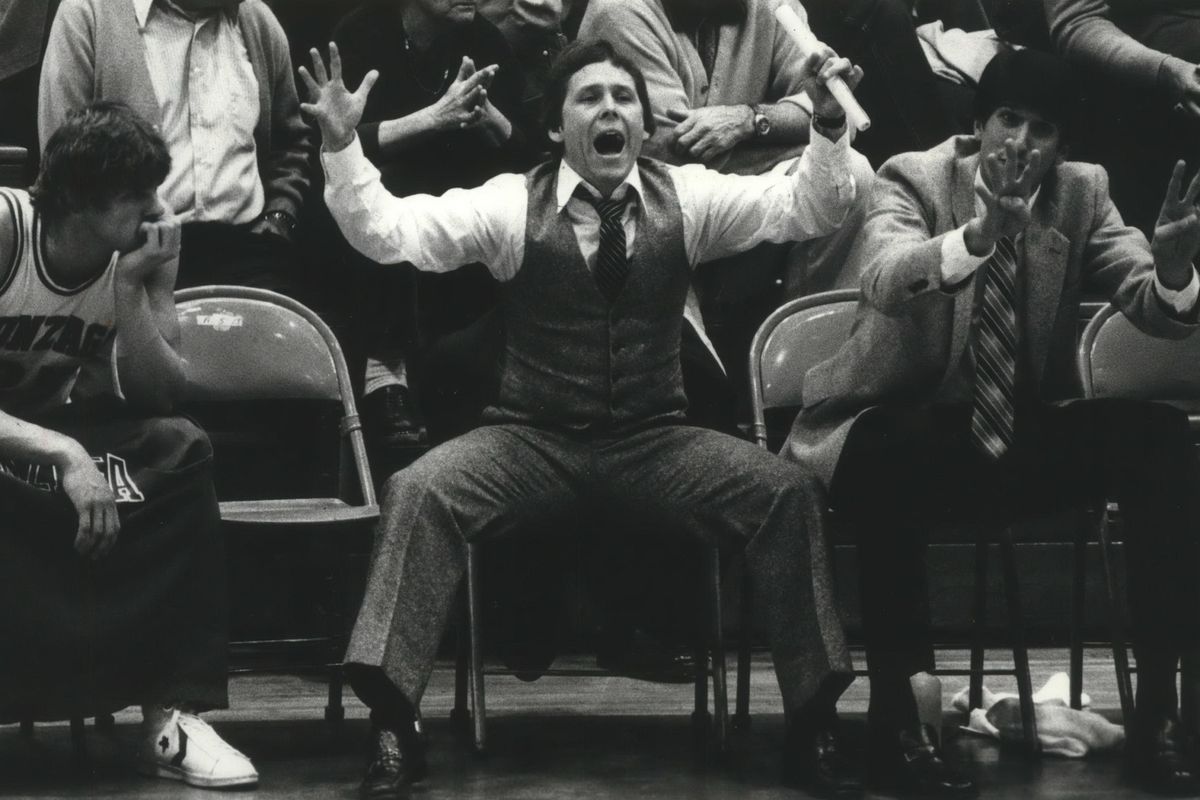 Former Gonzaga basketball coach Jay Hillock shouts instructions to his team. (Don Jamison / SR)
About 15 months ago, on yet another late night on the road – New Orleans this time – Jay Hillock pushed through the glass door of another 7-Eleven manned by another clerk, lonesome, chatty.
The subject of work was broached, and Hillock told the 20-something counterman that he was a pro personnel scout for the Chicago Bulls, his job now for the past 15 years, preceded by shorter stints with the Knicks, Grizzlies, Bullets and Jazz. And before that?
"I was the head coach at Gonzaga," he told the clerk, who brightened and offered his opinion on the Zags, how they're really good and "go to the Final Four every other year."
And Hillock shook his head and smiled – and not because of his new friend being shaky on the facts.
Now into a third decade, Gonzaga basketball is hardly regarded as a phenomenon anymore. Except to those who lived it before it was.
Two who do – Hillock, the Zags' head coach from 1981-85, and his lead assistant, Bruce Wilson – will be in the stands Saturday for a rare up-close look when the Bulldogs open West Coast Conference play against Santa Clara. Hillock hasn't been in McCarthey Athletic Center since the second year it was opened, and this will be Wilson's first trip to campus in 28 years.
The sense is likely to be more newness than nostalgia because of all the changes.
"I have so much regard for what's transpired – because I know how hard that job was when we were there," Wilson said. "But as hard as it was, it was more fun than it was hard."
Those were the mom-and-pop grocery years of Gonzaga basketball – or maybe the frontier trading post years. Where Zags assistant Tommy Lloyd now crisscrosses the globe recruiting, Hillock and Wilson sometimes slept in their cars. Not only were charter flights a pipe dream, the Zags worried that "the old school bus might not get us up the hill to the airport," Wilson laughed.
Instead of 7-Eleven clerks reading off your roster to you, the coaches usually had to explain what and where Gonzaga was.
On the other hand, the point guard – kid named John Stockton – ended up in the Naismith Basketball Hall of Fame, one standard the contemporary Zags haven't matched. Yet.
Nonetheless, Hillock has the hottest of takes when it comes to what Mark Few has built.
"He's a first-ballot Hall of Famer," he insisted. "I'm serious. I don't think Coach K does what he's done at Gonzaga. I don't think Roy Williams does it."
That's not just rah-rah from an alum. He knows the degree of difficulty.
When Hillock burned out after four years and a 60-50 record at GU, he surfaced as an assistant at Loyola Marymount and was ringside for the shoot-'em-up circus featuring Hank Gathers and Bo Kimble, and presided over by Paul Westhead. That included the galvanizing 1990 events that saw Gathers collapse and die during a second-round game at the WCC Tournament and the Lions embark on a storybook NCAA run without him that ended in the Elite Eight against eventual national champion UNLV.
"I work for Gar Foreman – he was an assistant at New Mexico State who we beat in the first round," Hillock recalled. "Gar was outside the trailer where Al McGuire was interviewing (NMSU head coach) Neil McCarthy and Neil says, 'Well, they lost their best player,' and – Gar says he'll never forget this – McGuire tells Neil, 'You have no chance tomorrow night. It's going to be an avalanche.' Neil thought he was crazy."
But Gathers' death and graduation gutted the roster and Westhead returned to the NBA. Hillock took the remains to years of 16-15 and 15-13, but that wasn't going to be enough after the high times. He moved into NBA scouting – and his four successors at LMU had just two winning seasons in the next 16 years.
"We couldn't sustain it," he admitted, "but Loyola never knew what it wanted to be."
Wilson took a different road from Gonzaga – back to his alma mater, little Simpson College of Iowa, where he was head coach for 25 years. Upon retirement, he put in five more as an assistant with the Iowa Energy in what is now called the G-League, the NBA's development arm.
"One year, Johnny's son David (Stockton) was in the league with Reno," Wilson said. "We played them the first game and they got us into ball screen with him. We went under every time and he couldn't hit a shot.
"We played them again in February and he got 42 on us."
Those stories and some golden oldies will get told in this weekend of Zag appreciation – for both the old and the new.
"One thing I did much better than Few," Hillock cracked. "I gave my guys very long spring vacations."
Local journalism is essential.
Give directly to The Spokesman-Review's Northwest Passages community forums series -- which helps to offset the costs of several reporter and editor positions at the newspaper -- by using the easy options below. Gifts processed in this system are not tax deductible, but are predominately used to help meet the local financial requirements needed to receive national matching-grant funds.
Follow along with the Zags
Subscribe to our Gonzaga Basketball newsletter to stay up with the latest news.
---