News > Spokane
Then and Now: East Spokane grain elevators
Mon., Jan. 7, 2019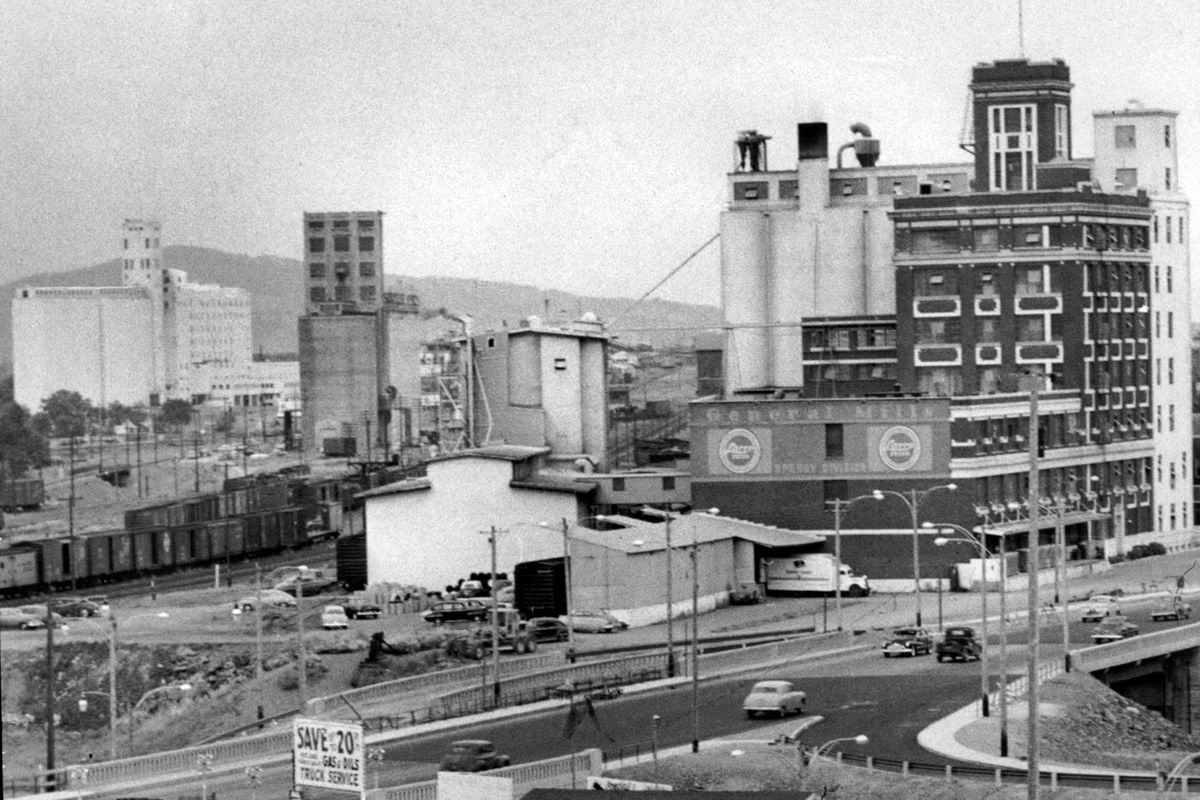 1954 - This photo shows three large grains storage and processing plants in East Spokane. In the foreground at right is the Sperry flour mill. In the center is the Spokane terminal of North Pacific Grain Growers, Inc., and to the far left is the huge Centennial Flouring Mills company plant. Each is strategically located along tracks in the rail corridor through East Spokane. (THE SPOKESMAN-REVIEW PHOTO ARCHIVE / SR)
Three grain storage and processing plants in east Spokane represent three varied types of agribusiness ventures.
At right, in the foreground, is the Sperry Flour Mill built on East Sprague Avenue in 1918. Built by the Sperry Flour Co. of California, the mill was state-of-the-art when it debuted.
The planned capacity was 2,000 barrels of flour a day, making it the largest milling operation in Spokane at that time. The warehouse was 43,000 square feet and the silos could hold 350,000 bushels of grain. At its peak, the company had more than 200 employees who processed the grains and trucked the products to bakeries and grocery distributors.
Sperry merged with milling giant General Mills of Minneapolis in 1929.
In 1965, milling was shut down and the plant used for grain storage and warehousing only.
The Spokane plant was sold to VWR United in 1966, then again to agriculture giant Archer Daniels Midland in 1981. Today it is a "mix plant" where ADM makes dry mixes for donuts, muffins and pancakes.
In the middle distance of the photo is the North Pacific Grain Growers storage facility at 310 N. Madelia, built on leased railroad right-of-way in 1931. The NPGG cooperative, established around 1929 in Lewiston, gave their members the ability to sell and ship their grain out of town. Through various mergers, the vacant facility is now owned by Cenex-Harvest States, a large food and energy cooperative. A permit has been issued to demolish the plant. The land will revert to the railroad.
In the distance at left is the Centennial Flour Mill, the largest facility of the three grain elevators in the area. George Pahl and Moritz Thomsen created the milling business in 1898 and built the massive flour milling complex in east Spokane in 1939. The massive complex, with a holding capacity of more than 3,000,000 bushels, was sold in 1981 to ADM, which still operates the plant today.
Modern grain storage was a boon to farmers because once harvested crops were documented and sequestered in grain elevators, they could be used as collateral for loans.
Local journalism is essential.
Give directly to The Spokesman-Review's Northwest Passages community forums series -- which helps to offset the costs of several reporter and editor positions at the newspaper -- by using the easy options below. Gifts processed in this system are not tax deductible, but are predominately used to help meet the local financial requirements needed to receive national matching-grant funds.
Subscribe now to get breaking news alerts in your email inbox
Get breaking news delivered to your inbox as it happens.
---