News > Spokane
With impressive track record behind him, local greeting card artist launches own company
Mon., Jan. 7, 2019 For Spokane Valley artist Colin Hayes, there's still something special about sending and receiving physical greeting cards in an increasingly digital world.
That's why Hayes decided to combine his passion for humor, illustration and realistic drawings into a greeting card company – Cobenali Creations – which launched this month.
"I basically wanted to create cards that I would buy at the store. I decided, 'Why don't I try to combine everything into something that I can do and sell to the general public'?" he said. "I figured out greeting cards were the perfect vehicle to merge those interests together."
Cobenali Creations features two lines of cards: Laugh It Up and Colin Hayes Art designs.
The "Laugh It Up" line of 48 assorted cards includes some snark and random humor with clever and equally witty illustrations, while the Colin Hayes Art line of 24 different cards showcases detailed drawings of birds, pets and wildlife.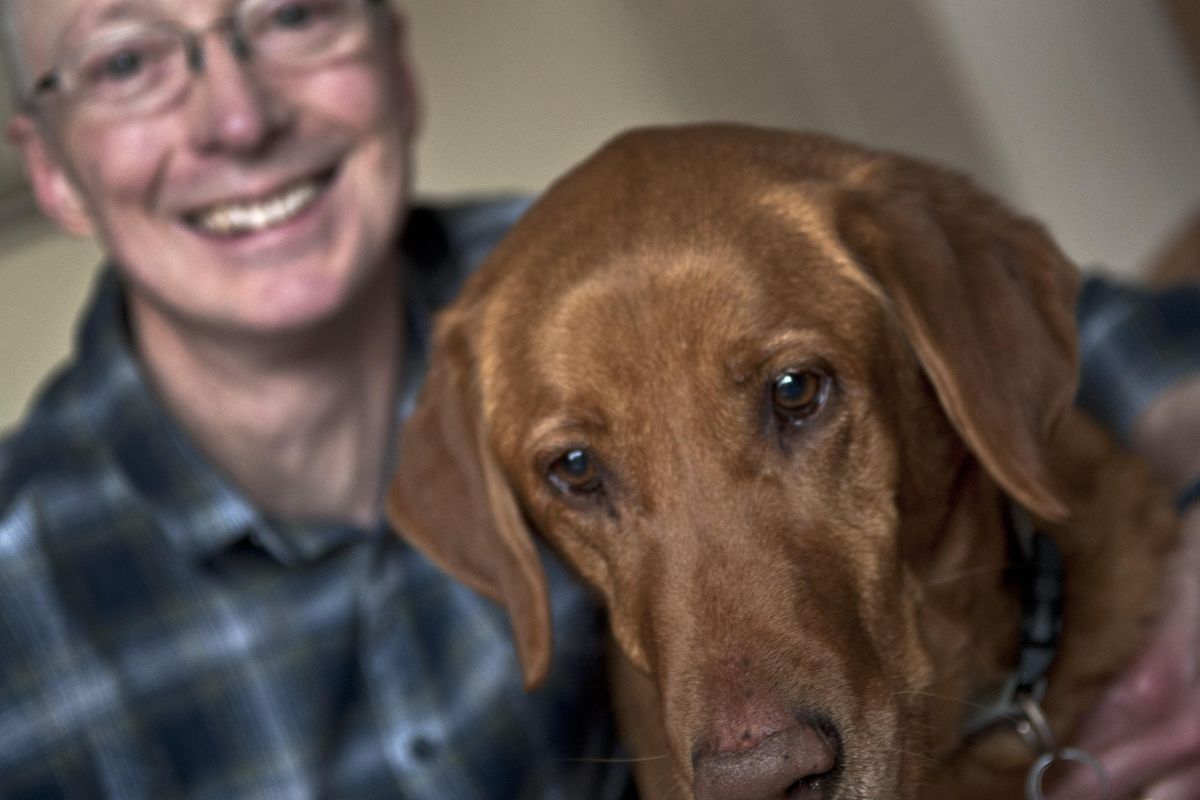 Spokane Valley resident Colin Hayes is photographed with his fox red labrador Apollo at his home on Friday, Jan.4, 2018. Apollo is the subject of one of his greeting cards. (Kathy Plonka / The Spokesman-Review)
The cards, priced at $3.90 each, are for sale locally at Auntie's Bookstore, The White Elephant, Simply Northwest, Made in Washington, Pet Vittles and Wild Bird West, and Forza Coffee. The greeting card line will be available in stores nationally later this year.
Hayes created greeting card categories for birthdays, anniversaries, new births, best wishes and congratulations. He's planning to add holiday cards in the future.
He said the idea for Cobenali Creations evolved from a smaller business, BIRDNIRD Studios, which featured artwork of birds on cards.
In late 2017, Hayes contacted sales representatives to gauge interest in Cobenali Creations.
He heard back from about 100 sales representatives that expressed interest in selling Cobenali Creations cards across the country. He assembled a deck and printed hundreds of catalogs.
Hayes handles all aspects of the business, from writing, illustrating and assembling the greeting cards to shipping them to stores and sales representatives.
A professional freelance illustrator for more than 25 years, Hayes completed work for a wide variety of clients such as AMC TV, AT&T, Hershey's, IBM, Microsoft and Volkswagen. His illustrations have also appeared in Billboard magazine, Consumer Reports, Forbes and the New York Times.
Hayes' aptitude for art began in early childhood.
"I was one of those kids that just drew all the time," he said. "From 4 years old, I picked up a pencil and never put it down. It turned out I had some ability."
At 5 years old, Hayes illustrated the entire instrument cluster of the airplane while on a flight with his father, a private pilot. When Hayes was 13, he enrolled in a college art class at William Jewell College in Liberty, Missouri.
He graduated from the Art Institute of Seattle in 1989 and subsequently worked at a small graphic design firm in Edmonds and as a staff artist at the Seattle Post-Intelligencer.
Hayes' freelance illustration career in the mid-1990s included commercial work, such as designing user "how-to" guides for Hewlett Packard's entire line of deskjet printers.
"It was a great experience," he said. "I learned a lot about how to show instructional illustration because everything had to go through customer testing."
In 2014, Hayes was hired by American Airlines to illustrate in-flight safety cards for their entire fleet, a yearlong project.
In addition to his commercial work, Hayes is also known for his commissioned portraits.
He began accepting commissions for portraits of pets and people in 2017. On a whim, he decided to draw a portrait of late comedian Don Rickles and emailed it to Rickles' manager.
Soon thereafter, Hayes received a call from Rickles' publicist stating the late comedian's wife, Barbara, loved the portrait. Barbara invited Hayes to Rickles' private memorial service in Los Angeles, where he joined a number of celebrities. The portrait of Rickles was enlarged and displayed at the service.
After the service, Barbara Rickles commissioned a portrait from Hayes of Bob Newhart's dog as a gift for the stand-up comedian.
Hayes said there appears to be a market for greeting cards, which could be attributed to nostalgia or people just wanting a break from technology.
Americans purchase 6.5 billion greeting cards each year, with annual estimated sales of more than $7.5 billion, according to the Greeting Card Association.
Hayes hopes to grow Cobenali Creations to the point where he can operate the business full-time.
"It's a melding of everything professionally that I'm interested in," he said. "I'm passionate about it. I hope it succeeds."
Local journalism is essential.
Give directly to The Spokesman-Review's Northwest Passages community forums series -- which helps to offset the costs of several reporter and editor positions at the newspaper -- by using the easy options below. Gifts processed in this system are not tax deductible, but are predominately used to help meet the local financial requirements needed to receive national matching-grant funds.
Subscribe now to get breaking news alerts in your email inbox
Get breaking news delivered to your inbox as it happens.
---