Sports
Tyson McGuffin, world's top-ranked pickleball player, seeks to be ambassador for sport
Sun., Jan. 13, 2019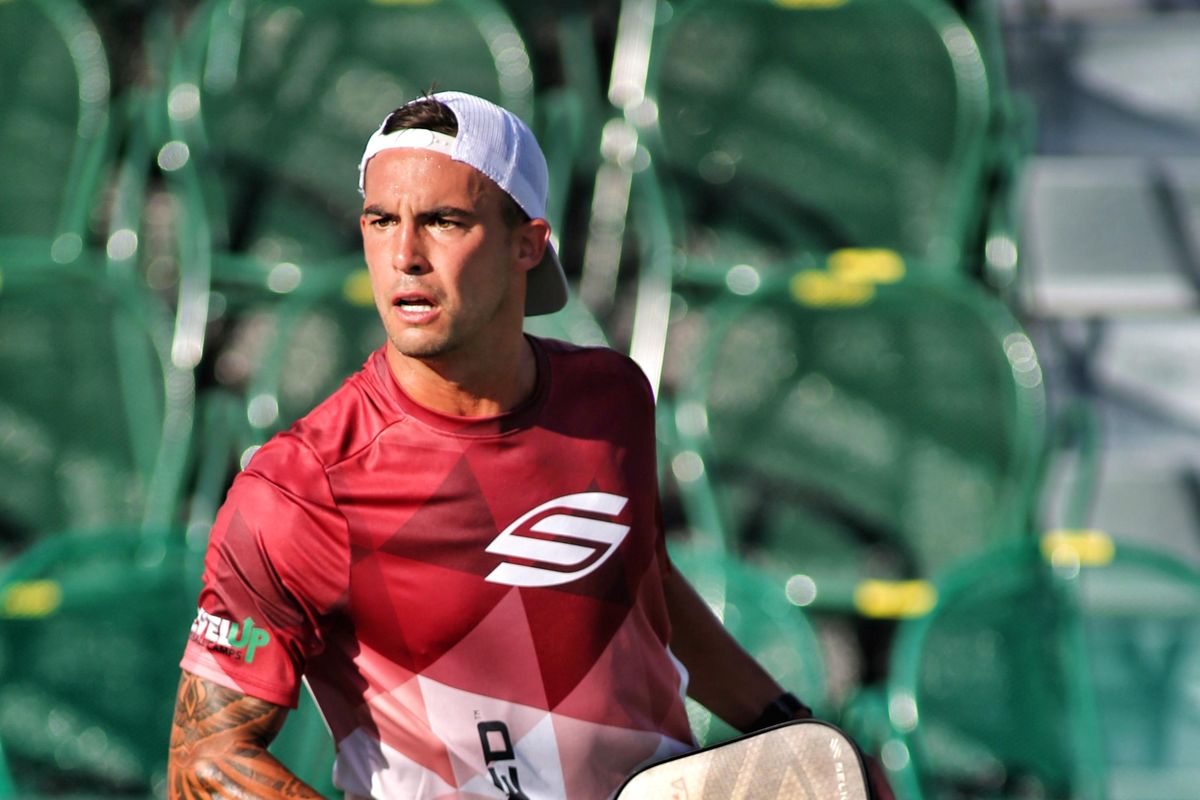 Tyson McGuffin has made his mark in pickleball. (Roger Padayao / Roger Padayao)
The top-ranked pickleball player in the world has to be from somewhere, right?
Why not the Pacific Northwest?
Tyson McGuffin, 28, was born in Lake Chelan, Washington, and now resides in Coeur d'Alene, where he is associated with Selkirk Sport, a leading designer and manufacturer of pickleball paddles.
McGuffin currently competes nationwide playing in singles and doubles events sanctioned by the USA Pickleball Association, the sport's governing body.
In November 2017, McGuffin captured his first major championship, winning the men's singles open division of the 2017 USA Pickleball Association National Championships at Palm Creek Golf & RV Resort in Casa Grande, Arizona.
Last year he only lost two singles matches, going 48-2, and won two majors in singles, one in doubles, and third-place finishes in doubles and mixed doubles.
Let's back up, though. What exactly is professional pickleball?
"I've heard people say it's like pingpong on steroids," McGuffin said.
Pickleball is played on a 44x20-foot court, with paddles and plastic balls. The game flows much like tennis, but with an emphasis on net play since the court is much smaller.
If you're envisioning senior citizens playing half-speed on a deck of a cruise ship, you're not alone. McGuffin knows the perception of the sport and through his play and outreach he's trying to educate as many as possible about competitive pickleball and help correct the misconceptions.
"The name doesn't sell," McGuffin admitted. "It doesn't help make the game attractive, that's for sure."
McGuffin said unlike most sports, the higher the skill level the game seems to slow down instead of speed up. It's more about placement and spin rather than power and speed.
"One of the things about pickleball is that the learning curve is very quick," he said. "I can take a beginner and in a couple of weeks I can have them playing, hitting a 20-ball rally and understanding how to score. Trying to do that in tennis would take a year."
McGuffin grew up in a wrestling family with five brothers and one sister. He didn't find tennis until he was 14 but advanced quickly, winning two state titles, along with reaching state in wrestling three times.
He played two years of junior college tennis, went on tour for a year and reached the top 1,500 before being certified to teach. He has been a head tennis pro at several clubs throughout the region.
As with many who find the sport, McGuffin picked it up after an injury – just not his.
McGuffin was a head tennis pro in Yakima and a man he gave tennis lessons to blew out his shoulder and wasn't able to play tennis anymore. The man, Bill Schott, started playing pickleball – which is much less stressful on the shoulder – at the local YMCA with senior citizens.
Schott suggested to McGuffin to give the game a try.
"I remember walking into the facility," McGuffin said, "and seeing no one under the age of 65. It wasn't too intriguing at first."
But since he enjoyed the company, McGuffin picked up a paddle and started playing.
"It wasn't super high level, but it was a good little fit."
The rest, as they say, is history.
Within three times out playing, McGuffin started entering – and winning – tournaments.
"I played in my first tournament in 2015 – I'd only been playing for about a month," he said.
He ended up winning the level 4/5 bracket.
"That tournament got me started in competitive pickleball," he said.
He hasn't picked up a tennis racquet since.
"My very first year I wasn't very successful in doubles or mixed doubles," McGuffin said. "I found singles right away and got comfortable and placed second at nationals within about a year of starting playing.
"In this last year, I've made a huge stride in training more for doubles and working on my doubles game."
McGuffin said that as more younger people find the sport, it's going to grow exponentially.
"There's just so much more liveliness to it," he said. "In pickleball, with the court being so small, it's a lot more social. You're in your opponent's face, to a certain degree.
"Basically you're just trying to peg each other from like 14 feet away. Pickleball still has that backyard, beer-drinking sports feel. You're talking trash with your buddies and you're trying to hit each other. Coming from playing college tennis and pro tennis it is so much more enjoyable."
McGuffin added that since it's easy to pick up and a natural for those looking for a less-stressful athletic pursuit, it's more of an "everyman" game.
"One of the biggest selling points is the camaraderie and the family-oriented feel and how embracing people are in the game," he said. "There's no cattiness, there's no cliquishness, there's none of that country club nonsense you get at a tennis club."
McGuffin plays out of North Park Athletic Club, the only facility in Spokane that has permanent indoor courts, where he was once head tennis pro.
"There are so many tennis players who have plateaued at their level and they recognize they aren't going to get better so they pick up pickleball for the challenge."
This year he became a featured instructor for Level-Up pickleball camps, teaching 10-12 gigs a month with several three-day boot camps. He trains and tours the rest of the time.
Last year, Selkirk Sport signed McGuffin to the largest endorsement contract ever in professional pickleball.
"Similar to tennis or golf, whenever a professional athlete wins a major championship, it further validates the performance attributes of his or her equipment choice," said Rob Barnes, founder and product manager at Hayden, Idaho-based Selkirk Sport.
"Selkirk Sport is committed to investing in the growth of pickleball, and with Tyson McGuffin, the No. 1-ranked singles player in the world who shares our passion to grow the sport both domestically and around the globe, it made perfect sense to sign him to headline our lineup of brand ambassadors."
Selkirk produces a Ty McGuffin Signature Series Paddle, the AMPED™ Invikta, a paddle inspired by his style of play that integrates the most advanced technological innovations in the pickleball industry.
Fans can follow McGuffin on his website, TysonMcGuffin.com and on Facebook and Instagram.
Local journalism is essential.
Give directly to The Spokesman-Review's Northwest Passages community forums series -- which helps to offset the costs of several reporter and editor positions at the newspaper -- by using the easy options below. Gifts processed in this system are not tax deductible, but are predominately used to help meet the local financial requirements needed to receive national matching-grant funds.
Subscribe to the sports newsletter
Get the day's top sports headlines and breaking news delivered to your inbox by subscribing here.
---