News > Spokane
Then and Now: Spokane Steam Laundry
Mon., Jan. 14, 2019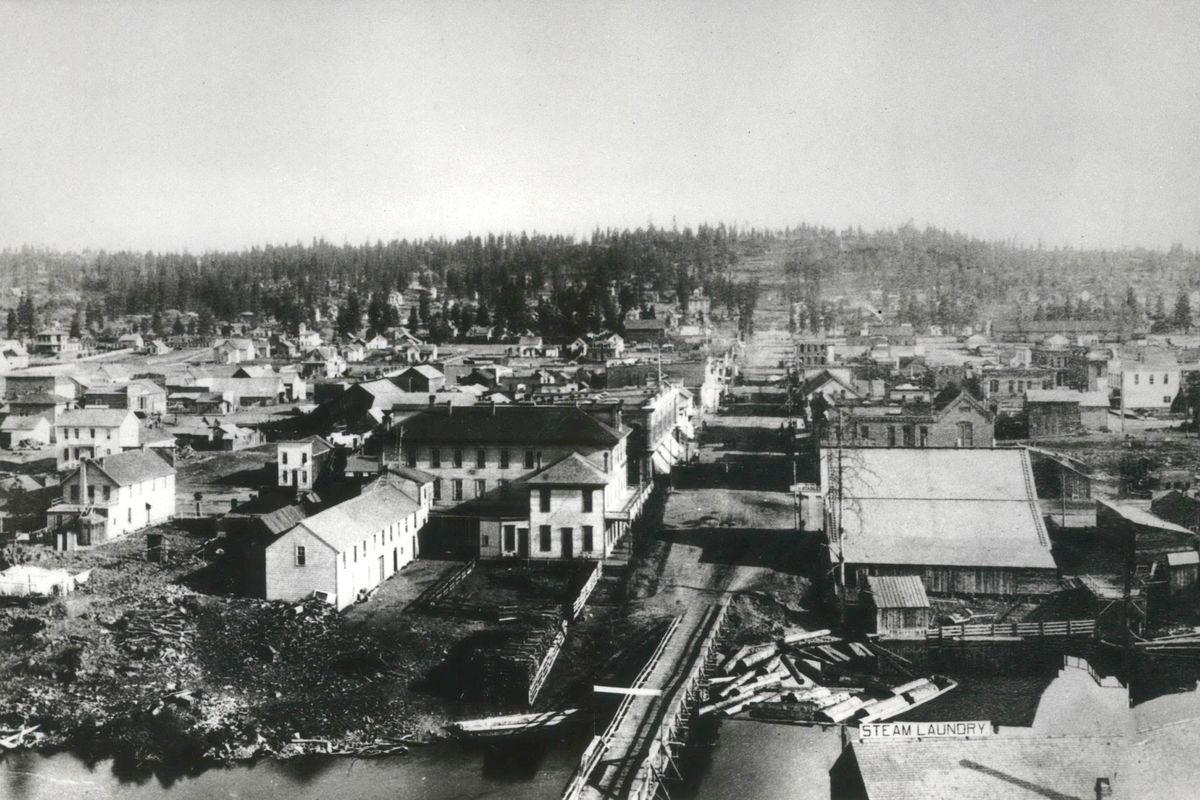 Circa 1886-1889: Looking south along Howard Street in downtown Spokane, part of the original Howard Street Bridge is seen. At lower right is the roof of the Spokane Steam Laundry. This photo was likely shot from the top floor of the Echo Mill, a four-story building that may have been the tallest in town at the time. Across the river to the left of the bridge is California House, considered to be Spokane's first hotel. To the right of the bridge was the original store of city father James Glover. (THE SPOKESMAN-REVIEW PHOTO ARCHIVE / SR)
The plentiful flow of the Spokane River gave the first settlers, S.R. Scranton and J.J. Downing, the idea to build a simple sawmill as early as 1871. Another early settler, Frederick Post, built a grist mill in 1876 to produce flour. Another flour processor, the Echo Mill, was built in 1883.
H.M. Moseley and Frank Meeks built Spokane Steam Laundry, the city's first commercial laundry, in 1885 on the south channel of the river, just upstream from the original sawmill. It sat next to the first Howard Street Bridge, which allowed fuel to be brought in for the boilers and deliveries to go out. Spokane Steam Laundry, and later laundries, used river water, but did not use the river for power.
Although Steam Laundry is considered the first commercial laundry, there were small laundry services run by Chinese immigrants that might have been earlier. In the 1890 Polk directory, there were 24 laundries listed. Fifteen were Chinese-run establishments. Four were run by individual women, two by men and two by large companies, plus the Steam Laundry, a partnership.
Laundry could be done by hand at home, but it was hard to get bright white linens and clothing without hot water. The steam laundries would boil linens and bleach or dye them back to snow-white hues.
The Great Fire of 1889 damaged the laundry and several other buildings but didn't destroy them. Another fire in 1892 did more damage and many buildings at the riverfront had to be rebuilt.
By 1915, the Steam Laundry was listed as part of the Cascade Laundry, which moved from the riverfront to a new plant on Superior Street and Trent Avenue east of downtown.
Among the trends in the laundry industry in the 20th century, waterfront laundries moved to industrial areas. In the 1930s, there were battles with labor unions over pay, even as home washing machines became the norm. By 1940, 60 percent of homes with electricity had a washing machine. In the late 1950s, self-service laundromats became popular. Full-service laundries turned more to dry cleaning and specialty services.
Mosley died in 1890. Meeks died in 1923.
Local journalism is essential.
Give directly to The Spokesman-Review's Northwest Passages community forums series -- which helps to offset the costs of several reporter and editor positions at the newspaper -- by using the easy options below. Gifts processed in this system are not tax deductible, but are predominately used to help meet the local financial requirements needed to receive national matching-grant funds.
Subscribe now to get breaking news alerts in your email inbox
Get breaking news delivered to your inbox as it happens.
---