Thousands turn out for Spokane march honoring MLK Aveline Jones plodded in her yellow shoes, pink pants and black coat with her hand firmly in her mother's grasp Monday as they joined about 3,000 other marchers to celebrate the life and legacy of Martin Luther King Jr.
Camille Jones, 23, of Airway Heights, said her nearly 3-year-old daughter recently asked why she and her family would participate in the annual march, which started with speeches at the Spokane Convention Center before finishing with a march through downtown.
"I told her, 'This means so much to us,' '' Jones said. "We need to appreciate and always remember and remind those in the next generation. We need to keep speaking up when things aren't OK."
The event included speeches from Mayor David Condon and the Rev. Percy "Happy" Watkins, who recited King's "I Have a Dream" speech from memory.
Feruz Tikue, a sixth grader at Grant Elementary, read a speech that was co-written by the school's Associated Student Body cabinet.
"We have a dream that one day we won't laugh at people, but with them," Tikue said. "We have a dream that everyone will connect in a positive way. Our dream is that everyone accomplishes their dreams and always has a friend at their side."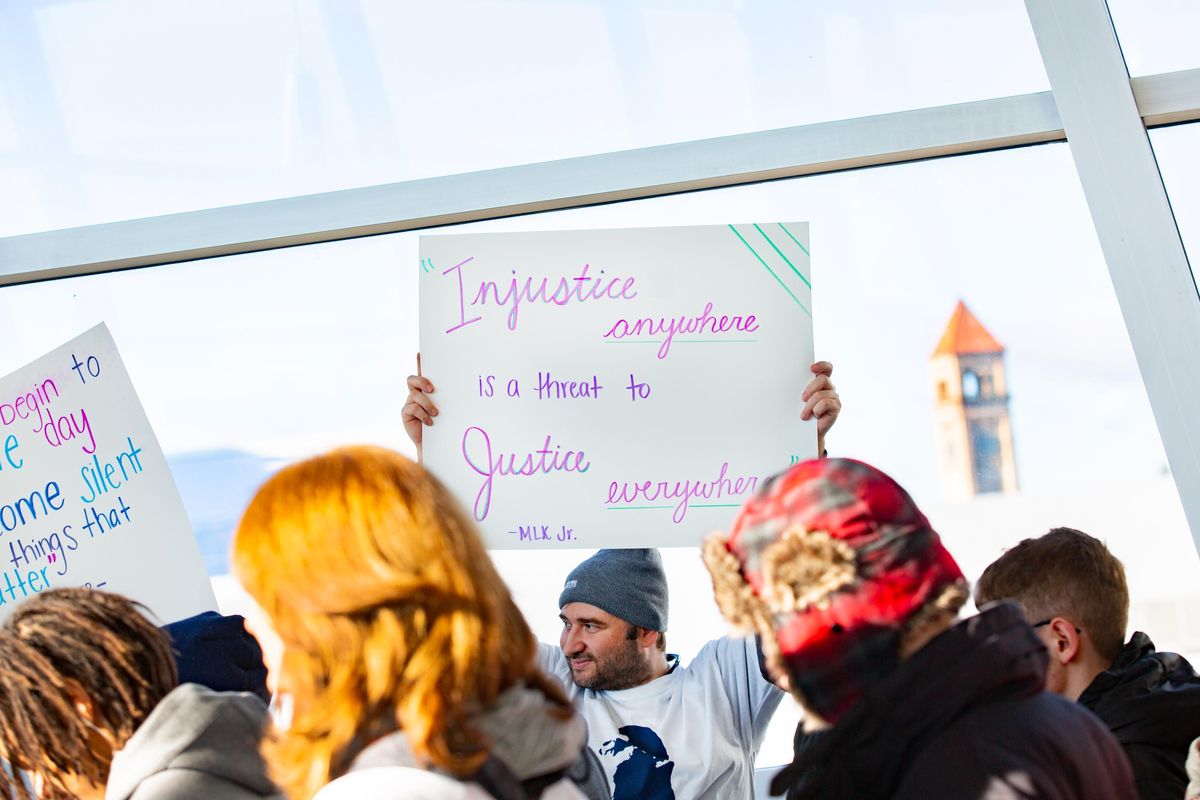 The crowd included several local leaders, including U.S. Rep. Cathy McMorris Rodgers, R-Spokane, and Spokane County Sheriff Ozzie Knezovich.
Spokane police had a robust presence and spectators were shepherded through metal detectors prior to the speeches at the Convention Center. Capt. Brad Arleth said he was unaware of any issues during the march.
Condon asked the crowd to "remember the legacy of Dr. King and so many others who campaigned for peaceful change, inspiring our nation to be better, more peaceful and more just."
Kurtis Robinson, president of the Spokane chapter of the NAACP, reminded the crowd that the Spokane chapter will celebrate 100 years later in 2019.
"We did not get here alone," Robinson said. "This is about all of us or none of us. It's for the advancement of all of us."
He also praised the "shifting and uprising in women" that occurred in 2018.
"I think if Dr. King and many of the other patriarchs of the Civil Rights era were alive right now, one thing they would all be saying is, 'What took us so long. Yes, it's been a long road. Yes, we still have a long ways to go.' "
Whitworth professor and motivational speaker Stephy Nobles-Beans nearly brought down the house with a speech in which she thanked everyone for standing together in unity.
"Dr. King said that everybody can be great because everybody can serve. He said life's most urgent and persistent question is this: 'What are you doing for others?' " Nobles-Beans said. "Spokane, let us come together in unity.
"You understand that the dream was not only what he dreamed of, but the dream that we still hold these truths to be self evident, THAT ALL, THAT ALL, THAT ALL men and women are created equal," she said to cheers.
Then Watkins, walking slowly with a cane, made his way to the podium. He mixed King's speech with messages for his adopted city.
"Spokane, if America is to be a great nation, then this must be so," Watkins said. "So, let freedom ring from the mighty mountains of New York, from the Alleghenies of Pennsylvania. Let freedom ring from Trump Tower in Manhattan and Moscow. Let freedom ring from every mountain side. Let freedom ring."
Watkins then read King's iconic speech from Aug. 28, 1963, from memory.
"All of us need to work to make a difference," he said to applause, "until making a difference don't make a difference no more."
---