News > Spokane
Failure to launch: Central Valley grad's NASA internship delayed because of shutdown
Fri., Jan. 25, 2019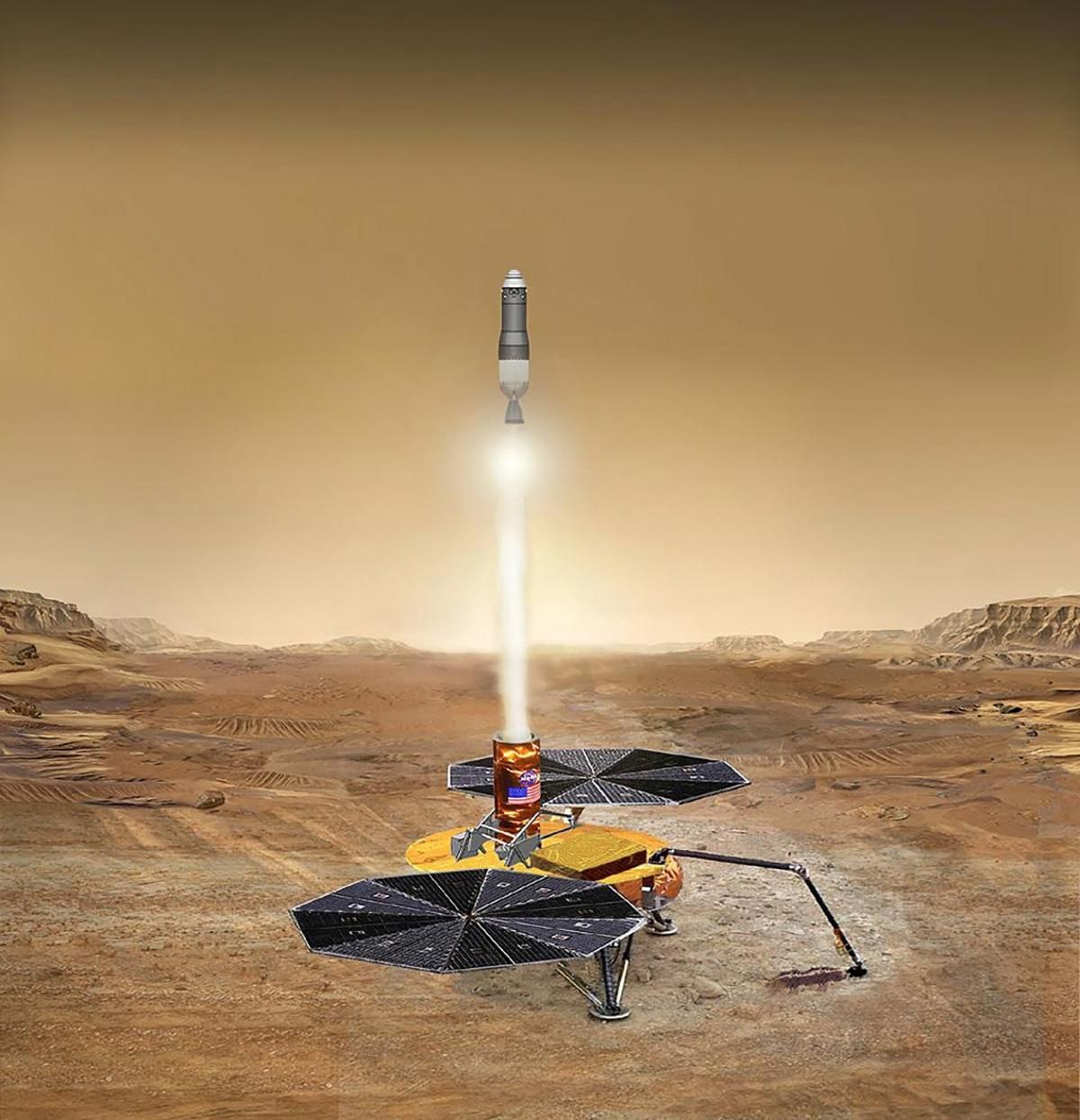 2014 Central Valley high school graduate Josh Ross is helping with the Mars Ascent Vehicle (MAV) portion of the Mars 2020 Mission as an intern. This artist's concept shows the MAV with collected rock and soil returning to the orbiter, which will snag the samples in space and ferry them back to Earth. (NASA/JPL)
In 2020, NASA will send a rover to Mars to collect soil and rock samples. Those will be blasted from the planet by the Mars ascent vehicle – known as MAV – and delivered to a waiting satellite that will deliver the samples to Earth.
That's the plan, anyhow, and 2014 Central Valley High School graduate Josh Ross is helping with the project. He received an internship to help with the MAV prototype, not to be confused with the MAV in the popular Matt Damon sci-fi flick "The Martian," which rescued humans from the Red Planet.
"All of my children are smart, but only Josh is a rocket scientist," joked Perry Ross, Josh's father.
The younger Ross, who is a member of the rocketry club at Brigham Young University, describes the internship as a dream.
"I was extremely excited because I've been passionate about space for a long time," Ross said. "I love space travel. I've been building rockets for a while at college."
Ross most recently set off a rocket he built from scratch in August at the Bonneville Salt Flats in Utah.
His internship start date was Jan. 14 at the NASA Marshall Space Flight Center in Huntsville, Alabama.
But there was a problem: NASA closed because of the partial government shutdown.
The space agency's website has a letter dated Jan. 23 to furloughed employees from NASA Administrator Jim Bridenstine, acknowledging the shutdown was tough on the "NASA family." Bridenstine signed the letter with the salutation "Ad astra," a Latin phrase meaning "to the stars."
"When I first realized the shutdown would directly affect me, it was a little disappointing just because I have to wait a little bit longer to do what I've always dreamed of doing," Ross said. "Overall, I would say that I've been trying to do my best to keep my head up."
Since the internship was fully funded prior to the shutdown, Ross still is being paid, but the BYU junior majoring in mechanical engineering remains anxious to get to work.
"It's going to be the perfect opportunity for me to practice the things that I've learned in classes and apply them to a real-world problem, so I'm very excited about my role," Ross said.
Alongside his NASA mentor, aerospace engineer Austin Decker, Ross will be looking at the "entry, descent, and landing," or EDL, of the MAV.
"What Josh is going to be helping me out with is making sure that we figured out what the loads are acting on that small rocket during entry into Mars and liftoff from Mars," Decker said. "It's a rocket, so you have thrust acting on it, aerodynamic forces when you're flying through the Mars atmosphere. Inertial loads when you're attached to the spacecraft during Mars EDL, there are a few different cases we need to look at."
The internship Ross won received around 70 applicants, but Decker said Ross easily distinguished himself from the others.
"He seems really eager to get going and seems like a really sharp individual," Decker said. "He's got a lot of enthusiasm."
Decker said people at NASA have a lot of exciting projects they are working on and would like to get back to work.
According to NASA's mission overview, the Mars Exploration Program has a few goals, including the determination of whether life existed on Mars, the characterization of Mars' climate and geology, and preparation for human exploration.
On April 24, 2017, President Donald Trump said he would send humans to Mars "at worst, during my second term," the Washington Post reported.
While Trump, the House and Senate try to negotiate their way out of the partial government shutdown that started Dec. 22, Ross is working toward playing his own game of chess. His parents gave him a 3D printer for his 23rd birthday, which was Wednesday, and one of the ways he's been filling his time is by printing his own chessboard and pieces.
Ross has found other ways to keep busy. He participated in the BYU concert choir as a tenor and had contacted the director of the classical choir group Valley Consort about joining ahead of arriving in Huntsville. He's been rehearsing with the group.
He also has been participating with his local church's youth group, the Huntsville Youth Single Adults Branch of the Church of Jesus Christ of Latter-day Saints. On Wednesday, he and a few other members of the group visited the Country Music Hall of Fame in Nashville, Tennessee.
On Monday, for Martin Luther King Jr. Day, Ross visited the Birmingham (Alabama) Civil Rights Institute.
"I took a lot of history classes in high school and I always heard about all of the different elements of the civil rights movement, but it wasn't until I saw it in person, all the places they'd been that it really came to life," Ross said. "It was really powerful."
Until he can get to work with NASA, Ross said he is determined not to waste his time.
Josh Ross / Courtesy
Local journalism is essential.
Give directly to The Spokesman-Review's Northwest Passages community forums series -- which helps to offset the costs of several reporter and editor positions at the newspaper -- by using the easy options below. Gifts processed in this system are not tax deductible, but are predominately used to help meet the local financial requirements needed to receive national matching-grant funds.
Subscribe now to get breaking news alerts in your email inbox
Get breaking news delivered to your inbox as it happens.
---