News > Spokane
Spokane cold cases solved: Detectives planned to arrest sheriff's deputy for 1967 killings. He died last week.
Jan. 28, 2019 Updated Mon., Jan. 28, 2019 at 8:55 p.m.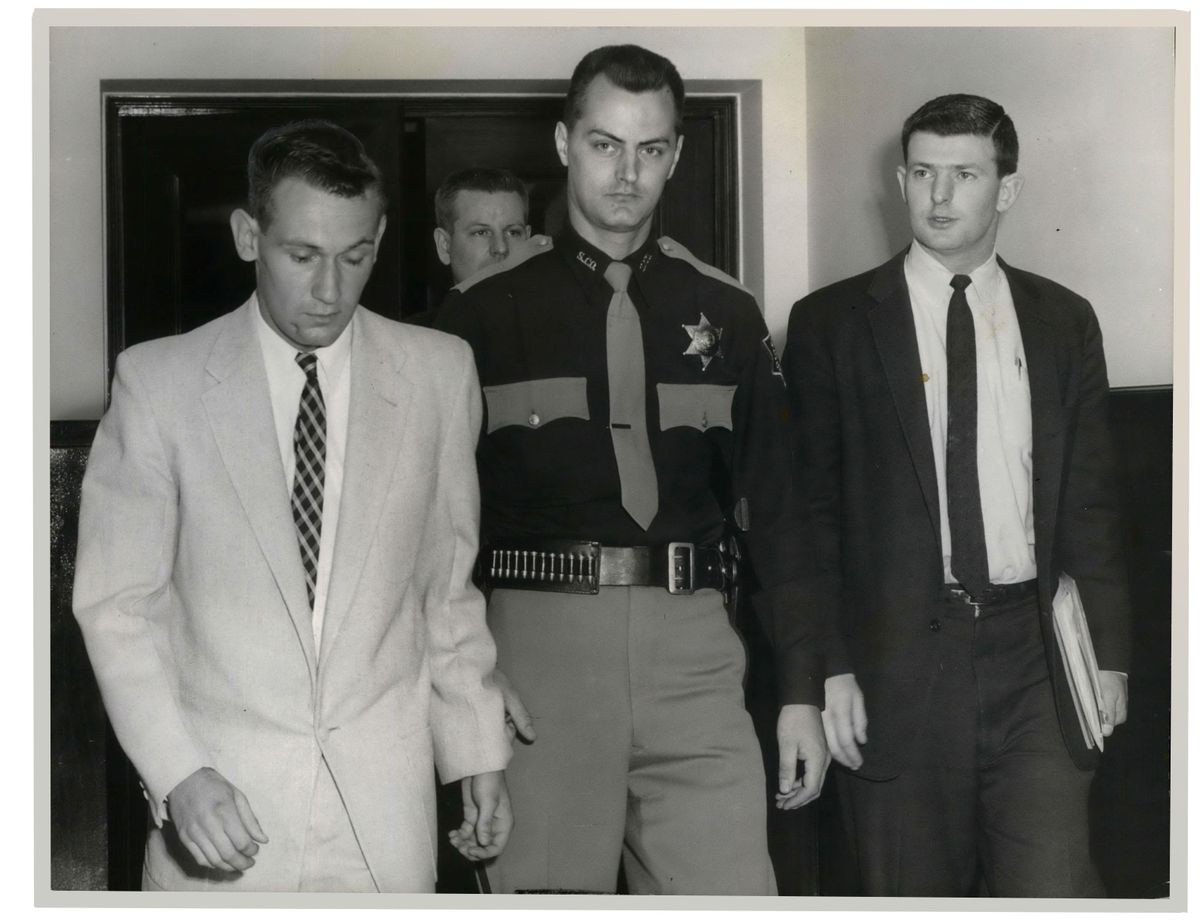 Spokane County Sheriff's Deputy Duke Pierson walks in the courthouse in 1960. Pierson, who died last week in Alabama, is suspected in the cold case murders of three women in the summer of 1967. (Spokesman-Review archive photo)
A former Spokane County Sheriff's deputy was under investigation for the cold case murders of three women – two of them believed to be pregnant – in the summer of 1967. Last week, before deputies could arrest him, he died at his home in Alabama.
The investigation into 85-year-old Duke J. Pierson has been ongoing for decades, according to a 23-page court document written by Detective Kirk Keyser. Just when the arrest of Pierson was imminent this week, investigators checked the internet and learned he died last Tuesday of natural causes.
Pierson began his career in law enforcement in 1959 as a Spokane County deputy. He quit, suddenly, in 1966 to work as a security supervisor at Rosauers.
Former co-workers described his resignation as surprising and out of character for a man who took pride in his work. One said he simply stopped showing up, and was allowed to resign rather than be fired by then-Sheriff William Reilly.
"Duke Pierson was clearly mentally unstable," said one former coworker, according to the search warrant. "For some time after, he and other Sheriff's employees openly voiced concerns about Duke Pierson harming himself or others."
Records disclosed this week indicate those fears were justified.
Ruby Lampson, 47, was reported missing in June 1967. She was a known regular at the Falls View Tavern, which was later demolished in 1974 for the World's Expo. The bar had a view of the river and "scurrilous reputation," according to some Spokesman-Review readers.
Lampson was last seen at a nearby tavern with a "much younger man."
Her badly decomposed body was later located in the Seven Mile ORV park, buried in a shallow grave with women's clothing.
A second woman, 31-year-old Dorothy Fielding, went missing two months later on Aug. 19. She was an employee of Rosauers where Pierson ran security, and was known to be having an affair with him. Witnesses believed she was about 20 weeks pregnant with Pierson's child.
She was a member of the Falls View Tavern bowling team and a friend of Lampson. While separated from his wife, Pierson lived in an apartment at 2020 W. College Ave., about 12 to 20 blocks away from the tavern.
About a week before her disappearance, Fielding reported receiving flowers – marigolds, zinnias, and red and pink roses – and notes from a "secret admirer" who confessed his love for her. The flowers were the same types that Pierson's wife and her mother grew.
Days after she went missing, her car was found at a local grocery store with fresh cigarette butts in the ash tray. But she did not smoke. Her bones were also foundnear the Seven Mile ORV park, in a shallow grave and fully clothed.
The final woman killed was Pierson's ex-wife, Sandra Pierson. She was 33 years old and pregnant when found dead Sept. 12, 1967, in the family garage at 7714 N. Smith St. She lived in the home with her husband and three children. Investigators at the time ruled the death a suicide. Her body was found in the rear seat of a car with a hose leading from the exhaust to a rear window.
Her children, however, contended that the 5-foot-2, 115-pound woman was incapable of closing the large and malfunctioning garage door on her own. She also talked to her own mother mere minutes before she was found dead as she got ready for work in the morning.
They suspected their father, a man known as a skilled hypnotist who often practiced on his wife.
"He was able to hypnotize family members and cause them to accomplish unusual feats," wrote Detective Keyser in the arrest warrant. "And to act in ways they normally wouldn't."
Their father was also one of 23 people charged and convicted in a multi-state, $15 million cocaine ring, according to Spokesman-Review archives.
Along with two others from Spokane, he received a two-year sentence in federal prison for helping smuggle drugs from LaPas, Bolivia, to the United States from 1973 to May, 1974. Pierson was alleged to have employed couriers and arranged meetings with them to obtain cocaine in Mexico and bring it across the border.
During his October plea deal, the former deputy told a federal judge that his "guilt is of no dispute, your honor."
Multiple witnesses in the arrest warrant describe Pierson as controlling, neurotic and deeply jealous.
While married to Sandra Pierson, he frequently dated other woman, including Fielding, and another woman, whom he married just two months after his wife's apparent suicide. She would often find flowers and notes on her car.
The woman told Detective Keyser years later that Pierson said several things during their relationship that worried her, including threats that if she ever tried to leave him he would "make sure she did not wake up, that she would not hurt, but she would be done."
He would also talk about a girl who went missing and "kind of laugh about it."
After moving into the family's Smith Street home after Sandra Pierson's death, the woman said she began to suspect it wasn't suicide that killed Pierson's ex-wife. And shortly after their marriage, she reported Pierson had become extremely controlling.
"She was unable to go anywhere or do anything without Duke's permission," Keyser wrote. "Duke became both physically and verbally abusive to her."
She said Pierson would choke her during sex, and when angry, would put his hands around her neck and hold her down.
"Duke was 'Jekyll and Hyde' during these times," the detective wrote based on their interview. The two divorced in 1972.
After Sandra Pierson's death, Pierson's daughter told Keyser her father told her brother he never wanted him. Pierson reportedly underwent a vasectomy in 1957.
The brother described his dad as a "narcissist who is a very scary guy" and someone who once said during an argument that he "did not know if he would be able to restrain himself from killing" his son.
Before his wife's death, other witnesses said Pierson assumed his wife was pregnant from another man. As for Fielding's pregnancy, Pierson reportedly confided in his wife's cousin that he was "in a bind" because he'd impregnated his girlfriend but was trying to resolve his own marital problems.
In April last year, Keyser flew to Straughn, Alabama, where he conducted a recorded interview with the 85-year-old. Pierson denied ever knowing Lampson or Fielding, and said he dated "thousands of women" around that time.
He also denied ever being forceful during sex or manipulative of women. He said if he did kill anyone, he would remember.
"If I had done anything bad like that, I'm sure that would have stayed in my memory, there's just no way I have ever done hurt anybody," he said, according to Keyser's report. "I don't hurt people."
Local journalism is essential.
Give directly to The Spokesman-Review's Northwest Passages community forums series -- which helps to offset the costs of several reporter and editor positions at the newspaper -- by using the easy options below. Gifts processed in this system are not tax deductible, but are predominately used to help meet the local financial requirements needed to receive national matching-grant funds.
Subscribe now to get breaking news alerts in your email inbox
Get breaking news delivered to your inbox as it happens.
---