News > Spokane
Then and Now: Spokane Flour Mill
Mon., July 1, 2019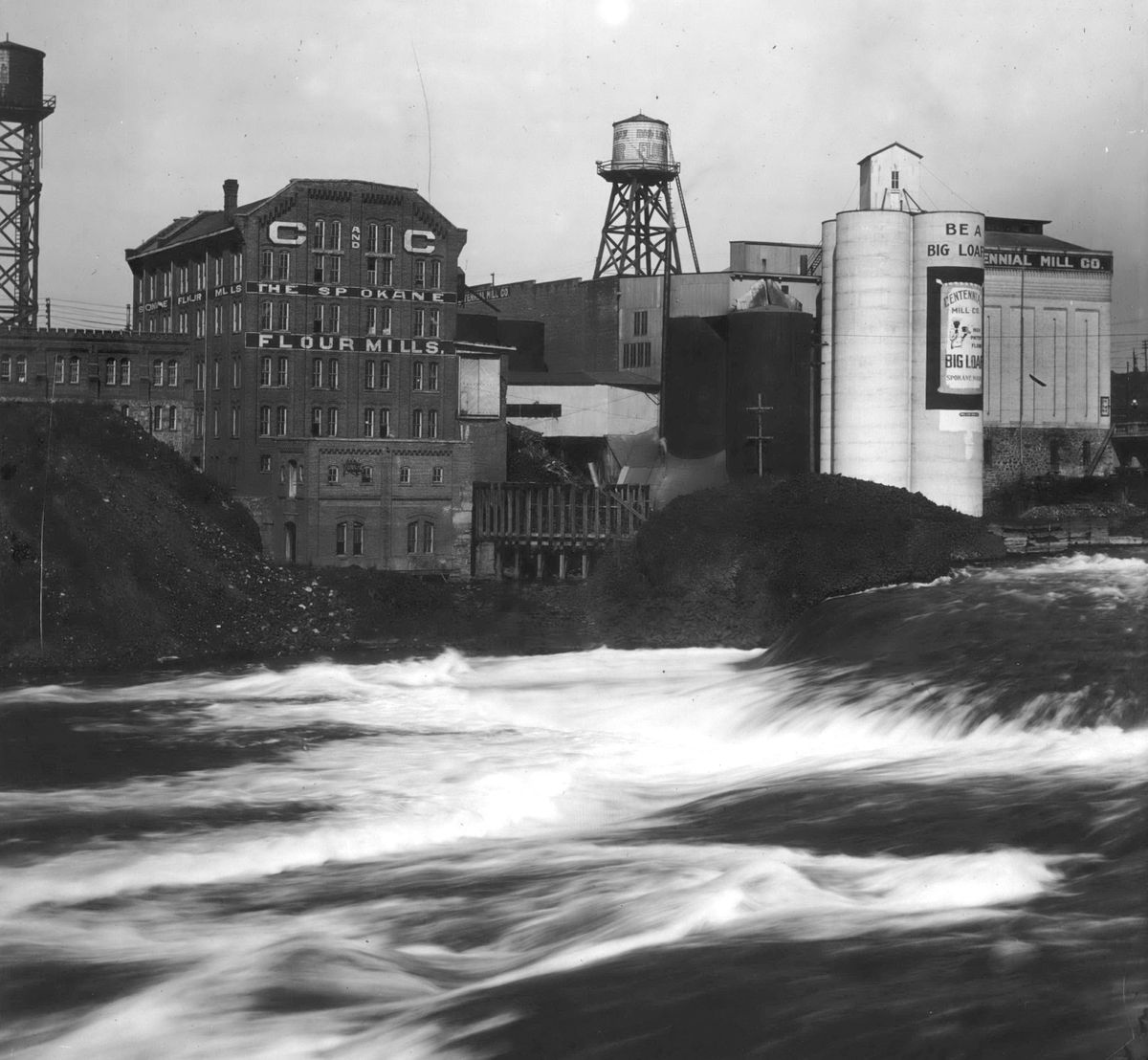 Circa 1910 - Spokane Flour Mill, left, and Centennial Mill, right, sat side by side on the north bank of the Spokane River, using water power to mill wheat into flour. They were two of four major riverside mills that were built in Spokane's earliest days. (Frank Palmer / SR)
The milling of wheat into flour was one of the first industries in early Spokane. Within 25 years of the founding of Spokane in the 1870s, there were four water-driven flour mills in the downtown area.
The city's first mill, built by Frederick Post in 1876, sat on the south side of the lower falls. The partnership of Clark and Curtis took over there and expanded the mill in 1885, renaming it C&C Flour Mill. In 1895, it was operated by Portland Flour Mills. Around 1905, the site was taken over by Washington Water Power, which built its iconic electrical substation there in 1909.
The Echo Rolling Mill, on the west end of Havermale Island, was built in 1883. It was active until 1925, then torn down in 1927.
The two mills on the north bank, Spokane Flour Mill and Centennial Mills, were built in 1895 and 1902, respectively. Centennial Mills later built a new facility on Trent Avenue at Napa Street in the 1940s and abandoned the riverside location in 1962. Today, the site is the Spokane Federal Credit Union office.
From the early milling business boom, only the Spokane Flour Mill still stands. It almost didn't get going.
Businessman Simon Oppenheimer needed financing to build the mill and rebuilt the Phoenix saw mill, which burned in 1892. He traveled to Holland to secure loans for both projects and other businesses. Dutch banks invested heavily, mainly in real estate, in early Spokane.
He completed the sawmill in September and flour mill in December of 1895. By mid-1896, he realized his company, Northwest Power and Milling, was perilously short of cash again. Oppenheimer declared bankruptcy and left town for points unknown. The Dutch mortgage holders foreclosed and lawsuits tied up the brand new mill until 1900.
Washington Water Power Co., now Avista, bought all of Oppenheimer's business assets, valued at $3 million, for $300,000.
In 1901, the mill operated as Inland Empire Milling, later the Spokane Flour Mill. C&C Mills became part of the company as the name was added to the building.
In 1973, the building was renovated as the Flour Mill shopping center. Its large steel silos were torn down and sold off.
Local journalism is essential.
Give directly to The Spokesman-Review's Northwest Passages community forums series -- which helps to offset the costs of several reporter and editor positions at the newspaper -- by using the easy options below. Gifts processed in this system are not tax deductible, but are predominately used to help meet the local financial requirements needed to receive national matching-grant funds.
Subscribe now to get breaking news alerts in your email inbox
Get breaking news delivered to your inbox as it happens.
---