Principals assemble new playground at Adams Elementary More than 100 principals in town for the annual National Association of Elementary School Principals pre-K-8 conference descended Tuesday on Adams Elementary on Spokane's South Hill to install a new playground and do landscaping work.
They worked in the sun to assemble sections of the playground and then lift them into place. For the past 11 years, the association has had a service day during their annual convention where volunteers install a playground and do other needed work at low income schools, said Kaylen Tucker, associate executive director of communications for NAESP.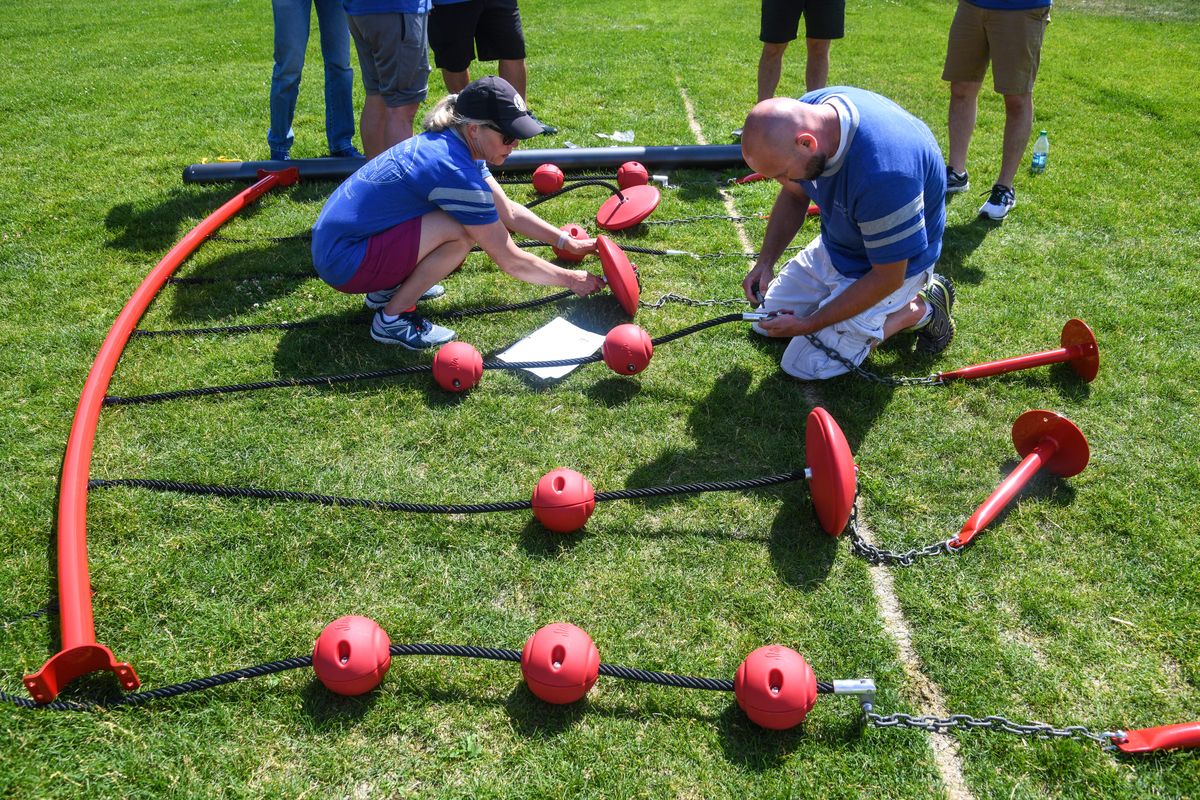 "We just try to bless schools all across the country with principal power," she said. "A lot of Adams staff are here to support the volunteers. Most of them are on vacation, so we appreciate their time."
Every year Landscape Structures donates the playground to be installed by the principal volunteers. Tucker said the association usually picks a low-income Title 1 school. More than two-thirds of the students at Adams Elementary qualify for free or reduced-price lunch.
Tucker said the annual service days typically attract about 100 volunteers.
"I know we're over capacity today," she said.
John Mullan, of Play Creation, has installed school playgrounds for years and is the local representative of Landscape Structures.
"It has a balance of activity," Mullan said of the new playground equipment. "It includes sliding and climbing and balancing and problem-solving. It's amazing how much engineering and thought go into the play equipment."
Mullan said the new playground structure is long and will allow kids to play the perennial "hot lava" game, where they work to avoid the ground as though it were made of lava.
"You can start at one end and not touch the ground until you get to the other end," he said. "You have your choice of routes."
Adams principal Beth Nye watched the construction with a big smile on her face.
"I think it's amazing," she said. "It's fantastic to see so many principals from across the nation donate their time."
The school currently has a small 20-year-old playground set that will remain, even though it wasn't large enough to serve the student population of 380 on its own. "It gets a little full," she said.
When Nye was asked in January if she would like to have a new playground, she couldn't say yes fast enough. The students have also been eagerly awaiting the new playground, and some circled the area on their bikes watching the construction Tuesday.
"The kids are very excited about it," Nye said. "They got to participate in the design selection. They really wanted a spiral slide and that's one of the things they're getting."
Principal Blaine Hawley came to the NAESP convention from her school in Maryland and is no stranger to playground construction.
"This is my ninth playground build," she said. "It's exciting to know that I'm coming in and helping a school. It feels good to help."
She worked alongside principals from across the country, including a principal from Florida who received a new playground from the NAESP last year.
"It's a great way to meet other principals," Hawley said.
Association president Eric Cardwell said it was only natural for his group to select playground building as their community service.
"It just makes sense," he said. "We're elementary and middle school principals. Play is such an important part of a child's development."
He anticipates that kids in the neighborhood will use the playground after school and on weekends, not just during the school day.
"It's a way of us giving back to the local community," he said. "Really, it's just the gift that keeps on giving."
---