News > Spokane
Spokane County's building and code enforcement director resigns after choking accusation
UPDATED: Tue., July 16, 2019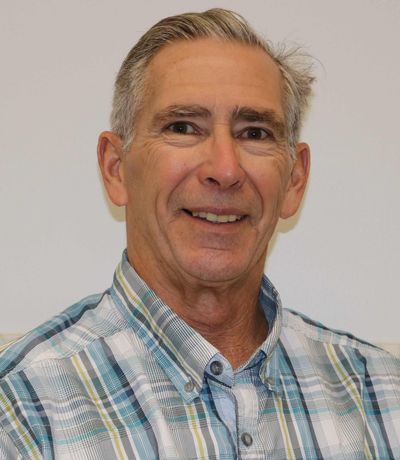 Spokane County's building and code enforcement director resigned in May after a human resources investigation found enough evidence that he likely choked another county employee while she was sitting at her desk.
Russell Cornell, who was named the building and code enforcement director last fall, signed a separation agreement in May after a woman said he choked her and another said he touched her ear and blew on her hair while they were at work.
One of the women reported Cornell to the human resources department, and Cornell was put on paid administrative leave during the two-week investigation, which found there was enough evidence to sustain the allegations.
An employee who witnessed the incidents told human resources investigators he saw Cornell pick up a cord that attached a pen to a desk and say "you could strangle someone with this." After Cornell said that, he went up behind the employee's deskmate, who had headphones in, and pulled the cord tight against her throat.
He allegedly held the cord tight for about three seconds, pulling her back in her chair, before releasing her. The woman turned around and Cornell was holding the pen that had been on the cord, and said he was "trying to give her eyeliner."
The woman also told investigators that she never wears necklaces or high-collar shirts and had been in an abusive situation in the past where she was choked. After the incident with the cord, the employee told investigators she felt uncomfortable and jittery coming back to work.
She also texted another employee about what happened, and they suggested she report the incident to human resources.
She also told investigators that Cornell had previously come up behind her and "tweaked" her ear with his fingers. Another woman in the office said Cornell had also touched her ear, and he had also blown onto her neck and hair. That woman said Cornell had an "awkward presence" and sometimes said things that were "pervy and icky," but not sexual.
Investigators also interviewed Cornell, who said he couldn't recall the incidents. Asked about choking an employee, he said he remembered picking up the cord, wrapping the end around his hands and saying he wanted to "put mascara on her," but said he didn't recall wrapping it around the woman's neck. When investigators told him another employee saw him do it, he said "If it's true, it's true," and "If you have two that say I did, how do I prove I didn't?"
Human resources investigators interviewed building and planning director John Pederson, who supervises the employees involved. He called the incident "unbelievable and bizarre" and said employees had not previously complained about Cornell.
In an email Monday, Cornell said he still stands by the statement he wrote to Spokane County when he resigned.
"I was horrified by the allegations made by Spokane County and continue to be," he said. "I denied the allegations and remain steadfast in my innocence."
Human resources director Tim Hansen said the county considered pressing criminal charges against Cornell, but decided to start an internal investigation instead. He said the woman who reported Cornell to HR could still press charges if she wishes to do so.
He said the county took the allegations extremely seriously and did what they could for the women who reported inappropriate behavior, who were apprehensive about doing so.
"It's very difficult to come forward and we try to ease that and we want to be fair with the alleged offender so we can come out with an appropriate, fair outcome," Hansen said. "We've done that with these women and for Mr. Cornell as well."
When Cornell resigned, he agreed to not sue Spokane County and the county agreed to remove a notice of termination from his personnel file and accept his resignation. Spokane County also agreed to not contest if he filed for unemployment and pay him accrued salary and unused paid leave.
Cornell was hired as a code administrator in June 2014 and was promoted to director of building and planning in September of last year. Before working at Spokane County, he worked at Lake Stevens, Washington, and in Missoula. As building and planning director, Cornell would have made about $80,000 this year.
Spokane County spokesman Jared Webley said Pederson, the county building and planning director, temporarily has taken over Cornell's responsibilities.
Local journalism is essential.
Give directly to The Spokesman-Review's Northwest Passages community forums series -- which helps to offset the costs of several reporter and editor positions at the newspaper -- by using the easy options below. Gifts processed in this system are not tax deductible, but are predominately used to help meet the local financial requirements needed to receive national matching-grant funds.
Subscribe to the Coronavirus newsletter
Get the day's latest Coronavirus news delivered to your inbox by subscribing to our newsletter.
---