News > Spokane
Ice age-themed playground downtown may bring back 'dinosaur bone'
Sat., June 22, 2019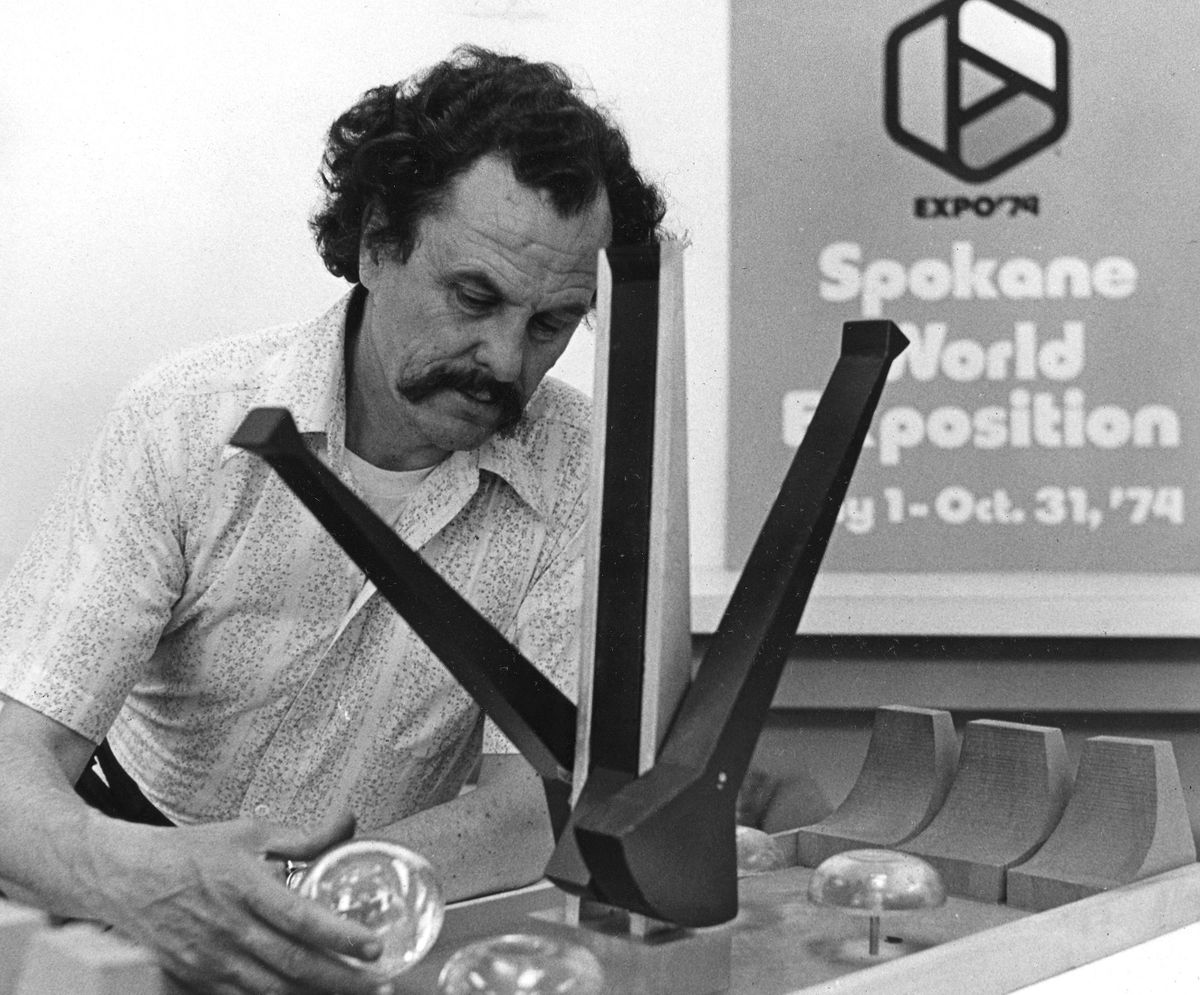 Sculptor Charles W. Smith designed a bone sculpture in Riverfront Park for Expo '74 photographed on Aug. 13, 1973 (WALTER HODGES / SR)
The great ice age floods that shaped the Inland Northwest also are shaping the new playground on the North Bank of Riverfront Park.
The Spokane Park Board is expected to finalize plans rebuilding portions of Riverfront Park north of the Spokane River in the next few weeks. Construction will start this fall.
The North Bank will be a new "front door" to Riverfront Park, said Garrett Jones, acting director of Spokane's park department. Plans call for it to be the home of a large playground with ice age floods as the theme.
The theme of ice age flooding purports to tell the story of how the "Pacific Northwest was formed, and is an important component of our Nation's natural and geologic history," according the 2014 playground pre-design study.
Some playground features will help children learn about nature and geology, like a stream that teaches about currents and damming.
A climbing wall, rope suspension bridge, large rocks that children can climb, a splash pad, and a 30-foot tall climbing tower with tube slides, would be play elements in the park.
Many features are aimed at toddlers and young children, and water features also are planned, Jones said.
Rubber surfacing and artificial turf will help the playground be more accessible to people who have disabilities, Jones added.
"This isn't just your traditional square playground," Jones said. "It's going to be a combination between natural and man-made play elements."
City officials are developing plans for park features with the federal American with Disabilities Act in mind "so that all of our citizens can use them," said Jennifer Ogden, Spokane Park board member.
The design team is considering bringing back one of the original Expo '74 sculptures, so-called "dinosaur bone," Jones said.
The sculpture is an untitled piece by Charles W. Smith, a University of Washington professor, who died in 2009.
The sculpture was removed in 2014, just before the Riverfront Park redevelopment bond went to voters.
The large concrete piece was considered a danger to children who climbed it, said former Park Director Leroy Eadie, in a Spokesman-Review article at the time. Smith said at the time he made it that the sculpture was meant to be climbed.
If the sculpture is brought back, it would be as an art feature likely in a landscaped bed, Jones said.
The sculptor's son, Owen Smith, thinks the idea of reinstalling the sculpture is "wonderful."
"I know my dad would be very pleased and supportive of that," Smith said. "As with any artist, he made his work to be seen and enjoyed by the public."
The sculpture has a lot of visual references that look somewhat animal, skeletal, and bonelike. It would be a good fit, Smith said.
"Those kinds of historical and nostalgic pieces are fun to bring back," said Ogden, who likened the idea to her own excitement when the Expo '74 butterflies were reinstalled in the park this spring.
"We are thinking of having a mammoth skull in one of the entries to the playground," Jones said, noting that the mammoth is the Washington state fossil. The skull would be a reproduction.
The area will include a wheels park for skateboards, scooters, bikes, and other wheeled toys.
The Spokane Parks Foundation is fundraising for a signature basketball court to be used for community events or simply an after-school pick-up game. Construction won't begin on the court until fundraising is completed.
The North Bank area will be the home of a new 8,000-square-foot maintenance and operations building for Riverfront Park. The facility will house public family restrooms for the area.
The playground and skate park will have the same hours of 5 a.m. to midnight, with security patrols, like the rest of Riverfront Park.
The area rounds out with 150 public parking stalls. The light at North River Drive and Washington Street will be updated to help with traffic flow in and out of the North Bank area, Jones said.
The North Bank has been an under-used portion of Riverfront Park, Ogden said. Rather than have "negative activity" in that area, this will turn it in to a positive feature of the park, Ogden continued.
"This will be one of the biggest transformations in the entire redevelopment project," said Jones.
Architects from the local firm Bernardo Wills, Eastern Washington University geology professor Nigel Davie as well as a skate park designer, a playground safety inspector and other experts are working together to design the area.
"There are a lot of creative minds working on this," said Dell Hatch, a landscape architect on the project.
To put a theme on a child's playground of any kind is unique, Hatch said.
The ice age playground would be a regional playground as opposed to a tradition neighborhood playground, said Bill LaRue, the project manager from Bernardo Wills.
It's an inviting idea that he expects will draw people from a larger area.
It's a project that "allows us to let some of our creative abilities to come though," LaRue said.
The budget for the entire North Bank area is $8.6 million. The Parks and Recreation Department received a $500,000 grant from the Washington State Recreation and Conservation Office and a $200,000 grant from the Environmental Protection Agency. Most of the rest of the money will come from the park bond approved by voters in 2014.
Final plans are taking shape for North Bank with construction bids starting in early July.
Construction on the North Bank is set to begin this fall and the area will open next summer.
Local journalism is essential.
Give directly to The Spokesman-Review's Northwest Passages community forums series -- which helps to offset the costs of several reporter and editor positions at the newspaper -- by using the easy options below. Gifts processed in this system are not tax deductible, but are predominately used to help meet the local financial requirements needed to receive national matching-grant funds.
Subscribe now to get breaking news alerts in your email inbox
Get breaking news delivered to your inbox as it happens.
---