News > Spokane
Thermometer's stuck below normal
March 5, 2019 Updated Tue., March 5, 2019 at 9:10 a.m.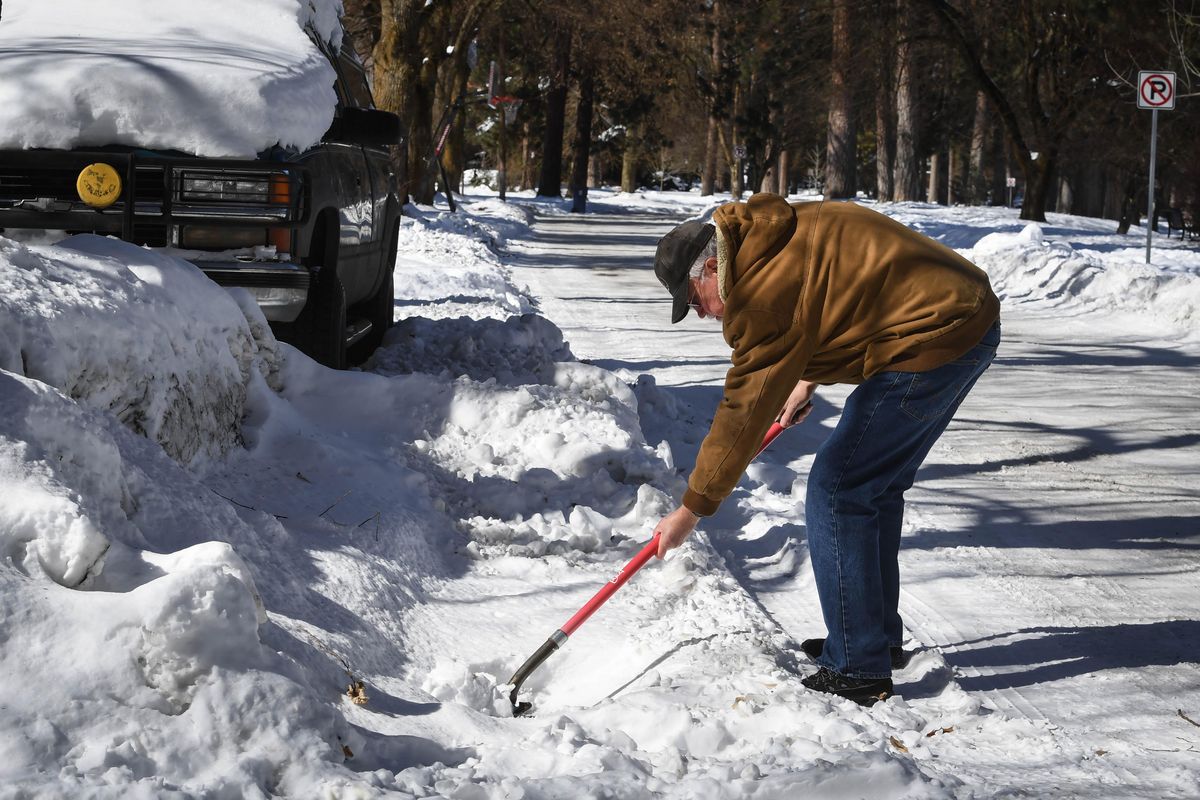 Roy Lee, 69, clears snow and ice from a stormwater drain on Monday, March 4, 2019, outside his home at Shoshone Place and Stevens Street in Spokane. Lee says this winter is a pain. "Every time I catch up, it snows again." (Dan Pelle / The Spokesman-Review)
It's not just you – it really was that cold Monday morning.
If February 2019 will go down in the record books in Spokane as one of the snowiest, then March might just follow as one of the coldest. Four days in, there's a good case to be made.
"It looks like we've had 29 days in a row below normal," said Mark Turner, a meteorologist at the National Weather Service's Spokane office. "And mainly it's just due to the weather pattern."
Since Feb. 2, Spokane has ignored queues for a quick-approaching spring season, with a temperature range wildly diverging from what would typically be expected. While temperatures usually are expected to rise slowly out of the freezing range in early March, Spokane has instead grown colder – the warmest days so far this year were on Jan. 5 and 6.
Most of these days below normal are well-below normal, too, with temperatures 10 or even 20 degrees from what's expected.
As of Monday, Spokane has had 22 days of snow accumulation of at least 10 inches, the longest stretch since 1993 and the 10th longest on record. (Spokane has a while to go to beat the record. In 1969, Spokane had at least 10 inches of snow on the ground from Jan. 10 until March 16 – 66 days in a row.)
And it's not just Spokane. In outlying areas, records were broken as temperatures dropped. In Pullman on Sunday, temperatures plunged to minus 5 degrees, breaking a record that had stood for more than 40 years.
The newest record was short-lived, however, as the National Weather Service reported a new low of 8 degrees below zero.
Monday morning in Spokane, temperatures took a nosedive to about 6 degrees.
With wind chill, it was anywhere from 10 to 20 degrees below freezing.
"It's not unusual for these types of temperatures to come down to this area," said Turner. "It's more unusual for it to stick around for as long as it has."
Turner said forecasts predict about two more weeks of biting morning cold. Then arrives a slow climb toward normal temperatures and spring.
First, however, is more snow. The weather service predicts about an inch or 2 starting Wednesday and lasting into Thursday.
"The next system that comes in at the end of the week will be warmer," Turner said. "But the below-normal temperatures are expected to continue."
Editor's note: The article was changed on Tuesday, March 5, 2019 to correct information related to the number of days in a row Spokane has had at least 10 inches of snow on the ground. The 22-day stretch is the longest since 1993. It is the 10th longest since records have been compiled, not a record.
Local journalism is essential.
Give directly to The Spokesman-Review's Northwest Passages community forums series -- which helps to offset the costs of several reporter and editor positions at the newspaper -- by using the easy options below. Gifts processed in this system are not tax deductible, but are predominately used to help meet the local financial requirements needed to receive national matching-grant funds.
Subscribe now to get breaking news alerts in your email inbox
Get breaking news delivered to your inbox as it happens.
---