News > Spokane
Donut Parade reopens and long line gobbles up the inventory
March 13, 2019 Updated Wed., March 13, 2019 at 10:20 p.m. On the third year of Donut Parade's closure, Spokane called for more doughnuts. And it was so.
"It's just like they were," Laurie Krous said as she munched on a cinnamon roll next to her son, Nathaniel, who was celebrating his 17th birthday. "They said they've been working the last few months on the recipes, and it shows."
Since the legendary north Spokane fixture closed its doors in December 2016, Spokane residents have looked far and wide for a fried, sugary confection on par with the Parade's fabled maple bar. But for some, a doughnut-shaped hole remained.
Perhaps it was finally filled Wednesday – as were plenty of stomachs – as the shop at 2152 N. Hamilton St. reopened. At 6 a.m., a line already formed outside, and after about an hour, it remained long and L-shaped as donuts flew off the shelf by the baker's dozen.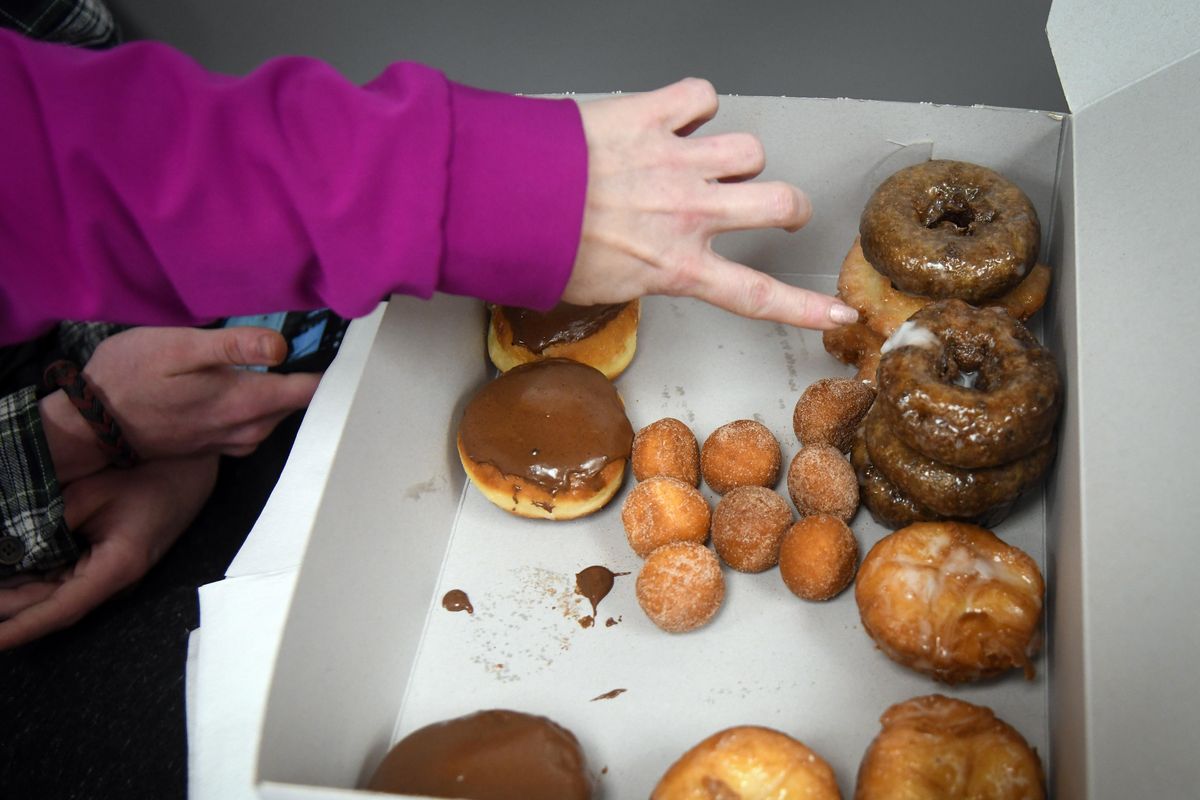 Laurie Krous points out the blueberry variety of donuts she had on a table during the reopening of the Donut Parade, Wednesday, March 13, 2019, in Spokane, Wash. (Dan Pelle / The Spokesman-Review)
By 8:30 a.m. they were all gone. More than 1,000 in the span of about two hours. Not bad for a shop that closed because previous owners Roy and Christian Reno said they weren't making – or selling – enough.
"We didn't really know what to expect," said new owner Nathan Peabody, who along with is wife Christa toiled in the kitchen as a line stretched out the door. "I will admit, doughnuts are easy to sell."
The Parade 2.0 had all the trappings of a friendly neighborhood doughnut shop, with a modern twist. Gone were the drab, brown walls, stained floor and frayed booths – the counter taking up space in the middle of the room.
New are an updated color scheme thanks to a fresh coat of paint, new appliances, new staff and a new register – all 21st century.
But it wasn't about forgetting the past. An iconic maple bar sign remained on a back wall, as did a row of retro refrigerators. A jukebox still sat in the corner next to an old-timey doughnut painting. More or less, the same recipes, too, even if the prices were a bit higher.
Interviewed last month, the Peabodys said the goal was to pay tribute to Darrell Jones, who started the business in 1968, making batches of his homemade (and now famous) maple bars, while his wife, Kathy, worked the counters and tables.
In a Facebook post Tuesday, the shop said it intended to use Jones' recipe, however many of his creations never made it onto paper.
"We have worked very hard on our (doughnuts), and have had people try them and say that we are close," the Peabodys wrote. "We don't know that (we) will ever be able to match Darrell's exactly, but we will not quit trying to get better and better."
And then of course, the same customers had to try a taste. While sprinkled with a few first-timers, many waiting in line at 6 a.m. and beyond had a long history with the Parade. They smiled, reminisced, daydreamed and swam in waves of nostalgia.
"It's kind of exciting," said Travis Patterson, a Gonzaga Prep graduate, who along with his 5-year-old son Tyler, was waiting on a box of maple bars. "I used to come here every morning before zero hour. Get a coffee and a doughnut and we'd all roll into school together."
Daniel Ellcey and his friend, Bruce Steele, sat at a booth with coffee. They arrived a little after 6 a.m.
"I was just lucky to get some cream filled right as it came out," Ellcey said.
It's a ritual they might repeat at least once a week.
"Oh, it's good," said Steele, a longtime Parade customer. "I love donuts."
Local journalism is essential.
Give directly to The Spokesman-Review's Northwest Passages community forums series -- which helps to offset the costs of several reporter and editor positions at the newspaper -- by using the easy options below. Gifts processed in this system are not tax deductible, but are predominately used to help meet the local financial requirements needed to receive national matching-grant funds.
Subscribe now to get breaking news alerts in your email inbox
Get breaking news delivered to your inbox as it happens.
---