News > Spokane
What's in a name? Features in local parks put on the map
Sun., May 19, 2019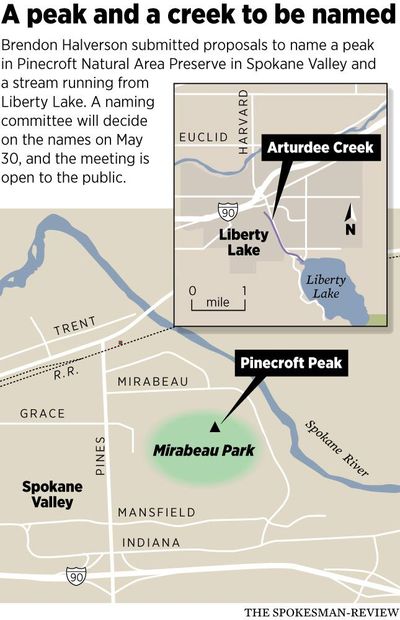 The power to name or rename natural features in Washington is in the hands of anyone who chooses the undertaking. Brendon Halverson is the latest to propose names in Spokane County: one for a creek in Liberty Lake and another for a peak in the Pinecroft Natural Area Preserve.
On May 30, the Washington State Committee on Geographic Names will rule on Halverson's proposals, taking into consideration Halverson's case for the names as well as any public comments. If approved, the final say will go to federal offices.
"It's a long process, but I guess the names are going to be on the map for a while, so it's good," said Caleb Maki, executive secretary of Washington's Committee on Geographic Names. "I tell everyone all it really costs is patience."
Halverson's first proposal is fairly straightforward: a peak located in Pinecroft Natural Area Preserve in Spokane Valley. Halverson suggested the peak – which is listed as a knoll on the Washington State Department of Natural Resources website – be named for its location, Pinecroft Peak.
"I have extensively checked many topographic maps (both old and new)," Halverson wrote in the proposal. "I have checked the coordinates of every GNIS (Geographical Names Information System) features of this type in this county, and none of them are anywhere near here."
Halverson also suggested naming a 1.2-mile stream flowing out of Liberty Lake Arturdee Creek, for "the historical community of Arturdee which was located near the mouth of the stream."
"Arturdee is an official name, there was a locale as they call it, basically an unincorporated town there historically," Maki said. "Of course, now it's referred to as Liberty Lake."
Liberty Lake itself was named for Etienne Eduard Laliberte, a French Canadian who homesteaded on the lakeshore, according to Spokesman-Review archives. Laliberte changed his name to Steve Liberty when he moved to the area.
Maki, who primarily works as a photogrammetrist for the Department of Natural Resources, said the products he makes that most people are familiar with are orthophotos, "like when you look at Google Earth, you're actually looking at a whole bunch of orthophotos," Maki said. "… It's my job here in DNR to create new, modern orthophotos."
DNR also has an extensive historical aerial film archive that allows for the detection of changes over time, he said.
Even though it's not his main job, as a self-described history nerd Maki is happy to facilitate this process.
"A lot of these new names especially, you get to find out about the local citizens or local history that isn't necessarily written down anywhere else," Maki said. "Another thing I like about it is when these names are officially named, we keep track of all of these files so hopefully 200 years from now, if someone is trying to figure out why we named Arturdee Creek, we have as much material as we can."
Maki said there is a wide variety of reasons why citizens propose naming and renaming.
"We've got one on the agenda to change a derogatory name," Maki said. "We've got commemorative names as well for a person who is now deceased. Like I said, it's all over the board."
In Chelan County, there are proposals to change Squaw Saddle to Saddle Gap and to name a peak Saddle Rock, which is colloquially referred to as Squaw Saddle Mountain.
The proposal also included a letter from Guy Moura, tribal historic preservation officer for the Confederated Tribes of the Colville Reservation, in support of the new names.
"We understand that names have historical and symbolic significance," Moura wrote in his letter. "Squaw Rock is offensive."
Local journalism is essential.
Give directly to The Spokesman-Review's Northwest Passages community forums series -- which helps to offset the costs of several reporter and editor positions at the newspaper -- by using the easy options below. Gifts processed in this system are not tax deductible, but are predominately used to help meet the local financial requirements needed to receive national matching-grant funds.
Subscribe now to get breaking news alerts in your email inbox
Get breaking news delivered to your inbox as it happens.
---